The Daley Note: August 1, 2023
Ethane prices hit $0.39/gal on July 17 as persistent heat waves in Texas may be impacting production while demand reached record highs.
Until recently, ethane production has also been hitting record highs. Since September 2022 when Permian gas egress constraints first occurred, total ethane plant production increased 14% (+335 Mb/d) through April according to the latest EIA data and has outpaced total NGL growth over the period (+5%, +277 Mb/d). We estimate that the TX Inland sub-PADD, which includes most of the Permian, accounts for 42% of the growth in ethane production.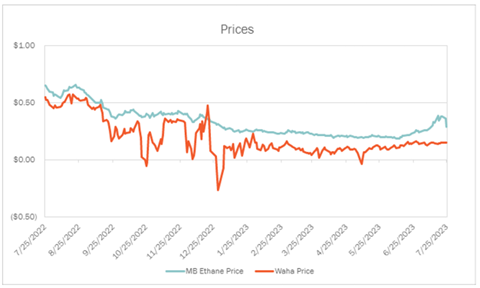 One would think that spike in ethane production would lead to price declines, but the higher demand has been able to absorb this growth. Total US ethane demand has been 4% higher YTD vs. 2022, driven by higher exports (+10%) as well as domestic demand (+3%).
We expect ethane production to continue to grow due to the Permian, as gas egress capacity remains tight and new processing plants are placed in-service: since 4Q22, 1.1 Bcf/d processing capacity has been added in the basin and we expect an additional 1.1 Bcf/d will be added by the end of the year.
However, production may have hit a snag as consistently above average temperatures in Texas impact processing plant efficiency and ability to recover ethane. Higher temperatures have led to higher local gas demand, which has resulted in a 21% M-o-M increase in Waha gas prices. However, Mont Belvieu ethane prices rose 56% as the heat limits supply and demand remain high. Adding to the potential supply disruption, FERC-indexed tariffs on liquids pipelines increased 13.3% starting July 1, increasing the frac spread needed to incentivize recovery. The Permian frac spread had declined from ~$0.20/gal average in January to $0.09/gal in June, before the recent run-up in ethane prices sent it to ~$0.19 for July.
Heat impacts might have mixed effects for midstream. Higher prices will lift G&P POP earnings, but any impact to plant NGL production might limit a company's ability to take advantage. We expect newer plants to fare better, which may help companies like EnLink (ENLC) that brought its Phantom plant online in 4Q22. Energy Transfer (ET), Targa (TRGP), Kinetik (KNTK), and MPLX (MPLX) have also built new plants recently. However, the dip in ethane may lower 3Q23 volumes for NGL pipelines out of the basin, impacting Enterprise (EPD), ET, OKE and TRGP.
Temperatures have cooled down in Texas and ethane prices are back to $0.30/gal, still higher than average prices in June. Though the frac spread has also come down to $0.15, it is still high enough to incentivize recovery. - Christina Adjiman Tickers: ENLC, EPD, ET, KNTK, MPLX, OKE, TRGP
Upcoming Webinar:

Organically Grown: The Shifting Landscape For Growth in the Midstream Sector
August 16, 2023 | 10 AM MT | Online Webinar
Understanding how the commodity markets are influencing the business risk of the assets midstream companies own is a core component of the East Daley process and key to understanding how the market will evolve. This webinar will focus on reviewing the Base Business Risk Indicator (formerly the Treadmill) a key East Daley analysis that ties fundamental commodity analysis to the commercial outcomes of assets across the gas, oil, and NGL sectors. We will review where commodity markets are headed and which assets are capturing value, which are losing value, and pontificate on what could change. RSVP HERE
Energy Data Studio
East Daley Analytics has launched Energy Data Studio, a platform for our industry-leading midstream data and commodity production forecasts. All clients have access to the new client portal. If you have not yet logged in, please fill out the form to request a registration email be resent.
Energy Data Studio leverages our G&P data set for insights into midstream assets across every major oil and gas basin in North America. Users can navigate detailed visual dashboards by region, pipeline, or individual asset to understand crude oil, natural gas and NGL supply at the most granular level.
Energy Data Studio is available through data downloads from the visual interface, in Excel files, or as a direct feed delivered into subscribers' workflow via secure file transfer. To learn more about Energy Data Studio, please contact insight@eastdaley.com.
Review the Year Ahead in Dirty Little Secrets
The 2023 Dirty Little Secrets is Now Available! Is Midstream on the cusp of another infrastructure wave? Find out in our new annual report.
Dirty Little Secrets reviews the outlook for Midstream and commodity markets in 2023 and the years ahead. East Daley discusses the outlook for crude oil, natural gas and NGLs and the impacts to midstream assets in our 2023 Dirty Little Secrets annual market report. Click here for a copy of the 2023 Dirty Little Secrets report.
The Daley Note
Subscribe to The Daley Note (TDN) for midstream insights delivered daily to your inbox. The Daley Note covers news, commodity prices, security prices and EDA research likely to affect markets in the short term.