The Daley Note: July 28, 2023
Williams Companies (WMB) and EQT Midstream (ETRN) have proposed expansions to alleviate constraints in Transco Zone 5 that were discussed in Why Mountain Valley Pipeline Creates Phantom Takeaway. The EDA Northeast Supply and Demand Forecast estimates that MVP will have an average throughput of ~700 MMcf/d. Each of the projects allows gas from the Marcellus and Utica Shales to travel south, relieving price spikes during peak demand episodes in the Atlantic Coastal region and allowing more MVP gas to come online without displacing current shippers. The Southside Reliability Enhancement is fully subscribed and has received its final environmental impact statement from FERC, so Transco Zone 5 may only require the egress capacity of the Southeast Supply Enhancement Project Path 1 or MVP Southgate, but not both.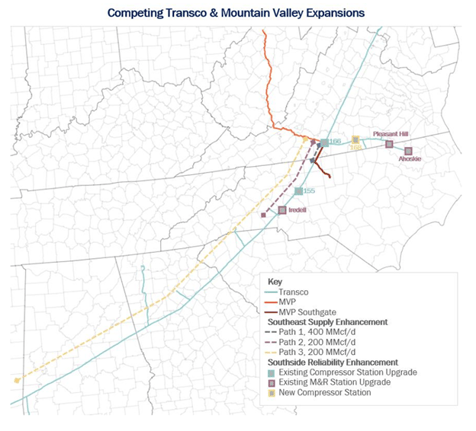 WMB has proposed two brownfield projects, the Southside Reliability Enhancement project and the Southeast Supply Enhancement Project. The Southside Reliability Project offers 423 MMcf/d of additional pipeline capacity to deliver gas to growing demand markets in North Carolina. 160 MMcf/d will be delivered through Transco's South Virginia Lateral to growing demand markets in North Carolina, and the remaining 263 MMcf/d will support flows to storage operations at Pine Needle LNG Company's storage facility. The capacity addition is achieved through upgrading metering stations, completing flow reversal modifications at station 155, installing a new compressor at existing station 166, and constructing a new compressor station in Mecklenburg County, VA. The project is expected to be in service 4Q24.
The Southeast Supply Enhancement project offers 800 MMcf/d of additional pipeline capacity via three pathways across a stretch of pipeline that extends from Virginia to the Alabama-Mississippi border. Transco states that the final capacity and scope of the project will be determined by the results of the open season, which closed July 14. The open season for the project coincided with a reverse open season for Transco Zone 5, signaling the priority Transco places on overcoming the capacity constraints in Zone 5. The project has a projected in-service date of 11/01/2027.
ETRN has proposed MVP Southgate, a 75-mile pipeline segment that is located between the Transco expansions detailed above. The project would allow for 375 MMcf/d of increased takeaway capacity and is expandable up to 900 MMcf/d. MVP Southgate provides a route for MVP gas to reach population centers in NC, a state that currently receives 91% of its natural gas from Transco. MVP Southgate was backed by a volume commitment 2017, but since then the project has been set back by legal troubles for the Mountain Valley mainline, as well as MVP Southgate recently being denied an air permit. The regulatory challenges have pushed the speculative in-service date to 2H2026; however, the scope and timing of the project remain under evaluation.
Energy Data Studio
East Daley Analytics has launched Energy Data Studio, a platform for our industry-leading midstream data and commodity production forecasts. All clients have access to the new client portal. If you have not yet logged in, please fill out the form to request a registration email be resent.
Energy Data Studio leverages our G&P data set for insights into midstream assets across every major oil and gas basin in North America. Users can navigate detailed visual dashboards by region, pipeline, or individual asset to understand crude oil, natural gas and NGL supply at the most granular level.
Energy Data Studio is available through data downloads from the visual interface, in Excel files, or as a direct feed delivered into subscribers' workflow via secure file transfer. To learn more about Energy Data Studio, please contact insight@eastdaley.com.
Review the Year Ahead in Dirty Little Secrets
The 2023 Dirty Little Secrets is Now Available! Is Midstream on the cusp of another infrastructure wave? Find out in our new annual report.
Dirty Little Secrets reviews the outlook for Midstream and commodity markets in 2023 and the years ahead. East Daley discusses the outlook for crude oil, natural gas and NGLs and the impacts to midstream assets in our 2023 Dirty Little Secrets annual market report. Click here for a copy of the 2023 Dirty Little Secrets report.
The Daley Note
Subscribe to The Daley Note (TDN) for midstream insights delivered daily to your inbox. The Daley Note covers news, commodity prices, security prices and EDA research likely to affect markets in the short term.