Natural Gas Weekly: July 27, 2023
Flows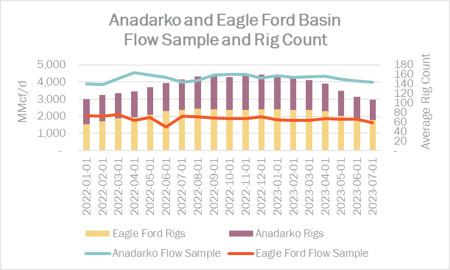 Pipeline samples in both the Anadarko (-389 MMcf/d) and Eagle Ford (-166 MMcf/d) have seen a 9% reduction since the start of the year. Despite the Anadarko and Eagle Ford having poor sample coverage (52% and 25% respectively), we believe this drop in sample has a likely read-through to real production changes. When we compare the rig count from January to July, Eagle Ford has fallen by 23 rigs and Anadarko by approximately 26 rigs supporting the production declines suggested by the pipeline sample. East Daley forecasts both the Eagleford and Anadarko to see single-digit declines until the next large wave of LNG projects begins service in 2025.
Infrastructure
Enbridge plans to construct a pipeline expansion through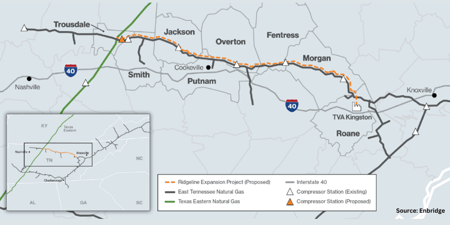 looping and compression on the existing East Tennessee Natural Gas in partnership with the Tennessee Valley Authority. The expansion will provide natural gas to serve new power generation options as TVA considers retiring the coal-fired Kingston Fossil Plant. ENB plans to start construction in 2025 and commence service in 2026, subject to FERC approval and a final investment decision.
Black Bear Transmission recently announced that its AlaTenn pipeline has commenced natural gas deliveries to three new natural gas-fired power plants operated by the TVA.
These developments show that despite regulatory hurdles for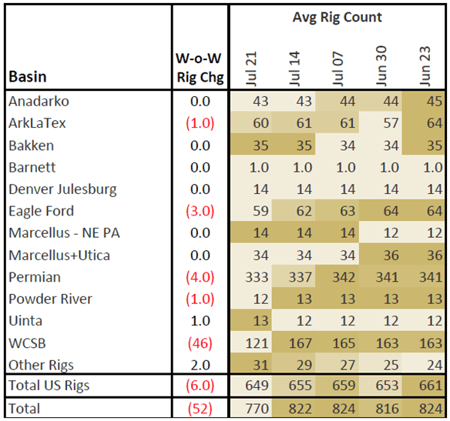 new infrastructure in the northeast, there is still demand for
new natural gas projects as the region undergoes continued
coal-to-gas switching.
Rigs
U.S. rigs decreased by 6 W-o-W with the total count sitting at 649. The Permian is down 4 rigs, the Eagle Ford is down 3 rigs, and the Powder and ArkLaTex are both down 1 rig each. The Uinta added 1 rig. On the midstream side, Energy Transfer (ET) is down 5 rigs on its Permian, ArkLaTex, and Eagle Ford systems. MPLX LP (MPLX) is down 3 rigs. EnLink Midstream (ENLC) is down 5 rigs with losses on its Permian systems. Enterprise Product Partners (EPD) is showing an increase of 13 rigs with additions in the Permian and ArkLaTex.
Storage
EIA reported a 41 Bcf storage injection for the July 14 week, putting working inventories at 2,971 Bcf. Current builds through July are on track to meet our storage forecast for the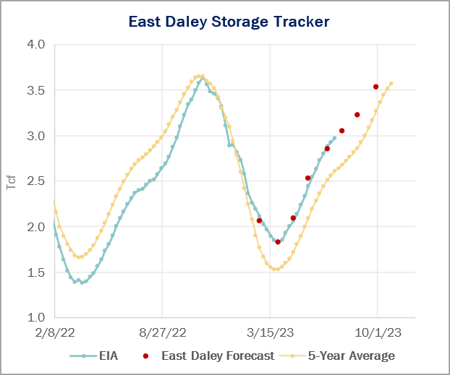 month with 3,056 Bcf. Storage is 360 Bcf above the 5-year average after the latest EIA report.
Natural Gas Weekly
East Daley Analytics' Natural Gas Weekly provides a weekly update to our monthly Macro Supply and Demand Forecast. The update covers rigs, flows, production, prices and capacity constraints that materially change our view on supply and demand. This update highlights what investors and traders need to monitor in natural gas to ensure they are on the right side of the market. Subscribe to the Natural Gas Weekly.