The Daley Note: July 27, 2023
The average transportation rate to take a barrel of crude oil from the Permian to Corpus Christi is changing, and it's not getting any cheaper. Since 2Q21 the weighted average rate to move a barrel along this shipping corridor has gone from $1.36/bbl to $1.55/bbl, based on FERC Form 6 data and East Daley's asset-level pipeline models. Current basin fundamentals indicate that this rate is likely to continue to climb higher for several factors, including higher pipeline utilization from rising Permian production, annual tariff rate indexing, a greater portion of uncommitted shipments, and the phasing out of cheap incentive rates. 
Incentive rates were initially a tool leveraged by midstream operators to attract marginal barrels to their system when excess capacity was plentiful and was never meant to be permanent. It was widely used across the basin, with many of the egress lines in the Permian offering some form of an incentive for shippers, ranging from $0.40/bbl to $1.00/bbl. Now, pipeline operators are in a much different scenario than they were two years ago. Utilization on Corpus bound pipelines has risen from the mid-60s to nearly 90% (1Q23) and there's less need for incentives as available capacity dwindles.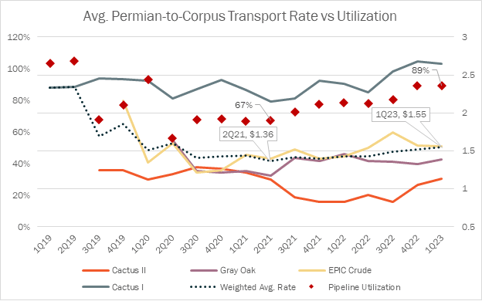 This became evident for Cactus II pipeline operator, Plains All American (PAA), as their recent FERC tariff filing canceled Cactus II's incentive program effective July 1, 2023. Before its cancellation, Cactus II's incentive program was one of the cheapest in the basin, offering its "A-level" anchor shipper (Trafigura) a $0.50/bbl rate on barrels above a certain volume threshold. East Daley had anticipated these tariffs would be phased out eventually, but July's filing was ahead of our expectations.  
Under the current tariff, committed and uncommitted shippers will be limited to the pipeline's normal rate schedule, making it more expensive for them, but providing a boost to Cactus II's cash flows while pushing the pipeline's average rate back in-line with its closest competitors, EPIC Crude and Gray Oak. According to East Daley's latest forecast models, the updated tariff schedule will result in incremental EBITDA of $49 million for 2023, benefiting PAA (70%, owner and operator) and Enbridge (30%). – AJ O'Donnell Tickers: ENB, PAA 
Energy Data Studio
East Daley Analytics has launched Energy Data Studio, a platform for our industry-leading midstream data and commodity production forecasts. All clients have access to the new client portal. If you have not yet logged in, please fill out the form to request a registration email be resent.
Energy Data Studio leverages our G&P data set for insights into midstream assets across every major oil and gas basin in North America. Users can navigate detailed visual dashboards by region, pipeline, or individual asset to understand crude oil, natural gas and NGL supply at the most granular level.
Energy Data Studio is available through data downloads from the visual interface, in Excel files, or as a direct feed delivered into subscribers' workflow via secure file transfer. To learn more about Energy Data Studio, please contact insight@eastdaley.com.
Review the Year Ahead in Dirty Little Secrets
The 2023 Dirty Little Secrets is Now Available! Is Midstream on the cusp of another infrastructure wave? Find out in our new annual report.
Dirty Little Secrets reviews the outlook for Midstream and commodity markets in 2023 and the years ahead. East Daley discusses the outlook for crude oil, natural gas and NGLs and the impacts to midstream assets in our 2023 Dirty Little Secrets annual market report. Click here for a copy of the 2023 Dirty Little Secrets report.
The Daley Note
Subscribe to The Daley Note (TDN) for midstream insights delivered daily to your inbox. The Daley Note covers news, commodity prices, security prices and EDA research likely to affect markets in the short term.