The Daley Note: July 26, 2023
Kinder Morgan Tejas Pipeline LLC recently announced a 67-mile, 42-inch pipeline that will run from a KMI compressor station near Freer, TX to the Kinder Morgan Tejas Pipeline system near Sinton, TX. This project coincides with Dos Caminos LLC's 62-mile, 36inch pipeline, compression, treating, and dehydration facilities that will run from Howard Energy Partners' (HEP) gathering system in Webb County, TX to the KMTP compressor station near Freer, TX.
Doc Caminos LLC is a joint venture between Eagle Ford Midstream LP and HEP. The projects will cost $251MM and $283MM respectively and they are expected to be completed in 4Q2023. The graph displays a map of the pipeline projects extending from Webb County gathering operations.
The KMI and HEP projects offer 1.88 Bcf/d takeaway capacity from Webb County, TX. The EDA KMI Blueprint Model estimates that the Eagle Ford pipeline will add just $7.5MM to KMI's EBITDA in 2023 but will generate ~$66MM for KMI during its first full year on the books in 2024.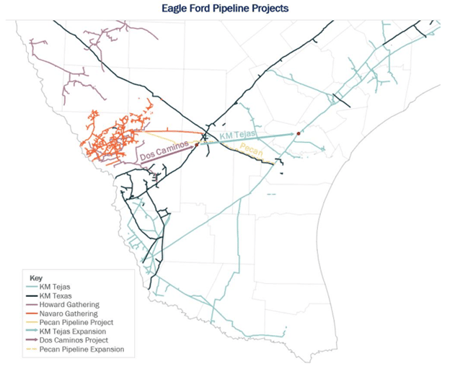 Given that EOG Resources (EOG) recently announced its intent to construct pipes that will carry Webb County gas east to Nueces County, there is question about which producers are backing KMI and HEP's decision to build a pipeline along a similar route.
EDA data indicates that Chesapeake, SM Energy, Silver Hill Energy, Killam Oil, and Kimmeridge Texas Gas join EOG as producers driving production in Webb County, TX. Based on current rig positioning, EDA speculates that Silver Hill Energy and Kimmeridge Texas Gas are potential drivers of the economics behind Dos Caminos and KMI's decision to begin these pipeline projects. – Zach Krause Tickers: KMI, HEP
Upcoming Webinar: Projecting US LNG Growth, Supply and Requisite Infrastructure
July 26, 2023 | 8 AM MT | Online Webinar
Bloomberg Intelligence and East Daley Analytics are proud to host a fireside chat discussing the outlook for US LNG export expansion and the massive infrastructure challenges that developers face in uniting global markets. The US LNG export boom and global demand growth will require significant investment and buyer commitments in a market shrouded by uncertainty stemming from regulatory pressure, political instability and an intensifying focus on renewables. RSVP HERE
Energy Data Studio
East Daley Analytics has launched Energy Data Studio, a platform for our industry-leading midstream data and commodity production forecasts. All clients have access to the new client portal. If you have not yet logged in, please fill out the form to request a registration email be resent.
Energy Data Studio leverages our G&P data set for insights into midstream assets across every major oil and gas basin in North America. Users can navigate detailed visual dashboards by region, pipeline, or individual asset to understand crude oil, natural gas and NGL supply at the most granular level.
Energy Data Studio is available through data downloads from the visual interface, in Excel files, or as a direct feed delivered into subscribers' workflow via secure file transfer. To learn more about Energy Data Studio, please contact insight@eastdaley.com.
Review the Year Ahead in Dirty Little Secrets
The 2023 Dirty Little Secrets is Now Available! Is Midstream on the cusp of another infrastructure wave? Find out in our new annual report.
Dirty Little Secrets reviews the outlook for Midstream and commodity markets in 2023 and the years ahead. East Daley discusses the outlook for crude oil, natural gas and NGLs and the impacts to midstream assets in our 2023 Dirty Little Secrets annual market report. Click here for a copy of the 2023 Dirty Little Secrets report.
The Daley Note
Subscribe to The Daley Note (TDN) for midstream insights delivered daily to your inbox. The Daley Note covers news, commodity prices, security prices and EDA research likely to affect markets in the short term.