The Daley Note: November 8, 2023
Enterprise Products (EPD) is converting the 210 Mb/d Midland-to-ECHO 2 (M2E2) pipeline from crude service back to NGLs, the company revealed in its 3Q23 earnings. The project will hasten a tightening under way in pipeline capacity out of the Permian Basin as crude oil production grows.
M2E2 was originally used to transport NGLs out of the Permian when EPD converted the pipeline to crude service in early 2019. Shippers at the time had filled pipeline egress capacity, with spreads between Midland and MEH averaging nearly $10/bbl. Since then, developers have added more than 4 MMb/d of additional pipe capacity to the Gulf Coast, causing spreads to collapse. The Midland – MEH differential averaged less than $0.25/bbl in 3Q23. EPD and its Permian crude pipeline competitors have been growing into the excess capacity, with current pipeline utilization sitting around 80%, according to East Daley's Crude Hub Model.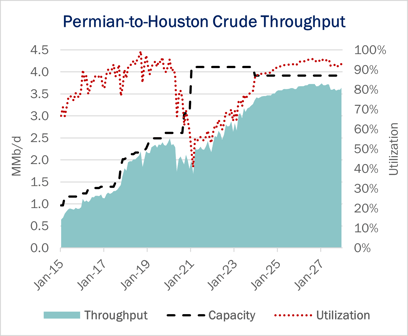 As for Enterprise, making the service switch on M2E2 makes sense. As of July 2023, the Midland-to-Echo system had ~394 Mb/d spare out of total capacity of 1.27 MMb/d, according to data from the Crude Hub Model. EPD will gain much-needed NGL capacity, as the company is also taking the Chaparral Pipeline out of NGL service and converting it to ship refined products.
The M2E2 conversion will cause the Permian-to-Houston crude shipping corridor to tighten, which should result in widening spreads and overall upward pressure on transport rates. Based on our latest projections in the Crude Hub Model, oil pipelines headed to Houston saw an average utilization rate of 79% in October. Utilization will increase to 88% in January 2024 when the market loses the M2E capacity and volumes are displaced to other pipes.
EDA expects EPD's M2E 1 & 3 pipes will run close to full after the change, and competing pipes Wink to Webster, Permian Express Partners, and BridgeTex should see small volume boosts as well. This is especially promising for the distressed BridgeTex Pipeline owned by ONEOK (OKE; 30%), Plains All American (PAA; 20%) and OMERS (50%), which saw its volumes plummet when anchor shipper Occidental (OXY) opted to move its production to other pipelines.
While the future of M2E2's service is uncertain, the earliest the pipe can return to crude service would be in 1H25, once EPD brings its new 600 Mb/d Bahia NGL pipeline into service. EPD management stated that it intends to keep the pipe "flexible" for either service offering, but we see a switchback in the future as unlikely. Instead, it's likely a positive signal for Gray Oak and EPIC to expand capacity to Corpus Christi. – AJ O'Donnell Tickers: EPD, OKE, PAA.
East Daley, Hart Bring NEW Gas & Midstream Weekly on November 9th
East Daley is teaming up with Hart Energy on the NEW
Gas & Midstream Weekly newsletter
. This
new report
combines the strengths of Hart Energy's journalistic reporting and analysis on natural gas, LNG, midstream energy and deal-making with EDA's deep research and intelligence of hydrocarbons, storage and transportation.

Published every Thursday morning, this new
powerhouse newsletter
is an interactive and enlightening read highlighting breaking news, exclusive interviews, videos, charts, maps and more. The newsletter utilizes East Daley's Energy Data Studio tools for natural gas predictive analytics with Hart Energy's Rextag mapping tools to present a holistic view of pricing triggers, infrastructure growth, pipeline and processing bottlenecks, regulatory and legal hurdles, and the inevitable solutions.
Energy Data Studio
East Daley Analytics has launched Energy Data Studio, a platform for our industry-leading midstream data and commodity production forecasts. All clients have access to the new client portal. If you have not yet logged in, please fill out the form to request a registration email be resent.
Energy Data Studio leverages our G&P data set for insights into midstream assets across every major oil and gas basin in North America. Users can navigate detailed visual dashboards by region, pipeline, or individual asset to understand crude oil, natural gas and NGL supply at the most granular level.
Energy Data Studio is available through data downloads from the visual interface, in Excel files, or as a direct feed delivered into subscribers' workflow via secure file transfer. To learn more about Energy Data Studio, please contact insight@eastdaley.com.
The Daley Note
Subscribe to The Daley Note (TDN) for midstream insights delivered daily to your inbox. The Daley Note covers news, commodity prices, security prices and EDA research likely to affect markets in the short term.