The Daley Note: November 9, 2023
TC Energy's (TRP) Gas Transmission Northwest (GTN) has received approval from federal regulators for the GTN Xpress project. The $75.1MM project will add 150 MMcf/d of capacity from Western Canada to the Pacific Northwest.
GTN Xpress will modify compressors to increase flows from Kingsgate, ID to Malin, OR, raising GTN pipeline capacity to 2.85 Bcf/d from 2.7 Bcf/d currently. TRP proposed the expansion in October 2021 with the goal of starting service by the start of the 2023 heating season, but protests from environmentalists contributed to a delayed decision at the Federal Energy Regulatory Commission (FERC). EDA estimates the project will start in 4Q24.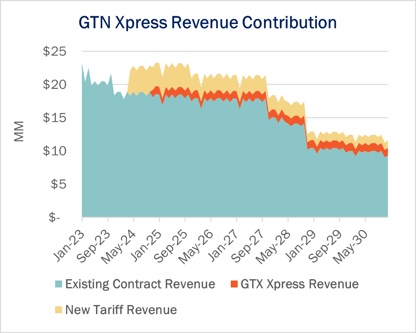 The project will add new import capacity from Alberta to meet growth on the West Coast. The region has been tight on gas supply in recent years. Gas prices jumped to over $40/MMBtu last winter when severe weather coincided with several pipeline outages. The harsh winter drained Pacific region storage inventory to historic lows by the end of 1Q23, supporting a regional price premium through the year.
GTN Xpress is backed by three anchor shippers (Cascade Natural Gas, Intermountain Gas, and Tourmaline Oil) with agreements that range from 30-33 years.
EDA's Financial Blueprints estimate GTN Xpress will generate $14.2MM in annual EBITDA to TRP's US Gas Pipelines segment. Moreover, GTN has proposed a new tariff structure that we believe would add to pipeline revenue.
In an ongoing Section 4 rate case, GTN would charge shippers $0.02/dth more to move gas from Kingsgate to Malin than the tariff used to estimate revenue in the GTN Xpress proposal. Should FERC accept the new rates, the project could generate $1.5MM more in annual revenue. The figure displays the anticipated step-up in contract revenue in the TRP Blueprint with a favorable FERC decision.
East Daley is monitoring projects like GTN Xpress through our West Coast Supply and Demand Forecast. Launching next month, this new report provides an in-depth view into supply, demand and flow dynamics affecting prices in the West. Reach out for more information on the West Coast Supply and Demand Forecast.  – Zach Krause Tickers: TRP.
East Daley, Hart Bring NEW Gas & Midstream Weekly on November 9th
East Daley is teaming up with Hart Energy on the NEW
Gas & Midstream Weekly newsletter
. This
new report
combines the strengths of Hart Energy's journalistic reporting and analysis on natural gas, LNG, midstream energy and deal-making with EDA's deep research and intelligence of hydrocarbons, storage and transportation.

Published every Thursday morning, this new
powerhouse newsletter
is an interactive and enlightening read highlighting breaking news, exclusive interviews, videos, charts, maps and more. The newsletter utilizes East Daley's Energy Data Studio tools for natural gas predictive analytics with Hart Energy's Rextag mapping tools to present a holistic view of pricing triggers, infrastructure growth, pipeline and processing bottlenecks, regulatory and legal hurdles, and the inevitable solutions.
Energy Data Studio
East Daley Analytics has launched Energy Data Studio, a platform for our industry-leading midstream data and commodity production forecasts. All clients have access to the new client portal. If you have not yet logged in, please fill out the form to request a registration email be resent.
Energy Data Studio leverages our G&P data set for insights into midstream assets across every major oil and gas basin in North America. Users can navigate detailed visual dashboards by region, pipeline, or individual asset to understand crude oil, natural gas and NGL supply at the most granular level.
Energy Data Studio is available through data downloads from the visual interface, in Excel files, or as a direct feed delivered into subscribers' workflow via secure file transfer. To learn more about Energy Data Studio, please contact insight@eastdaley.com.
The Daley Note
Subscribe to The Daley Note (TDN) for midstream insights delivered daily to your inbox. The Daley Note covers news, commodity prices, security prices and EDA research likely to affect markets in the short term.