The Daley Note: November 10, 2023
East Daley had concerns about NuStar Energy's (NS) Permian Crude gathering system heading into the latest earnings report, and the company did not allay them following a mixed 3Q23 update.
NS reported average throughput of 523 Mb/d for the Midland-based gathering system, a 3% increase Q-o-Q from a disappointing print in 2Q. The 3Q23 results were slightly under East Daley's estimate (>1%) in the NS Financial Blueprint. However, volumes were down 10% (-56 Mb/d) Y-o-Y, and management lowered the year-end volumes target for the Crude segment to 545-550 Mb/d from 570-575 Mb/d previously.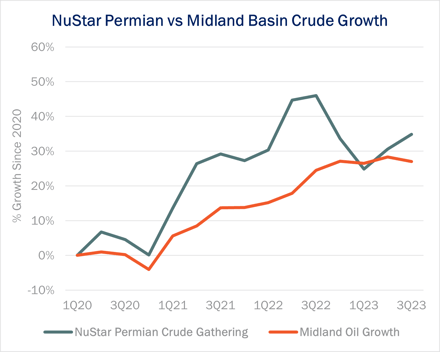 Management has cited "producer-specific operational issues and delays" on the system that are now largely resolved. NS expects the Permian Crude segment to average 540 Mb/d in 4Q23 and noted October 2023 volumes averaged 533 Mb/d, up from the recent quarter.
The lower outlook for the Permian Crude system is concerning given the 13% exit-to-exit growth NS saw on the system in 2022. Crude oil volumes gathered by the West Texas system historically had grown faster than overall Midland Basin production, but that trend has reversed in recent quarters (see figure).
While Permian Crude volumes were negatively impacted by Winter Storm Elliot and operational issues in 1Q23 and 2Q23, EDA suspects some contracts or acreage dedications may have expired given the decreased YE23 guidance. If the new guidance proves accurate, we project Adj. EBITDA for the Permian Crude asset declines to $56MM in 4Q23 vs our previous estimate of $59MM in the NS Blueprint. – James Taylor Tickers: NS.
East Daley, Hart Bring NEW Gas & Midstream Weekly
East Daley is teaming up with Hart Energy on the NEW
Gas & Midstream Weekly newsletter
. This
new report
combines the strengths of Hart Energy's journalistic reporting and analysis on natural gas, LNG, midstream energy and deal-making with EDA's deep research and intelligence of hydrocarbons, storage and transportation.

Published every Thursday morning, this new
powerhouse newsletter
is an interactive and enlightening read highlighting breaking news, exclusive interviews, videos, charts, maps and more. The newsletter utilizes East Daley's Energy Data Studio tools for natural gas predictive analytics with Hart Energy's Rextag mapping tools to present a holistic view of pricing triggers, infrastructure growth, pipeline and processing bottlenecks, regulatory and legal hurdles, and the inevitable solutions.
Energy Data Studio
East Daley Analytics has launched Energy Data Studio, a platform for our industry-leading midstream data and commodity production forecasts. All clients have access to the new client portal. If you have not yet logged in, please fill out the form to request a registration email be resent.
Energy Data Studio leverages our G&P data set for insights into midstream assets across every major oil and gas basin in North America. Users can navigate detailed visual dashboards by region, pipeline, or individual asset to understand crude oil, natural gas and NGL supply at the most granular level.
Energy Data Studio is available through data downloads from the visual interface, in Excel files, or as a direct feed delivered into subscribers' workflow via secure file transfer. To learn more about Energy Data Studio, please contact insight@eastdaley.com.
The Daley Note
Subscribe to The Daley Note (TDN) for midstream insights delivered daily to your inbox. The Daley Note covers news, commodity prices, security prices and EDA research likely to affect markets in the short term.