The Daley Note: November 14, 2023
ExxonMobil (XOM) plans to keep its foot on the accelerator in the Permian Basin following its $60B purchase of Pioneer Natural Resources (PXD). New guidance from XOM sets the major apart from its peers and is bullish for several midstream systems in the Permian.
In the company's 3Q23 earnings report on October 27, Exxon said its Permian production would more than double to 1.3 MMboe/d (based on expected 2023 volumes) once it completes the PXD acquisition. XOM plans to increase its Permian oil and gas production to 2.0 MMboe/d by YE27, suggesting 10-11% annual growth from the XOM-PXD combo.
The update is great news for midstream companies active in the Midland sub-basin, where Pioneer is the leading producer. Subscribers can screen for midstream systems that serve Exxon and Pioneer in the Midland Basin using the Producer-to-System Analysis screen in Energy Data Studio.
Targa Resources (TRGP) is by far the largest midstream provider for the two companies in the Midland. The TRGP - West Texas G&P system accounts for over half of their combined Midland volumes, according to Energy Data Studio. West Texas Gas, Energy Transfer (ET), Enterprise Products (EPD), DCP Midstream (DCP) and Pinnacle Midstream are other midstream companies that serve PXD and XOM in West Texas (see chart).
Exxon is bucking the wider trend in the Permian Basin, where consolidation has translated to lower overall rig activity. A recent review by East Daley found a ~30% drop in rigs in 2023 from Permian operators involved in M&A as either acquirers or buyout targets. Instead, after announcing the blockbuster merger earlier in October, XOM executives told investors the company has no plans to cut Pioneer's drilling program or headcount.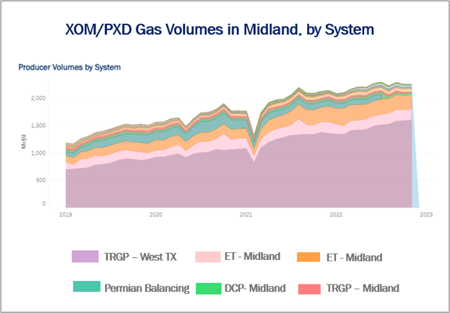 XOM gave more details on its plans for Pioneer on its 3Q23 earnings. PXD has the most Tier 1 inventory across the Midland Basin, yet XOM said its Midland wells have similar recovery as PXD's despite drilling into inferior acreage. Exxon cited its 'cube' completion program for recovering more hydrocarbons. On Midland acreage of comparable resource quality, XOM said its cubes deliver ~20% higher recovery than PXD's wells.
XOM predicts synergies from the PXD acquisition to average ~$2B per year over the next decade. However, the major expects most of the benefits (~65%) will come from applying its superior completion program to PXD's premiere acreage, rather than cuts to spending.
The Producer-to-System screen in Energy Data Studio shows Exxon and Pioneer currently produce over 2 Bcf/d of raw natural gas in the Midland Basin (see figure from EDS). We estimate combined volumes could grow another 1 Bcf/d by 2027 based on the latest guidance.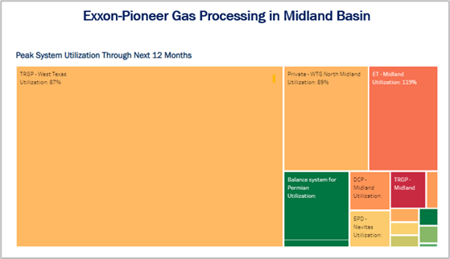 If Exxon keeps growing Midland volumes, who will handle the natural gas? Our forecast in Energy Data Studio finds most of the Midland systems used by XOM and PXD are running full or near capacity. We estimate utilization on the top three G&P systems serving XOM/PXD to range from 87% to 119% over the 12-months (see figure from EDS).
East Daley will dive into the outlook for midstream infrastructure in the Permian Basin, including natural gas gathering and processing, in our upcoming Dirty Little Secrets annual report. While many factors will go into our review, the latest guidance from Exxon is a bullish point. By breaking from the Permian pack, the XOM/PXD combo could fuel another wave of midstream investments. – Andrew Ware Tickers: DCP, ET, PXD, TRGP, XOM.
East Daley, Hart Bring NEW Gas & Midstream Weekly on November 9th
East Daley is teaming up with Hart Energy on the NEW Gas & Midstream Weekly newsletter. This new report combines the strengths of Hart Energy's journalistic reporting and analysis on natural gas, LNG, midstream energy and deal-making with EDA's deep research and intelligence of hydrocarbons, storage and transportation.

Published every Thursday morning, this new powerhouse newsletter is an interactive and enlightening read highlighting breaking news, exclusive interviews, videos, charts, maps and more. The newsletter utilizes East Daley's Energy Data Studio tools for natural gas predictive analytics with Hart Energy's Rextag mapping tools to present a holistic view of pricing triggers, infrastructure growth, pipeline and processing bottlenecks, regulatory and legal hurdles, and the inevitable solutions.
Energy Data Studio
East Daley Analytics has launched Energy Data Studio, a platform for our industry-leading midstream data and commodity production forecasts. All clients have access to the new client portal. If you have not yet logged in, please fill out the form to request a registration email be resent.
Energy Data Studio leverages our G&P data set for insights into midstream assets across every major oil and gas basin in North America. Users can navigate detailed visual dashboards by region, pipeline, or individual asset to understand crude oil, natural gas and NGL supply at the most granular level.
Energy Data Studio is available through data downloads from the visual interface, in Excel files, or as a direct feed delivered into subscribers' workflow via secure file transfer. To learn more about Energy Data Studio, please contact insight@eastdaley.com.