The Daley Note: November 15, 2023
Williams (WMB) is growing its footprint in the Denver-Julesburg Basin. As part of its 3Q23 update, WMB announced separate deals to purchase Cureton Midstream for $560MM and buy the remaining 50% interest in Rocky Mountain Midstream for $714MM.
East Daley Analytics sees several opportunities for synergies from the acquisitions. The deals bring WMB's share of DJ Basin gas production volumes to 12%, according to G&P data in Energy Data Studio. WMB will become the third-largest midstream operator in the DJ Basin behind DCP Midstream (DCP; 40% share) and Western Midstream (WES; 44% share). WMB expects to close the acquisitions in 4Q23.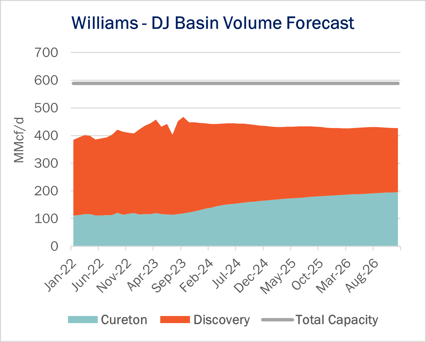 The deal with partner KKR gives Williams 100% ownership in Rocky Mountain Midstream and its Discovery G&P system. In Energy Data Studio, EDA projects rig activity on the Discovery system to oscillate between 1-2 rigs operated by Civitas Resources. The forecast for Cureton is currently flat at ~1 rig, which EDA attributes to drilling from Verado Energy and North Silo Resources. Rig activity in the DJ Basin is responsive to gas prices, so there is potential upside to our rig outlook if prices rise.
In the company Financial Blueprints, EDA projects the Discovery system to earn ~$101MM in Adj. EBITDA in 2024, while we forecast EBITDA of ~$81MM for the Cureton system next year.
WMB is likely to find additional value from the Cureton assets through its NGL business. Once existing commitments expire, WMB can put more NGLs from Cureton's gas plants through its Overland Pass Pipeline (OPPL) and increase volumes to other downstream assets, including its Conway, KS fractionator and the Bluestem Pipeline between Conway and Oklahoma.
As NGL volumes from the Cureton system gradually migrate to OPPL, there is downside risk to other Rockies NGL egress pipes such as ONEOK's (OKE) Elk Creek, Wattenburg (DCP) and White Cliffs (Sem Crude).
In addition to synergies captured by downstream assets, WMB can use latent capacity on the Discovery system to process gas from the Cureton system. The Front Range and Gilcrest gas plants currently combine for 103 MMcf/d of processing capacity, while Cureton's plants are receiving upward of 120 MMcf/d, according to the latest production data in Energy Data Studio.
Under our flat rig scenario on the Cureton Midstream system, EDA projects volumes to grow 50% over the next three years (see figure). The acquisition will allow volumes to continue expanding on Cureton without the need to invest in new processing capacity. – Zach Krause Tickers: DCP, OKE, WES, WMB.
East Daley, Hart Bring NEW Gas & Midstream Weekly on November 9th
East Daley is teaming up with Hart Energy on the NEW
Gas & Midstream Weekly newsletter
. This
new report
combines the strengths of Hart Energy's journalistic reporting and analysis on natural gas, LNG, midstream energy and deal-making with EDA's deep research and intelligence of hydrocarbons, storage and transportation.

Published every Thursday morning, this new
powerhouse newsletter
is an interactive and enlightening read highlighting breaking news, exclusive interviews, videos, charts, maps and more. The newsletter utilizes East Daley's Energy Data Studio tools for natural gas predictive analytics with Hart Energy's Rextag mapping tools to present a holistic view of pricing triggers, infrastructure growth, pipeline and processing bottlenecks, regulatory and legal hurdles, and the inevitable solutions.
Energy Data Studio
East Daley Analytics has launched Energy Data Studio, a platform for our industry-leading midstream data and commodity production forecasts. All clients have access to the new client portal. If you have not yet logged in, please fill out the form to request a registration email be resent.
Energy Data Studio leverages our G&P data set for insights into midstream assets across every major oil and gas basin in North America. Users can navigate detailed visual dashboards by region, pipeline, or individual asset to understand crude oil, natural gas and NGL supply at the most granular level.
Energy Data Studio is available through data downloads from the visual interface, in Excel files, or as a direct feed delivered into subscribers' workflow via secure file transfer. To learn more about Energy Data Studio, please contact insight@eastdaley.com.
The Daley Note
Subscribe to The Daley Note (TDN) for midstream insights delivered daily to your inbox. The Daley Note covers news, commodity prices, security prices and EDA research likely to affect markets in the short term.