The Daley Note: November 2, 2023
TC Energy's (TRP) Gas Transmission Northwest (GTN) has proposed a new rate design that could significantly raise future revenue for the pipeline, according to East Daley estimates.
In September, GTN initiated a Section 4 rate case at the Federal Energy Regulatory Commission (FERC) to change the pipeline's rate structure for shippers in California and the Pacific Northwest. GTN is proposing to move from a rate system currently based on shipping distance (per dth/mile) to a zone-based rate structure.
The proposed zones include a northern zone that runs from Kingsgate, ID to Stanfield, OR, and a southern zone that runs from Stanfield to Malin, OR at the California border (see pipeline map in in Energy Data Studio). Transportation between points within the North zone would be billed at $0.1468/dth, and transportation between points within the South zone would be billed at $0.1525/dth. Shippers moving gas between the North and South zones would pay $0.2705/dth under the GTN proposal.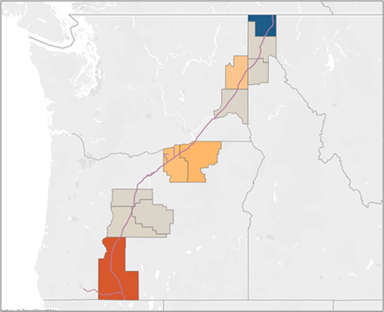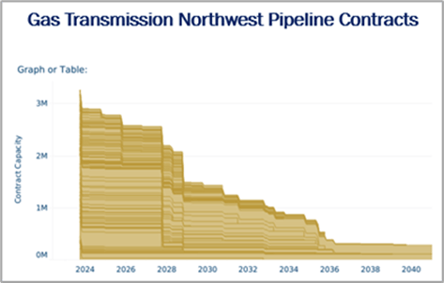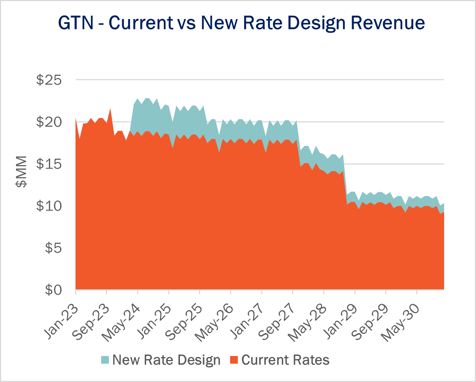 Using East Daley's Shipper Contract screen in Energy Data Studio, we can analyze the contracts currently in effect on GTN (see chart). EDA estimates 72% of volumes on GTN would be billed at the inter-zonal rate of $0.2705/dth, while only 14% and 15% of volumes would be billed at the much lower intra-south and intra-north rates, respectively.
We estimate GTN would generate 21% more revenue under the proposal vs the current pipeline rate structure. The effective change would begin in April 2024 if the new rates are approved (see chart).
Several shippers have filed complaints in protest of the proposal, claiming that the rate design is "unjust and unreasonable and, therefore, unlawful."
FERC determines the reasonable tariff rate for pipelines based on ROE calculations. GTN discloses that the current ROE of the pipe is 10.26%, which falls on the low side of the 8%-18% ROE that FERC has historically allowed pipelines to earn. Rate case testimony indicates that the targeted ROE after the change in tariff structure is 12.95%.
The average remaining contract duration on GTN is 6.5 years, according data in the Shipper Contract screen. If the new rate structure is approved by FERC, GTN would have a significant volume of contracts locked in at higher rates for the medium term.
Once contracts begin to roll off, shippers may seek contracts that ship gas through Stanfield, as the delivery point is classified as a neutral point within both the North and South zones. This incentive could create upside for WMB's Northwest Pipeline, which interconnects with GTN at Stanfield. However, Northwest Pipeline is already fully contracted and runs full from Canada during the peak winter demand seasons, so the pipeline would need to expand to see gains. - Zach Krause Tickers: TRP, WMB.
Natural Gas Weekly Update
The NEW Gas & Midstream Weekly newsletter combines the strengths of Hart Energy's journalistic reporting and analysis on natural gas, LNG, midstream energy and deal making with East Daley Analytics' deep research and intelligence of hydrocarbons, storage and transportation.
Published every Thursday morning, this new power-house newsletter is an interactive and enlightening read highlighting breaking news, exclusive interviews, videos, charts, maps and more. The newsletter utilizes East Daley's Energy Data Studio tools for natural gas predictive analytics with Hart Energy's Rextag mapping tools to present a holistic view of pricing triggers, infrastructure growth, pipeline and processing bottlenecks, regulatory and legal hurdles, and the inevitable solutions.
Keep up with how much natural gas is produced, where it is flowing, stored, consumed and exported with Gas & Midstream Weekly newsletter from Hart Energy and East Daley Analytics. Subscribe here.
Energy Data Studio
East Daley Analytics has launched Energy Data Studio, a platform for our industry-leading midstream data and commodity production forecasts. All clients have access to the new client portal. If you have not yet logged in, please fill out the form to request a registration email be resent.
Energy Data Studio leverages our G&P data set for insights into midstream assets across every major oil and gas basin in North America. Users can navigate detailed visual dashboards by region, pipeline, or individual asset to understand crude oil, natural gas and NGL supply at the most granular level.
Energy Data Studio is available through data downloads from the visual interface, in Excel files, or as a direct feed delivered into subscribers' workflow via secure file transfer. To learn more about Energy Data Studio, please contact insight@eastdaley.com.
The Daley Note
Subscribe to The Daley Note (TDN) for midstream insights delivered daily to your inbox. The Daley Note covers news, commodity prices, security prices and EDA research likely to affect markets in the short term.