The Daley Note: November 3, 2023
An early season cold front sent natural gas prices surging this week in western US markets. The price action was notable in the Rockies, where regional prices diverged as temperatures fell at the end of October.
Spot prices in the Pacific Northwest surged over $6/MMBtu early in the week as a cold front descended into the region from Canada. Prices at the Sumas, WA point traded at a high of $6.31 on Monday (October 30). Prices also topped $6 at the Malin, OR border to California.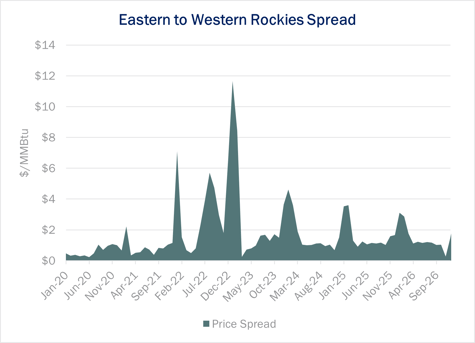 Rockies prices moved in different directions amid the higher regional demand. The spread between the Opal and Cheyenne hubs widened to $2.64/MMBtu on October 30, in what could be an early taste of volatility similar to last winter. The Opal-Cheyenne spread averaged as high as $11.67 in January 2023, when tight market conditions on the West Coast pulled Opal prices higher (see figure).
The West Coast has been intermittently short natural gas supply for the last few years, leading to a wide spread between prices on the eastern and western side of the Rocky Mountains. While there is sufficient capacity to bring gas to the Wamsutter area on pipelines like Rockies Express (REX), there is not enough capacity to move gas further west to the Opal hub in southwestern Wyoming.
Opal has connectivity to the Southern California market via the Kern River Pipeline and to the Pacific Northwest from Williams' (WMB) Northwest Pipeline. This connectivity causes the hub to trade at a premium when prices are high on the West Coast, while Cheyenne can miss out. The constraint should be loosened in 2026 when WMB plans to complete a 325 MMcf/d expansion of Overthrust Pipeline.
East Daley is monitoring western gas markets through our West Coast Supply and Demand Forecast. Launching next month, this new report provides an in-depth view into supply, demand and flow dynamics affecting prices in the West. Reach out for more information on the West Coast Supply and Demand Forecast. – Alex Gafford Tickers: WMB.
East Daley, Hart Bring NEW Gas & Midstream Weekly on November 9th
East Daley is teaming up with Hart Energy on the NEW

Gas & Midstream Weekly newsletter

. This

new report

combines the strengths of Hart Energy's journalistic reporting and analysis on natural gas, LNG, midstream energy and deal-making with EDA's deep research and intelligence of hydrocarbons, storage and transportation.

Published every Thursday morning, this new

powerhouse newsletter

is an interactive and enlightening read highlighting breaking news, exclusive interviews, videos, charts, maps and more. The newsletter utilizes East Daley's Energy Data Studio tools for natural gas predictive analytics with Hart Energy's Rextag mapping tools to present a holistic view of pricing triggers, infrastructure growth, pipeline and processing bottlenecks, regulatory and legal hurdles, and the inevitable solutions.
Energy Data Studio
East Daley Analytics has launched Energy Data Studio, a platform for our industry-leading midstream data and commodity production forecasts. All clients have access to the new client portal. If you have not yet logged in, please fill out the form to request a registration email be resent.
Energy Data Studio leverages our G&P data set for insights into midstream assets across every major oil and gas basin in North America. Users can navigate detailed visual dashboards by region, pipeline, or individual asset to understand crude oil, natural gas and NGL supply at the most granular level.
Energy Data Studio is available through data downloads from the visual interface, in Excel files, or as a direct feed delivered into subscribers' workflow via secure file transfer. To learn more about Energy Data Studio, please contact insight@eastdaley.com.
The Daley Note
Subscribe to The Daley Note (TDN) for midstream insights delivered daily to your inbox. The Daley Note covers news, commodity prices, security prices and EDA research likely to affect markets in the short term.