The Daley Note: August 16, 2023
Williams (WMB) intends to pursue a pipeline project to move more natural gas to the West Coast and interior Mountain West, where prices have fetched a premium in 2023.
In its 2Q23 earnings last week, Williams said it had reached a binding precedent agreement to support an expansion of MountainWest Overthrust Pipeline (MWOP). The project would add 325 MMcf/d of westbound capacity between Wamsutter and Opal, WY through expansions of the Rock Springs and Point of Rocks compressor stations.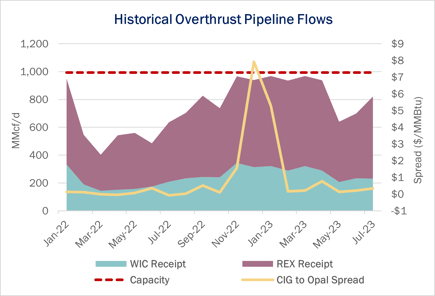 Williams acquired the MountainWest system in late 2022 from Southwest Gas as part of a $1.5B pipeline package. East Daley noted the transaction suggested a bet by WMB on future supply upside from the Rockies. In the latest binding open season, WMB had sought a $0.18/dth reservation charge for capacity and a 15-year minimum contract for the MWOP expansion. WMB anticipates a project in-service date of December 2026.
The planned expansion would relieve some of the constraints between Opal and the Colorado Interstate Gas (CIG) mainline to move gas from the Rockies to the West Coast. Western US markets rely on ~4.5 Bcf/d of gas sourced from the Rockies, and the path between the CIG mainline and Opal offers the shortest distance between supply sources and the West Coast.
Constraints in the Pacific region became evident last winter, when cold weather and pipeline outages caused West Coast spot prices to spike to over $45/MMBtu. During this period of high regional demand, Opal traded at a steep premium to the CIG mainline (see figure).
The Opal hub in southwestern Wyoming is only ~140 miles from Wamsutter, but gas becomes stranded there due to the shortfall of capacity offered by MountainWest relative to what Kinder Morgan's (KMI) Wyoming Interstate Pipeline (WIC) and Tallgrass' Rockies Express Pipeline (REX) can deliver. With receipts topping out at ~1.45 Bcf/d, MWOP is unable to accept the 2 Bcf/d that REX alone could potentially provide.
Western gas prices have continued to trade at a premium for much of 2023. Pacific region gas storage inventory exited the 2022-23 winter at historic lows, supporting demand through spring and summer. Hot weather this summer also has kept prices high to feed power generation. On Tuesday (August 15), the SoCal Border traded at over $6/MMBtu, or a $3.33 premium to the Henry Hub, while Opal prices traded for over $5, or a $2.30 premium to the Henry Hub.
East Daley has created a Western US Supply and Demand Forecast to capture supply and demand movements in this dynamic regional market. Please contact East Daley for more information about the Western US Supply and Demand Forecast. We also provide Consulting services for clients interested in a deeper review of the Western gas market.
In addition to the debottlenecking effort for the westbound MWOP expansion, Williams is holding an open season for a 267 MMcf/d lateral to the Jim Bridger power plant, located north of Point of Rocks between Wamsutter and Opal. The open season for the plant lateral solicits a minimum contract term of 10 years. If successful, the project would build to the base of stable contracted earnings for MWOP.
Between growing demand brought on by coal-to-gas conversion and shippers attempting to capture the Opal – CIG mainline spread, increasing capacity on MWOP continues to grow value for WMB. – Zach Krause Tickers: KMI, WMB.
Sign Up for the Western US Supply and Demand Forecast
East Daley has developed a new Western US Supply and Demand Forecast to cover markets in the West Coast and Rocky Mountains. Using our basin supply forecasts, we project future gas flows from the Rockies, Permian and Western Canada to meet demand on the West Coast and interior Mountain West. Please contact East Daley for more information about the Western US Supply and Demand Forecast.
New Webinar:

Crude Oil Market Update: 5 Reasons to be Bullish and 1 Not to Be
August 31, 2023 | 10:30 AM MT | Online Webinar
Join East Daley for a webinar exploring US Crude Oil market fundamentals. We provide reasons why expect a strong and healthy outlook for US crude. We will dissect global and domestic economic headwinds and what these mean for US midstream companies, as well as the effects of production growth in the US and infrastructure projects, to support it. RSVP HERE
Upcoming Webinar:

Organically Grown: The Shifting Landscape For Growth in the Midstream Sector
August 16, 2023 | 10 AM MT | Online Webinar
Understanding how the commodity markets are influencing the business risk of the assets midstream companies own is a core component of the East Daley process and key to understanding how the market will evolve. This webinar will focus on reviewing the Base Business Risk Indicator (formerly the Treadmill) a key East Daley analysis that ties fundamental commodity analysis to the commercial outcomes of assets across the gas, oil, and NGL sectors. We will review where commodity markets are headed and which assets are capturing value, which are losing value, and pontificate on what could change. RSVP HERE
Energy Data Studio
East Daley Analytics has launched Energy Data Studio, a platform for our industry-leading midstream data and commodity production forecasts. All clients have access to the new client portal. If you have not yet logged in, please fill out the form to request a registration email be resent.
Energy Data Studio leverages our G&P data set for insights into midstream assets across every major oil and gas basin in North America. Users can navigate detailed visual dashboards by region, pipeline, or individual asset to understand crude oil, natural gas and NGL supply at the most granular level.
Energy Data Studio is available through data downloads from the visual interface, in Excel files, or as a direct feed delivered into subscribers' workflow via secure file transfer. To learn more about Energy Data Studio, please contact insight@eastdaley.com.
Review the Year Ahead in Dirty Little Secrets
The 2023 Dirty Little Secrets is Now Available! Is Midstream on the cusp of another infrastructure wave? Find out in our new annual report.
Dirty Little Secrets reviews the outlook for Midstream and commodity markets in 2023 and the years ahead. East Daley discusses the outlook for crude oil, natural gas and NGLs and the impacts to midstream assets in our 2023 Dirty Little Secrets annual market report. Click here for a copy of the 2023 Dirty Little Secrets report.
The Daley Note
Subscribe to The Daley Note (TDN) for midstream insights delivered daily to your inbox. The Daley Note covers news, commodity prices, security prices and EDA research likely to affect markets in the short term.