The Daley Note: August 17, 2023
Seeking a fresh corporate makeover, TC Energy (TRP) plans to spin off its crude oil and liquids pipelines into a separate company to focus on natural gas and renewable opportunities.
TC Energy announced the new strategy on July 27. The Canadian midstream company owns four liquids pipelines: Keystone, MarketLink, Grand Rapids, and White Spruce. TRP in 2022 reported Adj. EBITDA of C$1,398MM for these pipelines.
Using East Daley Analytics' Financial Blueprints, we model a standalone liquids company would generate Adj. EBITDA of C$1,436MM in 2023. In its presentation on the spinoff, TRP forecasts the new liquids pipeline company would achieve a 2-3% CAGR, in line with EDA's own view on these assets.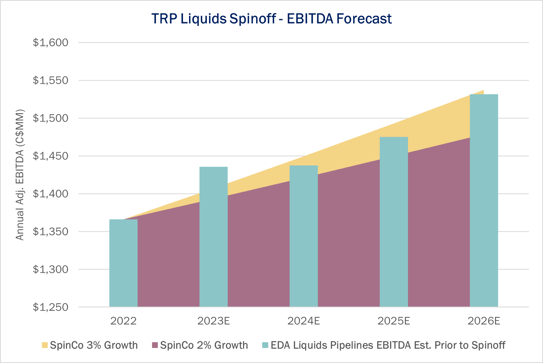 In the latest TC Energy Financial Blueprint, we forecast the Liquids Pipelines segment to post 2026 Adj. EBITDA of C$1,531MM, a 2.9% CAGR from 2022-26. The anticipated performance of the spinoff relative to EDA's forecast for the TRP pipelines is displayed in the figure.
Keystone Pipeline transports Canadian crude oil from Hardisty, AB to Cushing, OK and Patoka, IL. With a capacity of 620 Mb/d, Keystone utilization averaged 92% in 2022. MarketLink, a 750 Mb/d pipeline, picks up barrels in Cushing and delivers them to the Houston and Port Arthur markets.
With Canada's Trans Mountain Expansion (TMX) on the horizon, TRP has increased its committed oil volumes to 88%: 545 Mb/d for Keystone and 660 M/d for MarketLink. These commitments will help protect Keystone volumes from migrating when TMX starts (planned in 1Q24), while also increasing MarketLink's current flows.
Based in Alberta, the White Spruce and Grand Rapids pipelines would account for ~5% of EBITDA of a pro forma liquids company. White Spruce is a northern Alberta gathering line connecting Canadian Natural Resources production to Grand Rapids Pipeline. Jointly owned by TC Energy and Petro China Canada, the Grand Rapids pipe gathers and delivers crude from the Western Athabasca oil sands to Edmonton, AB.
Barring outages or political interference, the new liquids pipeline spinoff should have stable revenues streams that will serve it well in the future. – Kristine Oleszek and Zach Krause Tickers: TRP.
Sign Up for the Western US Supply and Demand Forecast
East Daley has developed a new Western US Supply and Demand Forecast to cover markets in the West Coast and Rocky Mountains. Using our basin supply forecasts, we project future gas flows from the Rockies, Permian and Western Canada to meet demand on the West Coast and interior Mountain West. Please contact East Daley for more information about the Western US Supply and Demand Forecast.
New Webinar:

Crude Oil Market Update: 5 Reasons to be Bullish and 1 Not to Be
August 31, 2023 | 10:30 AM MT | Online Webinar
Join East Daley for a webinar exploring US Crude Oil market fundamentals. We provide reasons why expect a strong and healthy outlook for US crude. We will dissect global and domestic economic headwinds and what these mean for US midstream companies, as well as the effects of production growth in the US and infrastructure projects to support it. RSVP HERE
Energy Data Studio
East Daley Analytics has launched Energy Data Studio, a platform for our industry-leading midstream data and commodity production forecasts. All clients have access to the new client portal. If you have not yet logged in, please fill out the form to request a registration email be resent.
Energy Data Studio leverages our G&P data set for insights into midstream assets across every major oil and gas basin in North America. Users can navigate detailed visual dashboards by region, pipeline, or individual asset to understand crude oil, natural gas and NGL supply at the most granular level.
Energy Data Studio is available through data downloads from the visual interface, in Excel files, or as a direct feed delivered into subscribers' workflow via secure file transfer. To learn more about Energy Data Studio, please contact insight@eastdaley.com.
Review the Year Ahead in Dirty Little Secrets
The 2023 Dirty Little Secrets is Now Available! Is Midstream on the cusp of another infrastructure wave? Find out in our new annual report.
Dirty Little Secrets reviews the outlook for Midstream and commodity markets in 2023 and the years ahead. East Daley discusses the outlook for crude oil, natural gas and NGLs and the impacts to midstream assets in our 2023 Dirty Little Secrets annual market report. Click here for a copy of the 2023 Dirty Little Secrets report.
The Daley Note
Subscribe to The Daley Note (TDN) for midstream insights delivered daily to your inbox. The Daley Note covers news, commodity prices, security prices and EDA research likely to affect markets in the short term.