Natural Gas Weekly: August 16, 2023
Infrastructure - Cheniere Energy (LNG) has filed an initial application with regulators to begin permitting for the Sabine Crossing pipeline. The project, designed to boost gas flows to Cheniere's Sabine Pass LNG terminal, could jumpstart the race to build new gas pipelines across Texas.
The proposed 48-inch pipeline would extend five miles from Cheniere's Sabine Pass facility into Jefferson County, TX near Port Arthur, according to an August 11 filing with the Federal Energy Regulatory Commission (FERC). The Sabine Pass terminal is located near the Texas state border on the Louisiana side of the Sabine River. Cheniere is requesting authorization to begin the pre-filing process to review the project's environmental impacts. The company anticipates filing a final application with FERC in February 2024.
Sabine Cross would supply the Stage 5 expansion planned to add more liquefaction capacity at Sabine Pass. The pipeline would interconnect with interstate and/or intrastate pipelines "to be developed by others in the future," according to the filing. Sabine Cross has a projected in-service date in the second half of 2032.
Several companies are competing to build the next greenfield pipeline to move gas from the Permian Basin to the Texas Gulf Coast. The Matterhorn Express Pipeline is due to start deliveries out of the Permian in 2024, but no other projects are otherwise lined up. The current candidates include Energy Transfer's (ET) Warrior and Kinder Morgan's (KMI) Permian Pass projects. Targa Resources (TRGP) is also considering the Apex Pipeline to move Permian gas east. Whitewater Midstream is pursuing another project, the Blackfin Pipeline, to move volumes from Matterhorn further east.
While helpful for Permian producers, Matterhorn Express won't solve how to meet new LNG export demand planned on the Louisiana Gulf Coast. Matterhorn will terminate near Katy, well short of Sabine Pass and other Louisiana projects. Whitewater Midstream is pursuing another project, the Blackfin Pipeline, to move Matterhorn volumes further east from Katy.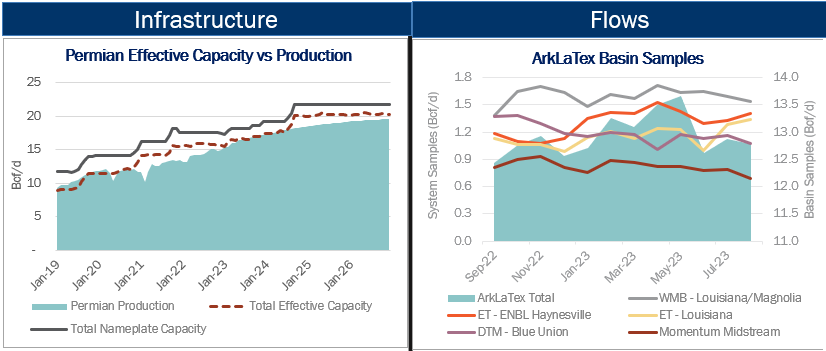 Flows - East Daley's ArkLaTex samples are down ~100 MMcf/d M-o-M so far in August. Volumes have grown M-o-M on Energy Transfer's (ET) Enable -Haynesville and Louisiana gathering systems by a combined ~140 MMcf/d, but these gains have been offset by production declines on Williams' (WMB) Louisiana/Magnolia, DT Midstream's (DTM) Blue Union, and the Momentum Midstream gathering system.
East Daley's latest ArkLaTex Basin Supply and Demand Forecast expects production to decline by ~2% M-o-M through February 2024. We expect basin sample to continue declining at a higher rate than we have seen thus far. For example, assuming the sample coverage ratio stays constant at 70%, we forecast a sample decline of ~250 MMcf/d between August and September.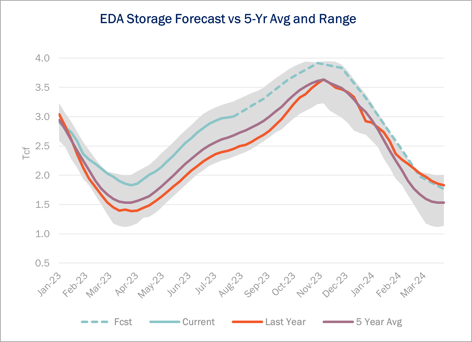 Storage - Traders expect EIA to report a 25 Bcf storage injection for the August 11 week. EIA reported a 29 Bcf storage injection for the August 4 week to leave working gas inventories at 3,030 Bcf, or 305 Bcf above the 5-year average. The 5-year storage surplus would fall below 300 Bcf if the upcoming EIA report meets expectations, reflecting a tightening market as summer heat has lifted demand for power generation.
Looking ahead, high inventories continue to pose a risk to prices once peak summer heat abates. US storage crossed the 3 Tcf threshold at the end of July, two months earlier than a year ago. Last year, working gas passed 3 Tcf the last week of September 2022.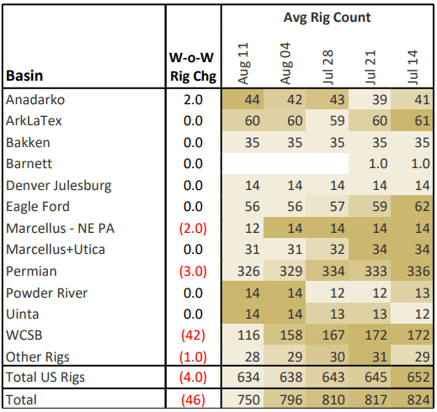 Rigs - US rigs decreased by 4 W-o-W to bring the total count to 634. The Permian is down 3 rigs, the Marcellus – Northeast PA is down 2 rigs, while the Anadarko Basin added 2 rigs.
On the midstream side, Energy Transfer (ET) is down 5 rigs on its Anadarko and ArkLaTex systems. EnLink Midstream (ENLC) is down 2 rigs on its Permian systems. Williams (WMB) is up 4 rigs on its ArkLaTex system.