The Daley Note: August 18, 2023
US propane and propylene inventories have hit new five-year highs for 14 straight weeks and continue to put pressure on propane prices. The propane inventory glut is likely to accelerate plans by midstream companies to develop new export markets.
Propane prices are now down 20% YTD to $0.67/gal and trade at a measly 36% of WTI. The run-up in inventory started in July 2022 as ONEOK's (OKE) Medford fractionator went down and fractionation capacity quickly became constrained. Weekly inventories from EIA include an estimate of propane blended into Y-grade, so although this propane could not be used, inventories started to climb. As new fractionation capacity comes online, that propane can be fractionated and sold, which has helped push down prices this year.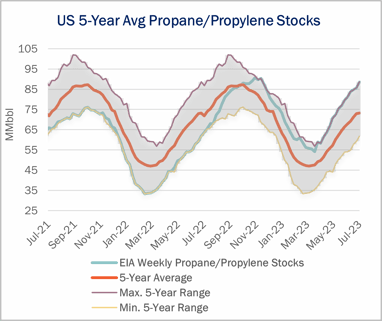 Although increasing NGL production and reduced fractionation capacity contributed to the initial run-up in storage, the mild winter is responsible for keeping inventory high. Propane stocks usually start to fall in late October as the heating season begins, but inventories in 4Q22 kept increasing through most of November (see figure). Domestic demand fell 25% for the 2022-23 heating season and is down 19% YTD vs 2022.
Exports have been able to offset lower demand, hitting record levels in June and 21% higher YTD vs 2022, which is keeping total demand flat Y-o-Y so far. However, East Daley's NGL Purity Product Forecast shows plant production has increased 5% YTD vs 2022.
Exports could continue to tick up in 2H23 as more propane dehydrogenation (PDH) facilities come online in China. Energy Transfer (ET) and Enterprise Products (EPD) both reported 4-6 facilities have come online so far in 2023, and another 11-12 PHD facilities are expected to come online later this year. EPD noted these plants would have capacity to absorb ~250 Mb/d of propane, though the company only expects utilization to be 65-70% (160-175 Mb/d).
Both ET and EPD expect export demand will continue to grow and have announced expansions at their LPG export facilities. ET is spending $1.25B to add 250 Mb/d of capacity at its Nederland terminal, while EPD has announced a 120 Mb/d expansion at its Enterprise Hydrocarbons terminal and a "flex" 360 Mb/d propane export terminal at its new Beaumont site. The expansions are expected in 2025-26.
Although the long-term outlook for propane exports is strong, the market has a lot of inventory to absorb. Given how hot this summer has been, another mild winter could continue to keep propane inventories at record highs. Add continued NGL production growth, especially from the Permian as midstreamers add 2 Bcf/d of new gas processing capacity, and exports have a long way to go before bringing the propane markets back into balance. — Ajay Bakshani, CFA and Christina Adjiman Tickers: EPD, ET, OKE.
Sign Up for the Western US Supply and Demand Forecast
East Daley has developed a new Western US Supply and Demand Forecast to cover markets in the West Coast and Rocky Mountains. Using our basin supply forecasts, we project future gas flows from the Rockies, Permian and Western Canada to meet demand on the West Coast and interior Mountain West. Please contact East Daley for more information about the Western US Supply and Demand Forecast.
New Webinar:

Crude Oil Market Update: 5 Reasons to be Bullish and 1 Not to Be
August 31, 2023 | 10:30 AM MT | Online Webinar
Join East Daley for a webinar exploring US Crude Oil market fundamentals. We provide reasons why expect a strong and healthy outlook for US crude. We will dissect global and domestic economic headwinds and what these mean for US midstream companies, as well as the effects of production growth in the US and infrastructure projects to support it.

RSVP HERE
Energy Data Studio
East Daley Analytics has launched Energy Data Studio, a platform for our industry-leading midstream data and commodity production forecasts. All clients have access to the new client portal. If you have not yet logged in, please fill out the form to request a registration email be resent.
Energy Data Studio leverages our G&P data set for insights into midstream assets across every major oil and gas basin in North America. Users can navigate detailed visual dashboards by region, pipeline, or individual asset to understand crude oil, natural gas and NGL supply at the most granular level.
Energy Data Studio is available through data downloads from the visual interface, in Excel files, or as a direct feed delivered into subscribers' workflow via secure file transfer. To learn more about Energy Data Studio, please contact insight@eastdaley.com.
Review the Year Ahead in Dirty Little Secrets
The 2023 Dirty Little Secrets is Now Available! Is Midstream on the cusp of another infrastructure wave? Find out in our new annual report.
Dirty Little Secrets reviews the outlook for Midstream and commodity markets in 2023 and the years ahead. East Daley discusses the outlook for crude oil, natural gas and NGLs and the impacts to midstream assets in our 2023 Dirty Little Secrets annual market report. Click here for a copy of the 2023 Dirty Little Secrets report.
The Daley Note
Subscribe to The Daley Note (TDN) for midstream insights delivered daily to your inbox. The Daley Note covers news, commodity prices, security prices and EDA research likely to affect markets in the short term.