The Daley Note: August 22, 2023
Energy Transfer (ET) plans to acquire Crestwood Equity (CEQP) for $7.1B in stock. The deal gives ET reach in new basins and could lift volumes on several of the company's downstream assets.
Energy Transfer will exchange 2.07 units for each Crestwood unit and assume CEQP's debt, according to terms of the all-stock deal announced August 16. The companies expect to close the transaction in 4Q23.
East Daley Analytics covered the ET-CEQP deal in a "First Take" to clients after the announcement. We noted the acquisition will extend ET's G&P services into the Williston and Powder River basins. CEQP's oil gathering footprint in the Bakken could support volumes on ET's Dakota Access Pipeline (DAPL), while CEQP's G&P systems could boost ET's downstream NGL assets.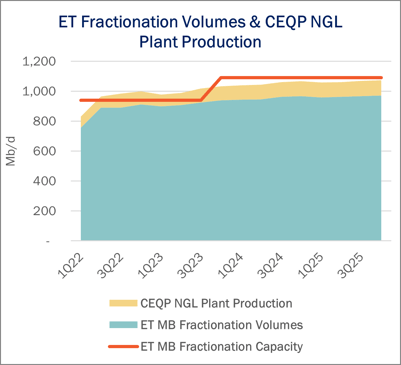 The deal is ET's third acquisition since the company bought Enable Midstream (ENBL) for $7.2B in stock in December 2021. In each all-stock deal, ET has targeted gathering assets that could be leveraged to support its longer-haul pipeline assets (and in the case of ENBL, also position ET to take advantage of LNG demand).
ET noted it expects ~$40MM in cost synergies from the deal, as well as financial and commercial synergies. Comparing data in EDA's Energy Transfer and Crestwood Financial Blueprints, we estimate $30-50MM in additional financial synergies from ET's lower interest debt.
As for commercial synergies, the most interesting to East Daley is the potential to direct NGLs from CEQP's plants to ET's downstream NGL assets, such as its Lone Star pipeline, Mont Belvieu fractionators, or the expanding Nederland export facility (see figure).
On the G&P side, CEQP's systems fit with ET's Delaware system and extend the company further into Eddy County, NM. CEQP's largest customers include Mewbourne and Conoco Phillips (COP), two producers that are also large customers of ET's Delaware system.
We believe Targa Resources (TRGP) is currently offloading gas to Crestwood's Sendero plant, and CEQP in return is routing NGLs down TRGP's Grand Prix pipeline. We expect CEQP to stop taking offload volumes in 3Q23, but it is unclear how long the NGL commitment will last. If it does end with the offtake agreement, that's an additional 20~25 Mb/d of NGL production that can move to Lone Star.
If ET cannot move those NGL barrels onto Lone Star, the company may still be able to run them through its own fractionators instead of Targa's, and export those barrels from the Nederland terminal rather than TRGP's Galena Park facility.
ET may be able to redirect CEQP's ~50 Mb/d of Bakken and Powder River NGLs as well. Although ONEOK (OKE) would still move those barrels to Mont Belvieu via its Elk Creek and Arbuckle pipelines, those volumes might move from OKE's fractionators to ET's. In total, CEQP's NGLs may be able to fill up half a new fractionator. — Ajay Bakshani, CFA Tickers: CEQP, ET, OKE, TRGP. — Ajay Bakshani, CFA Tickers: CEQP, ET, OKE, TRGP.
Sign Up for the Western US Supply and Demand Forecast
East Daley has developed a new
Western US Supply and Demand Forecast
to cover markets in the West Coast and Rocky Mountains. Using our basin supply forecasts, we project future gas flows from the Rockies, Permian and Western Canada to meet demand on the West Coast and interior Mountain West.
Please contact East Daley
for more information about the
Western US Supply and Demand Forecast
.
New Webinar:

Crude Oil Market Update: 5 Reasons to be Bullish and 1 Not to Be
August 31, 2023 | 10:30 AM MT | Online Webinar
Join East Daley for a webinar exploring US Crude Oil market fundamentals. We provide reasons why expect a strong and healthy outlook for US crude. We will dissect global and domestic economic headwinds and what these mean for US midstream companies, as well as the effects of production growth in the US and infrastructure projects to support it.

RSVP HERE
Energy Data Studio
East Daley Analytics has launched Energy Data Studio, a platform for our industry-leading midstream data and commodity production forecasts. All clients have access to the new client portal. If you have not yet logged in, please fill out the form to request a registration email be resent.
Energy Data Studio leverages our G&P data set for insights into midstream assets across every major oil and gas basin in North America. Users can navigate detailed visual dashboards by region, pipeline, or individual asset to understand crude oil, natural gas and NGL supply at the most granular level.
Energy Data Studio is available through data downloads from the visual interface, in Excel files, or as a direct feed delivered into subscribers' workflow via secure file transfer. To learn more about Energy Data Studio, please contact insight@eastdaley.com.
Review the Year Ahead in Dirty Little Secrets
The 2023 Dirty Little Secrets is Now Available! Is Midstream on the cusp of another infrastructure wave? Find out in our new annual report.
Dirty Little Secrets reviews the outlook for Midstream and commodity markets in 2023 and the years ahead. East Daley discusses the outlook for crude oil, natural gas and NGLs and the impacts to midstream assets in our 2023 Dirty Little Secrets annual market report. Click here for a copy of the 2023 Dirty Little Secrets report.
The Daley Note
Subscribe to The Daley Note (TDN) for midstream insights delivered daily to your inbox. The Daley Note covers news, commodity prices, security prices and EDA research likely to affect markets in the short term.