The Daley Note: September 1, 2023
Permian Resources (PR) will acquire Earthstone Energy (ESTE) in an all-stock transaction valued at $4.5 billion. The deal gives PR valuable acreage in the northern Delaware Basin that could draw rigs away from other G&P systems in the Permian.
PR and ESTE announced the merger on August 21. Earthstone will expand PR's existing asset base in the northern Delaware and add properties in the southern Midland sub-basin. The combined company will have over 400,000 net acres and 300 Mboe/d of production in the Permian.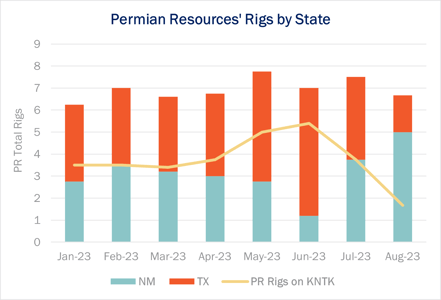 In an investor presentation, PR executives highlighted upside from ESTE's acreage in New Mexico, much of which is adjacent to the company's operations in the northern Delaware. PR estimates it can achieve $115MM in synergies from better drilling and completion practices and leaner operations in the area.
Permian Resources did not guide to rig cuts, but the E&P could shuffle its resources once the merger closes. PR is a longtime counterparty of Kinetik's (KNTK) Raptor system in the central Delaware, and the bulked-up position in New Mexico poses new competition. East Daley allocates 23% of natural gas volumes on the Raptor system to PR, as shown in East Daley's G&P System Analysis tool in Energy Data Studio (see figure).
The producer's migration north appears to be under way. As of August 18, East Daley allocates 2 PR rigs to KNTK – Raptor in Energy Data Studio, down from 6 rigs on the system at the beginning of June (see figure). By contrast, PR is running 5 rigs in Lea County, NM where Targa Resources (TRGP) gathers 54% and Enterprise Products (EPD) gathers 26% of PR's gas volumes, per East Daley's allocation model. – James Taylor Tickers: ESTE, KNTK, PR, TRGP.
Sign Up for the Crude Oil Edge
East Daley's
Crude Oil Edge
provides bi-monthly updates on the US Crude Oil Market including supply and demand fundamentals, basin-level views, and analysis of market constraints and infrastructure proposals. We explore sub-basin dynamics and provide market insights on crude oil flows, production growth, and import and export characteristics.
Sign up now for the Crude Oil Edge
.
Energy Data Studio
East Daley Analytics has launched Energy Data Studio, a platform for our industry-leading midstream data and commodity production forecasts. All clients have access to the new client portal. If you have not yet logged in, please fill out the form to request a registration email be resent.
Energy Data Studio leverages our G&P data set for insights into midstream assets across every major oil and gas basin in North America. Users can navigate detailed visual dashboards by region, pipeline, or individual asset to understand crude oil, natural gas and NGL supply at the most granular level.
Energy Data Studio is available through data downloads from the visual interface, in Excel files, or as a direct feed delivered into subscribers' workflow via secure file transfer. To learn more about Energy Data Studio, please contact insight@eastdaley.com.
Review the Year Ahead in Dirty Little Secrets
The 2023 Dirty Little Secrets is Now Available! Is Midstream on the cusp of another infrastructure wave? Find out in our new annual report.
Dirty Little Secrets reviews the outlook for Midstream and commodity markets in 2023 and the years ahead. East Daley discusses the outlook for crude oil, natural gas and NGLs and the impacts to midstream assets in our 2023 Dirty Little Secrets annual market report. Click here for a copy of the 2023 Dirty Little Secrets report.
The Daley Note
Subscribe to The Daley Note (TDN) for midstream insights delivered daily to your inbox. The Daley Note covers news, commodity prices, security prices and EDA research likely to affect markets in the short term.