Natural Gas Weekly: May 26, 2023
Flows - Samples in most Rocky Mountain basins have recovered after a long winter. Gas samples in six leading Rockies basins (Denver-Julesburg, Green River, Powder River, Piceance, San Juan and Uinta) have averaged 8.29 Bcf/d in May 2023, a M-o-M increase of 180 MMcf/d and up nearly 400 MMcf/d vs a recent low in February 2023.
The latest gains are likely due to wellhead supply returning from below-normal winter temperatures in the region, including severe storms in December and early February that caused wellhead freeze-offs and disrupted gas delivery. However, samples across the Rockies remain down 3% vs the November 2022 average of 8.54 Bcf/d. Rig counts in the Rockies have remained relatively flat since February at 49 total rigs. Samples in May are up 4.5% (80 MMcf/d) in the DJ and 2% (20 MMcf/d) in the Piceance basins vs the April averages.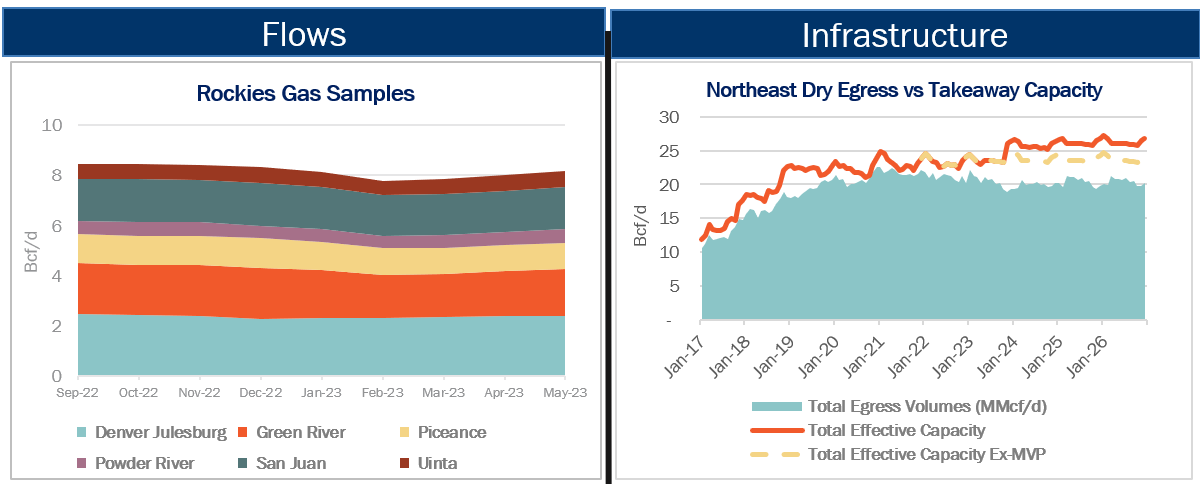 Infrastructure - The new debt ceiling deal moving through Congress has breathed new life into Mountain Valley Pipeline (MVP). Equitrans Midstream's (ETRN) stock rose nearly 40% on news of language brokered by Sen. Joe Manchin (D-WV) providing permitting assistance. The latest update comes after the US Forest Service approved a permit for MVP to pass through the Jefferson National Forest earlier this month. The pipeline does not yet have a clear path forward as the bill is being debated in Congress. East Daley models an in-service date of 4Q24 for MVP. The new bill could accelerate the timeline to spring/early summer of 2024, but 2023 is still unlikely in our view. Congress will debate and vote on the bill this week.

Rigs - Rig counts are down 8 W-o-W for the May 26 week, according to our Midstream Activity Tracker, with the largest reductions coming from the ArkLaTex and Anadarko basins. Given the oversupply in natural gas, our Macro Supply and Demand Forecast expects ArkLaTex activity to continue declining by another 5 rigs by July, reaching a monthly average of 64 rigs. We anticipate more rig attrition is necessary through 2023-24 in order to balance the market.
Storage - EIA reported a 96 Bcf storage injection for the May 19 week, putting working gas inventory at 2,336 Bcf. Analysts estimate a 113 Bcf injection in the next EIA storage survey for the May 26 week. In our updated Macro Supply and Demand Forecast, we estimate working gas ends May at 2,652 Bcf. US storage is 340 Bcf above the 5-year average after the latest EIA report.
Natural Gas Weekly
East Daley Analytics' Natural Gas Weekly provides a weekly update to our monthly Macro Supply and Demand Forecast. The update covers rigs, flows, production, prices and capacity constraints that materially change our view on supply and demand. This update highlights what investors and traders need to monitor in natural gas to ensure they are on the right side of the market. Subscribe to the Natural Gas Weekly.