The Daley Note: June 1, 2023
Chevron (CVX) will acquire PDC Energy (PDCE) in an all-stock deal for $6.3 billion ($72/share), confirming the major's commitment to the Denver-Julesburg Basin.
The purchase of PDCE, announced last Monday (May 25) has an enterprise value of $7.6 billion, including debt. CVX will add 275k net acres in northeastern Colorado adjacent to the assets CVX acquired from Noble Energy in 2020. Noble's Permian and international properties were considered the prize of that deal, leaving CVX's long-term plans in the DJ in question.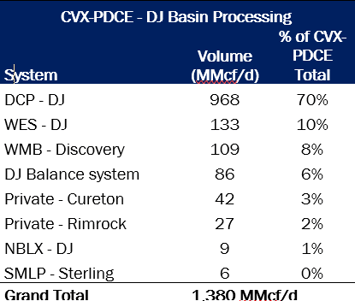 PDCE will add over 1 Bboe in proved reserves in the DJ and make CVX the top basin producer. The combined CVX-PDCE would produce ~1.2 Bcf/d of natural gas in the DJ, tops in the basin. The next largest operators include Occidental (OXY; 740 MMcf/d) and Civitas Resources (CIVI; 621 MMcf/d), according to East Daley's DJ Basin allocation model. PDCE currently operates 3 rigs in the DJ, while CVX is running 2 rigs.
Using East Daley's Energy Data Studio, users can analyze the CVX-PDCE combination for competitive impacts in the DJ. DCP Midstream (DCP), recently acquired by Phillips 66 (PSX), will have the most midstream exposure to the merged CVX/PDCE in the basin. We model 70% of the two operators' gas production is gathered and processed by the DCP – DJ system, followed by Western Midstream (WES) and Williams' (WMB) Discovery system (see table).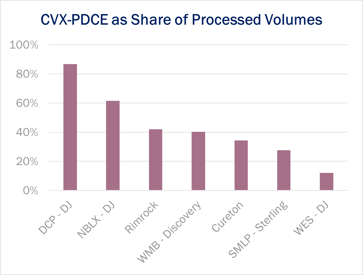 From the midstream perspective, CVX/PDCE will account for nearly 90% of the natural gas volumes gathered and processed on the DCP - DJ system, according to Energy Data Studio. The Rimrock (47%) and Discovery 40%) systems also receive a large share of their business from CVX and PDCE (see chart).
PDCE will also add 25k net acres to CVX's Permian Basin position, all held by production. East Daley estimates nearly all PDCE gas volumes in the Permian are dedicated to Kinetik Energy's (KNTK) Raptor system in Reeves County, TX.
PDCE is currently running 2 rigs in the Permian in central and northern Reeves County, both allocated to the KNTK – Raptor system. We forecast 121 MMcf/d of total gas volumes from PDCE's Permian assets.
While the PDCE acquisition points to a long-term commitment by CVX, we expect the latest upstream consolidation will lead to a slight reduction in DJ Basin rigs. CVX said it will target $400MM in Capex efficiencies after the deal closes. The major also plans to hike its capital spending by about $1B per year through 2027, to a $14-16B range. The transaction is expected to close by YE23, pending PDCE shareholder and regulatory approval. – James Taylor & Maria Paz Urdaneta Tickers: CIVI, CVX, DCP, KNTK, OXY, PSX, WMB.
Request Access to Energy Data Studio
East Daley Analytics has launched Energy Data Studio, a platform for our industry-leading midstream data and commodity production forecasts. All clients have access to the new client portal. If you have not yet logged in, please fill out the form to request a registration email be resent.
Energy Data Studio leverages our G&P data set for insights into midstream assets across every major oil and gas basin in North America. Users can navigate detailed visual dashboards by region, pipeline, or individual asset to understand crude oil, natural gas and NGL supply at the most granular level.
Energy Data Studio is available through data downloads from the visual interface, in Excel files, or as a direct feed delivered into subscribers' workflow via secure file transfer. To learn more about Energy Data Studio, please contact insight@eastdaley.com.
Review the Year Ahead in Dirty Little Secrets
The 2023 Dirty Little Secrets is Now Available! Is Midstream on the cusp of another infrastructure wave? Find out in our new annual report.
Dirty Little Secrets reviews the outlook for Midstream and commodity markets in 2023 and the years ahead. East Daley discusses the outlook for crude oil, natural gas and NGLs and the impacts to midstream assets in our 2023 Dirty Little Secrets annual market report. Click here for a copy of the 2023 Dirty Little Secrets report.
The Daley Note
Subscribe to The Daley Note (TDN) for midstream insights delivered daily to your inbox. The Daley Note covers news, commodity prices, security prices and EDA research likely to affect markets in the short term.