The Daley Note: August 30, 2023
SilverBow Resources (SBOW) has struck a deal with Chesapeake Energy (CHK) to acquire certain oil and gas assets in the Eagle Ford shale for $650MM, plus a $50MM deferred payment. The transaction could affect drilling plans on several midstream systems in South Texas.
The deal for the CHK properties was announced August 14. SBOW expects to add 31-33 Mboe/d of liquids-weighted production from 42,000 acres in Dimmit and Webb counties to its Eagle Ford portfolio, approximately doubling the producer's production. The transaction is expected to close by the end of 4Q23.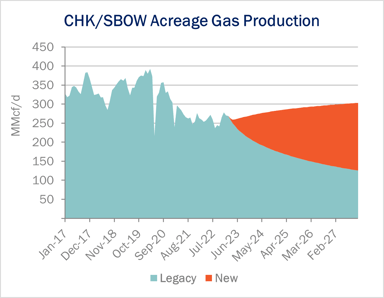 At the midstream level, Williams (WMB) and Kinder Morgan (KMI) service the acreage changing hands, according to allocations in East Daley Analytics' Energy Data Studio. WMB gathers the natural gas for Chesapeake on its Eagle Ford G&P system and sends most volumes to KMI for processing.
Prior to the sale, CHK disclosed that the Eagle Ford assets were producing above its minimum volume commitment (MVC) with Williams. According to Energy Data Studio, CHK has regularly run a single rig on the properties in the western Eagle Ford, resulting in 0.5-1.0 rigs on the acreage for the past 10 years. We model current gas production of ~250 MMcf/d on the properties and expect some growth ahead (see figure).
Following the transaction, Silverbow guided to continue running a 3-4 rig program across its own Eagle Ford acreage. Down the line, several midstream operators could see impacts if SBOW moves capital to the newly acquired acreage.
In the past year, EDA has allocated SBOW rigs to Eagle Ford G&P systems operated by DCP Midstream (DCP), Targa Resources (TRGP), Enterprise Products (EPD) and Kinder Morgan (KMI). In Energy Data Studio, EDA currently allocates 2 SBOW rigs between EPD – Eagle Ford and KMI – Eagle Ford.
Williams only gathers in the Eagle Ford, and most of the gas gathered by the WMB - Eagle Ford system travels to KMI – Eagle Ford. According to EDA's G&P System Analysis tool in Energy Data Studio, SBOW is currently the fourth-largest producer on KMI – Eagle Ford, producing 5% of the total gas modeled to the system (see figure). This figure is likely to increase as SBOW takes over the properties and begins feeding the WMB gathering lines. – Zach Krause Tickers: CHK, DCP, EPD, KMI, SBOW, TRGP, WMB.
Sign Up for the Crude Oil Edge
East Daley's
Crude Oil Edge
provides bi-monthly updates on the US Crude Oil Market including supply and demand fundamentals, basin-level views, and analysis of market constraints and infrastructure proposals. We explore sub-basin dynamics and provide market insights on crude oil flows, production growth, and import and export characteristics.
Sign up now for the Crude Oil Edge
.
New Webinar:

Crude Oil Market Update: 5 Reasons to be Bullish and 1 Not to Be
August 31, 2023 | 10:30 AM MT | Online Webinar
Join East Daley for a webinar exploring US Crude Oil market fundamentals. We provide reasons why expect a strong and healthy outlook for US crude. We will dissect global and domestic economic headwinds and what these mean for US midstream companies, as well as the effects of production growth in the US and infrastructure projects to support it.

RSVP HERE
Energy Data Studio
East Daley Analytics has launched Energy Data Studio, a platform for our industry-leading midstream data and commodity production forecasts. All clients have access to the new client portal. If you have not yet logged in, please fill out the form to request a registration email be resent.
Energy Data Studio leverages our G&P data set for insights into midstream assets across every major oil and gas basin in North America. Users can navigate detailed visual dashboards by region, pipeline, or individual asset to understand crude oil, natural gas and NGL supply at the most granular level.
Energy Data Studio is available through data downloads from the visual interface, in Excel files, or as a direct feed delivered into subscribers' workflow via secure file transfer. To learn more about Energy Data Studio, please contact insight@eastdaley.com.
Review the Year Ahead in Dirty Little Secrets
The 2023 Dirty Little Secrets is Now Available! Is Midstream on the cusp of another infrastructure wave? Find out in our new annual report.
Dirty Little Secrets reviews the outlook for Midstream and commodity markets in 2023 and the years ahead. East Daley discusses the outlook for crude oil, natural gas and NGLs and the impacts to midstream assets in our 2023 Dirty Little Secrets annual market report. Click here for a copy of the 2023 Dirty Little Secrets report.
The Daley Note
Subscribe to The Daley Note (TDN) for midstream insights delivered daily to your inbox. The Daley Note covers news, commodity prices, security prices and EDA research likely to affect markets in the short term.