The Daley Note: September 19, 2023
The Trans Mountain Pipeline expansion (TMX) faces the prospects of more delays to finish construction, putting a 1Q24 target at risk for the Canadian project.
Last Monday (September 11), Trans Mountain requested approval from the Canadian Energy Regulatory (CER) to change its approved route and use an alternative construction method through 0.8 miles (1.3 km) of land native to the Stk'emlupsemc te Secwepemc Nation (SSN) in the Jacko Lake area of British Columbia.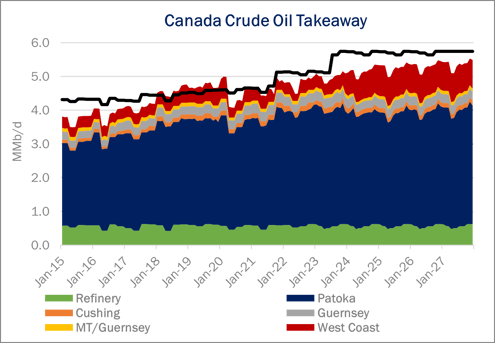 Citing technical challenges, Trans Mountain seeks permission to revise the route and use open-trench and horizontal drilling for construction, rather than a trenchless method involving micro-tunneling.
The SSN is contesting the request due to surface disturbances on land that has "profound spiritual and cultural significance." The initial complaint stems from a July 11, 2023 filing by the SSN outlining its concerns with deviating from the approved route and construction methods.
If Trans Mountain's request is denied, it could translate to C$25.7–87.7MM of additional project costs and delay completion by up to nine months, the pipeline said in a regulatory filing.
The latest stumbling block could add to a record of delays and cost overruns. Construction on the 590 Mb/d expansion began in 2019. TMX, which twins Trans Mountain from Edmonton, AB to Burnaby, BC, has faced challenges from the pandemic, difficult mountain terrain, archeological discoveries and lower labor productivity. Earlier this year, Trans Mountain raised its cost estimate for the project to C$30.9 billion, about four times the original budget.
While further delays would be a blow to constrained Canadian producers, companies like Enbridge (ENB) and TC Energy (TRP) should benefit. According to East Daley Analytics' Crude Hub Model, these companies will see pipelines continue to run full out of Western Canada until the expansion begins service (see chart).
The CER is holding public meetings September 18-19 to discuss the proposal. If the request is approved, Trans Mountain said it would still be on schedule to meet an 1Q24 in-service deadline. - Kristine Oleszek Tickers: ENB, TRP.
Sign Up for the Crude Oil Edge
East Daley's
Crude Oil Edge
provides bi-monthly updates on the US Crude Oil Market including supply and demand fundamentals, basin-level views, and analysis of market constraints and infrastructure proposals. We explore sub-basin dynamics and provide market insights on crude oil flows, production growth, and import and export characteristics.
Sign up now for the Crude Oil Edge
.
Energy Data Studio
East Daley Analytics has launched Energy Data Studio, a platform for our industry-leading midstream data and commodity production forecasts. All clients have access to the new client portal. If you have not yet logged in, please fill out the form to request a registration email be resent.
Energy Data Studio leverages our G&P data set for insights into midstream assets across every major oil and gas basin in North America. Users can navigate detailed visual dashboards by region, pipeline, or individual asset to understand crude oil, natural gas and NGL supply at the most granular level.
Energy Data Studio is available through data downloads from the visual interface, in Excel files, or as a direct feed delivered into subscribers' workflow via secure file transfer. To learn more about Energy Data Studio, please contact insight@eastdaley.com.
The Daley Note
Subscribe to The Daley Note (TDN) for midstream insights delivered daily to your inbox. The Daley Note covers news, commodity prices, security prices and EDA research likely to affect markets in the short term.