Crude Oil Edge: September 19, 2023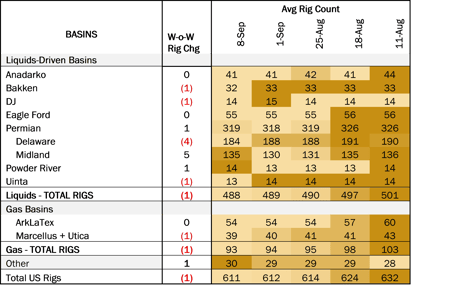 Rigs - The US rig count decreased by 1 W-o-W to bring the total count to 611. Liquids basins lost 1 rig in the Bakken, 1 rig in the DJ and 1 in the Uinta Basin. The Powder River Basin gained 1 rig and the Permian Basin gained 1 rig overall. The Anadarko and Eagle Ford basins held steady. The Permian Basin saw some reshuffling of rigs, with the Delaware losing 4 and Midland gaining 5.
Vital Energy (VTLE) announced three separate acquisitions for Permian Basin acreage from Henry Energy and Henry Resources affiliates. VTLE said it plans to cut 2 of the 3 rigs run by the acquired companies when the deals close in 4Q23. Rig attrition in the Permian is consistent with East Daley's forecast due to price backwardation and rig consolidation through merger activity. As producers merge, rigs are cut on the combined properties to lower costs and demonstrate returns to investors. A recent review by East Daley found Permian producers involved in recent M&A deals have cut rigs by 30% since the start of 2023.
Infrastructure - As the Trans Mountain Pipeline expansion (TMX) nears completion, the project has run into a significant challenge that could delay start-up to 4Q24.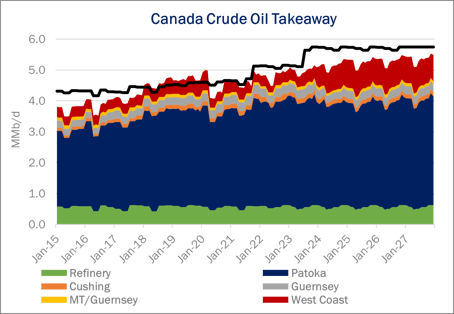 Trans Mountain has requested approval from the Canadian Energy Regulator (CER) to reroute a small segment of the pipeline and switch construction methods to open-trench and horizontal drilling, rather than a trenchless method involving micro-tunneling.

TMX loops the existing pipeline from Hardisty, AB to Vancouver, BC. The route segment in question passes through lands of the Stk'emlupsemc te Secwepemc Nation in British Columbia. The First Nation has contested this request, stating the surface disturbances on its land will have "profound spiritual and cultural significance".

In March, Trans Mountain said the expansion project was 82% complete and on target to meet a start date in 1Q24. But if the request is not approved, construction on TMX may be delayed by nine months, and project costs could increase by C$25.7–87.7MM, the pipeline said in a filing.

TMX will add 590 Mb/d of takeaway, primarily to the Westridge Marine export terminal in Vancouver, BC. The project will give Canadian producers the first boost in egress since 2017 and allow them to grow production. However, removing 590 Mb/d from US crude oil supply, primarily to Gulf Coast refiners, will have significant effects. East Daley's Crude Hub Model expects Capline Pipeline volumes may be reduced by half when it is no longer transporting Canadian barrels to the Gulf Coast, resulting in Gulf Coast refiners losing some discounted WCS Canadian barrels.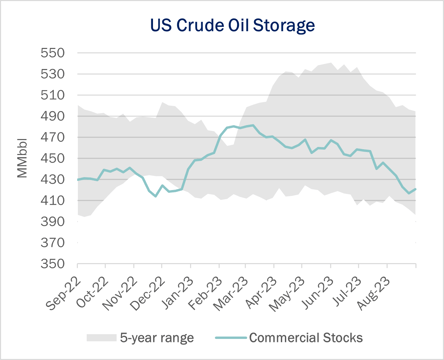 Storage - Crude oil commercial stocks had a slight uptick from last week's 2023 low of 416,637 Mbbl, increasing 1% to 420,592 Mbbl. However, commercial stocks are down 4% since January 2023 and down 13% since a 2023 high in March at 481,180 Mbbl.

The Strategic Petroleum Reserve (SPR) is at 350,630 Mbbl and will continue to increase through the end of the September. The SPR's second restock purchase plan in 2023 will terminate September 30. The Department of Energy has said it is committed to restocking the SPR when crude oil prices are in the $71–73/bbl range.
Regulatory and Tariffs -
Presented by ARBO
Protests and Complaint Proceedings: TC Energy's (TRP) Keystone pipeline responded in opposition to Husky US Marketing and Phillips 66's (PSX) third attempt to reargue complaints against an increase in committed rates. The complaint proceedings began in December 2019, and Keystone requested that Husky and PSX "stop wasting time" and allow FERC to issue an opinion on the initial decision.

Tariffs: Plains All American (PAA) issued new incentive rates for movements on its Basin pipeline system originating at Midland or Colorado City, TX for delivery to Wichita Falls, TX or Cushing, OK. The new rates represent an ~3% discount to existing uncommitted rates and are available to any shipper who signs a minimum volume commitment of 40 Mb/d for at least two years.

Enbridge (ENB) adjusted the terms of its volume and rate incentive program on its Gray Oak Pipeline. ENB reduced temporary rate reduction percentages, increased temporary volume incentive rates, and reduced available capacity discounts. The pipeline is offering fewer discounts, and shippers will have to move more barrels to qualify for the existing programs.

TransCanada's (TRP) Marketlink Pipeline and ENB's Seaway Pipeline both extended the terms of their temporary volume incentives through October 31, 2023. For heavy shipments above 50 Mb/d, Seaway has a rate of $1.15/bbl and Marketlink has a rate of $1.18/bbl.

The above information is provided by ARBO's Oil Pipeline Tariff Monitor. For more information on regulatory proceedings or tariff rates, please contact please contact Corey Brill via email at corey@goarbo.com or phone at 202-505-5296. https://www.goarbo.com/
Crude Oil Edge
East Daley Analytics' Crude Oil Edge provides bi-monthly updates on the US crude oil market including supply and demand fundamentals, basin-level views, and analysis of market constraints and infrastructure proposals. We will explore sub-basin dynamics and provide market insights on crude oil flows, production growth, and import and export flows. Subscribe to Crude Oil Edge.