The Daley Note: January 5, 2023
East Daley is revisiting the biggest energy and midstream stories of 2022. This post was originally published for clients in our weekly Data Insights on July 29, 2022.
East Daley called out a tight fractionation market at Mont Belvieu and Conway when we launched our NGL Network Model and "NGL Network: Hacked" report in February 2022. The explosion in July at ONEOK's (OKE) Medford fractionator may be the catalyst for the rest of the market to reach the same realization.
We've heard from a market source that rates for spare fractionation capacity have more than doubled in recent weeks as the Medford fire in Oklahoma took out 200 Mb/d of capacity from the Conway market, pushing more volumes south to Mont Belvieu, where fractionators were already running strong. We anticipate the market would have tightened as a result, which should help companies like Targa Resources (TRGP), Energy Transfer (ET), ONEOK (OKE), and Enterprise Products (EPD) with NGL marketing operations. We expect more NGL discussions as midstream companies report 2Q22 earnings.
Get a complete view of NGL markets in The NGL Roundup, available FREE from East Daley Analytics. The NGL Roundup reviews monthly NGL data from EIA and East Daley's own basin-level supply forecasts of Y-grade and NGL purity products. We provide a FREE snapshot of data from our NGL Network Model and Purity Product Dataset. Sign up to receive the NGL Roundup.
East Daley's NGL Network Model and Purity Product Dataset tie our supply forecasts to downstream markets, providing asset-specific insights such as pipeline and fractionation volumes and rates. We use our patented method for monitoring midstream flows from the processing plant to fractionation centers and identify future infrastructure bottlenecks. We balance our forecasts with NGL production reported by the Energy Information Administration (EIA) and leverage our plant-level data to track production, including ethane rejection, across all US basins.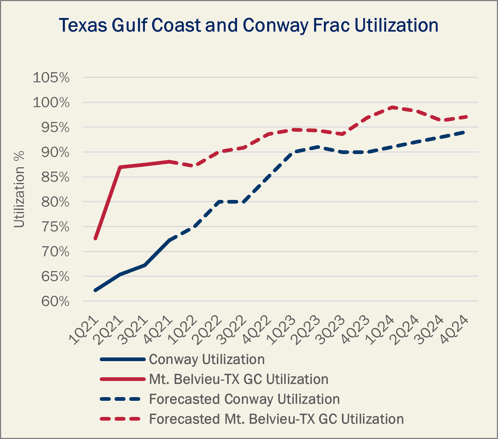 Even before the Medford outage, growing NGL production in the Permian would have filled up Texas Gulf Coast fractionators by early 2023. Phillips 66 (PSX), OKE and Enterprise Products (EPD) are bringing online a combined 425 Mb/d of frac capacity at Mont Belvieu during the next 18 months, but that only buys a little time as we expect inbound Y-grade to grow just as much from 3Q22 to 4Q23, driven by strong Permian growth.

The Medford explosion resulted in an immediate 200 Mb/d of Y-grade supply that needed to find a new home. We estimate Mont Belvieu had 375 Mb/d of remaining frac capacity and Conway had 146 Mb/d of remaining capacity in 2Q22, so there is enough system flexibility right now to absorb the extra volumes. While we still expect there to be space at these fractionators, utilization rates will be 95%+, which is unsustainable for an extended period of time. We expect Y-grade flows to Louisiana fracs will already be maxed out, and Conway utilization will also be running full, limiting the relief options. To bring utilization rates back below 90% at Mont Belvieu and along the Texas Gulf Coast, we expect the market will need another 500 Mb/d of frac capacity (and potentially even more if the Medford frac does not restart anytime soon).
Energy Transfer (ET) announced it is evaluating restarting construction on its 150 Mb/d Frac 8. Targa (TRGP) also said on its 1Q22 earnings call that it has a permit ready for its ninth frac train (100 Mb/d) and that "the number of inquiries for short-term and long-term frac needs has increased."

That leaves an additional 250 Mb/d of opportunity for NGL-focused midstreamers. We see value in OKE potentially building a new Conway fractionator, or a private midstreamer entering the fractionation market in the Gulf Coast. Until these constraints are solved, we expect additional ethane rejection as there is no frac capacity to remove ethane from the Y-grade, and for any frac capacity in other basins like the DJ or Williston to be clogged up. — Ajay Bakshani, CFA Tickers: EPD, ET, OKE, PSX, TRGP.
Subscribe to Natural Gas Weekly
East Daley Analytics' Natural Gas Watch provides an update to our monthly US Macro Supply and Demand Forecast. The update covers rigs, flows, production, prices, and capacity constraints that materially change our view on supply and demand. This update highlights what investors and traders need to keep their eye on in the natural gas markets to ensure they are on the right side of the market. Subscribe to Natural Gas Weekly.
Dirty Little Secrets 2023 is Now Available!
The 2023 Dirty Little Secrets report is now available! Is Midstream on the cusp of another infrastructure wave? Find out in our new annual report.
Sign up to receive 2023 Dirty Little Secrets
The Russia-Ukraine conflict has pushed commodity prices higher and spurred greater global demand for US energy products. Meanwhile, more disciplined growth from the upstream has infrastructure finally filling up across commodities. Will exports power the next infrastructure boom?
Dirty Little Secrets is East Daley's annual report on energy markets and the road ahead for Midstream. We share our macroeconomic outlooks for US oil, natural gas and NGLs, highlight key infrastructure opportunities, update on the state of the Energy Transition, and share our view on Midstream's future role in energy.
To receive the 2023 Dirty Little Secrets report, please click here.

The Daley Note
Subscribe to The Daley Note (TDN), "midstream insights delivered daily," covers news, commodity prices, security prices, and EDA research likely to affect markets in the short term.