The Daley Note: October 18, 2023
Developers are considering several natural gas pipeline expansions in the Northeast that could signal the potential for growth from the Marcellus and Utica shales later this decade.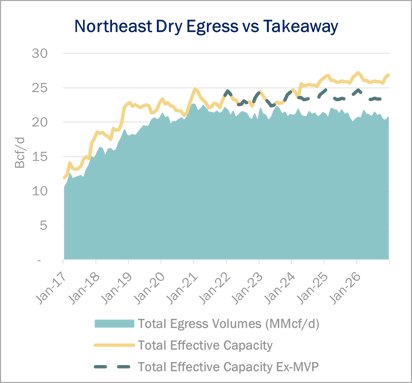 Enbridge's (ENB) Algonquin Gas Transmission and Tallgrass Energy Partners' Rockies Express Pipeline (REX) are both planning new projects to add takeaway from the Appalachian Basin. After the permitting nightmare Equitrans Midstream (ETRN) confronted for Mountain Valley Pipeline, East Daley Analytics does not expect the industry to build any new greenfield pipelines out of the basin. Instead, pipelines will add egress via brownfield expansions and pipeline modernization programs.
In September, Algonquin announced an open season for the Maple expansion. The project would help reduce regional pricing volatility by delivering firm supply to New England during peak demand periods. The open season is set to conclude on November 17.
The scale of the Maple project depends on shipper commitments, but Algonquin can expand the Ramapo receipt point path by up to 500 MMcf/d, and expand service to the Salem receipt point by 250 MMcf/d. The expansion will consist of looping, replacing existing pipelines with larger-diameter pipe, and adding compression. The Maple expansion has a target in-service date as early as November 2029.
Rockies Express is considering its own project to expand westbound capacity from Appalachia to Indiana by ~320 MMcf/d. This project does not yet have an active open season. The REX expansion would increase horsepower on five existing compressor stations. The project would help alleviate the current egress constraints in the basin by adding access to Midcontinent markets.
The Algonquin and REX projects follow open seasons on Williams' (WMB) Transcontinental Gas Pipe Line for southbound capacity from the region. Without additional downstream pipe expansions, Appalachian production faces limits to grow and support rapid demand growth from the coming LNG build on the Gulf Coast. – Alex Gafford Tickers: ENB, ETRN, WMB.
West Coast Supply and Demand Gas Forecast is Coming
Energy Data Studio
East Daley Analytics has launched Energy Data Studio, a platform for our industry-leading midstream data and commodity production forecasts. All clients have access to the new client portal. If you have not yet logged in, please fill out the form to request a registration email be resent.
Energy Data Studio leverages our G&P data set for insights into midstream assets across every major oil and gas basin in North America. Users can navigate detailed visual dashboards by region, pipeline, or individual asset to understand crude oil, natural gas and NGL supply at the most granular level.
Energy Data Studio is available through data downloads from the visual interface, in Excel files, or as a direct feed delivered into subscribers' workflow via secure file transfer. To learn more about Energy Data Studio, please contact insight@eastdaley.com.
The Daley Note
Subscribe to The Daley Note (TDN) for midstream insights delivered daily to your inbox. The Daley Note covers news, commodity prices, security prices and EDA research likely to affect markets in the short term.