The Daley Note: October 17, 2023
Earnings season start this week for 3Q23, and no midstream company has more to reveal than ONEOK (OKE). The company completed its merger with Magellan Midstream Partners (MMP) on September 25, and will provide a first update to investors following close of the $19B deal.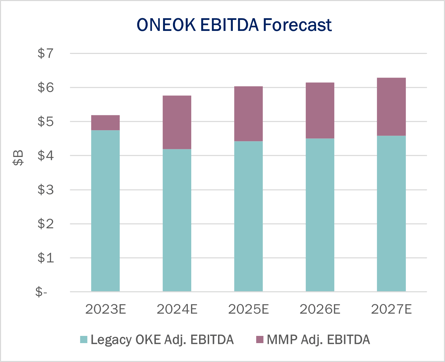 East Daley Analytics maintains Financial Blueprints for both midstream companies, and in our 3Q23 Earnings Preview we have combined the MMP assets into the ONEOK Blueprint for clients.
EDA profiled the $19B OKE-MMP merger when it was announced in May 2023. We expect the MMP assets will add ~$26MM to OKE's 3Q23 Adj. EBITDA, and $412MM in 4Q23 for its first full quarter.
MMP's Refined Products system accounts for 43% of those earnings. We expect the system to grow marginally Y-o-Y at between 0.15-.25% per year, but expansions to new demand centers like El Paso will boost growth. MMP was in the process of expanding capacity on its El Paso line, and we expect the expansion to start service in 1Q24 and help overall system volumes grow by 3% Y-o-Y. Add to that the 13.32% FERC-indexed tariff escalator, which applies to 30% of MMP's lines, and we expect EBITDA to grow by 8% to $686MM in 2024.
On the crude oil side, we continue to expect risk for the BridgeTex system (MMP owns a 30% stake). Volumes on the pipe from the Permian to Gulf Coast have fallen, and anchor shipper Occidental (OXY) appears to be shipping on other pipelines and opting to pay deficiency charges to BridgeTex. The contract is set to expire in late 2024 and exacerbates the re-contracting risk; we expect EBITDA will be halved to ~$12MM in 2025. However, other crude pipes like Longhorn should continue to benefit from growing Permian volumes.
The MMP acquisition pushes leverage for ONEOK from 2.8x to 4.9x in the OKE Financial Blueprint; the high-quality cash flows from MMP will help the company de-lever to 3.9x by YE24. We expect FCF After Distributions to grow from $1.60 to $1.80/share, leaving plenty of room for OKE to fund new growth projects like the Saguaro Connector Pipeline while paying down debt and growing shareholder returns.—Ajay Bakshani, CFA Tickers: OKE, OXY.
Sign Up for the Crude Oil Edge
East Daley's
Crude Oil Edge
provides weekly updates on the US crude oil market including supply and demand fundamentals, basin-level views, and analysis of market constraints and infrastructure proposals. We explore sub-basin dynamics and provide market insights on crude oil flows, production growth, and import and export characteristics.
Sign up now for the Crude Oil Edge
.
Energy Data Studio
East Daley Analytics has launched Energy Data Studio, a platform for our industry-leading midstream data and commodity production forecasts. All clients have access to the new client portal. If you have not yet logged in, please fill out the form to request a registration email be resent.
Energy Data Studio leverages our G&P data set for insights into midstream assets across every major oil and gas basin in North America. Users can navigate detailed visual dashboards by region, pipeline, or individual asset to understand crude oil, natural gas and NGL supply at the most granular level.
Energy Data Studio is available through data downloads from the visual interface, in Excel files, or as a direct feed delivered into subscribers' workflow via secure file transfer. To learn more about Energy Data Studio, please contact insight@eastdaley.com.
The Daley Note
Subscribe to The Daley Note (TDN) for midstream insights delivered daily to your inbox. The Daley Note covers news, commodity prices, security prices and EDA research likely to affect markets in the short term.