The Daley Note: October 12, 2023
Storage capacity holders on the West Coast have closed a significant deficit supporting higher regional natural gas prices this year.
While the storage surplus to the 5-year average continues to erode on a national level, storage inventories on the Pacific Coast have been making up ground. Stocks in the Pacific region eclipsed the 5-year average for the first time this year as of the September 22 week, according to the Energy Information Administration's (EIA) weekly storage survey.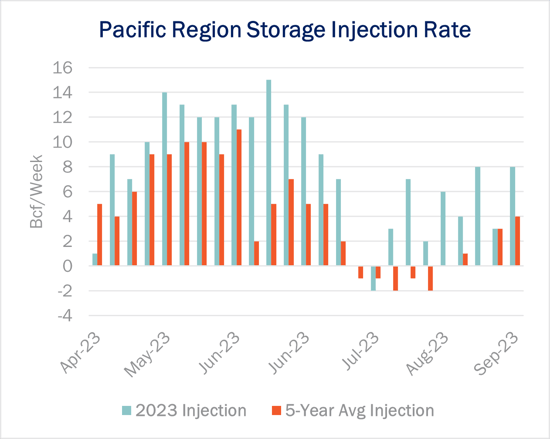 Unlike most of the Lower 48, the western US saw a harsh 2022-23 winter that drained inventory and sent gas prices soaring to over $40/MMBtu. Cumulative gas-weighted heating degree days were 14% above normal in the Pacific region, according to National Weather Service data. An outage on the El Paso system also limited pipeline flows to Southern California and contributed to market volatility.
Following the punishing winter, Pacific Coast inventories entered spring at the lowest regional level in 22 years. Since then, capacity holders have injected an average of 8 Bcf/week over the past 25 weeks in the Pacific region, or double the 5-year average injection rate of 4 Bcf/week (see figure). The latest EIA report for the October 6 week brings Pacific region storage to 278 Bcf, 1.1% above the 5-year average.
In East Daley's Macro Supply and Demand Forecast, we forecast total Lower 48 storage inventory to reach 3,824 Bcf by the end of October. – Jack Wiexel
Sign Up for the Crude Oil Edge
East Daley's
Crude Oil Edge
provides bi-monthly updates on the US Crude Oil Market including supply and demand fundamentals, basin-level views, and analysis of market constraints and infrastructure proposals. We explore sub-basin dynamics and provide market insights on crude oil flows, production growth, and import and export characteristics

.
Sign up now for the Crude Oil Edge.
Energy Data Studio
East Daley Analytics has launched Energy Data Studio, a platform for our industry-leading midstream data and commodity production forecasts. All clients have access to the new client portal. If you have not yet logged in, please fill out the form to request a registration email be resent.
Energy Data Studio leverages our G&P data set for insights into midstream assets across every major oil and gas basin in North America. Users can navigate detailed visual dashboards by region, pipeline, or individual asset to understand crude oil, natural gas and NGL supply at the most granular level.
Energy Data Studio is available through data downloads from the visual interface, in Excel files, or as a direct feed delivered into subscribers' workflow via secure file transfer. To learn more about Energy Data Studio, please contact insight@eastdaley.com.
The Daley Note
Subscribe to The Daley Note (TDN) for midstream insights delivered daily to your inbox. The Daley Note covers news, commodity prices, security prices and EDA research likely to affect markets in the short term.