Natural Gas Weekly: October 12, 2023
Infrastructure - New Fortress Energy (NFE) is finishing construction of its floating LNG plant offshore Altamira, Mexico. The project will create new gas demand for pipeline exports from South Texas.
On September 27, the last of three jack-up rigs set sail for Altamira to complete NFE's first floating LNG platform in the Gulf of Mexico. The new offshore platform can liquefy up to 1.4 MMtpa (~185 MMcf/d). The Federal Electricity Commission (CFE), Mexico's state-owned utility, will source natural gas for the Altamira project as part of a broader agreement with NFE. The companies envision the Altamira platform anchoring a future LNG export hub of up to 0.5 Bcf/d .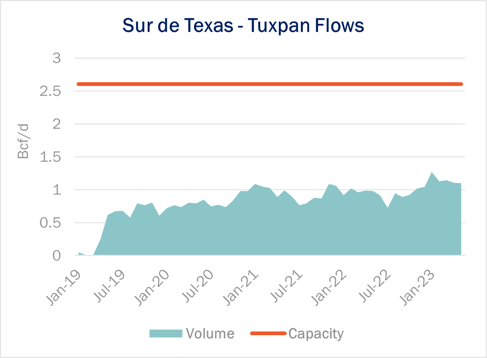 East Daley expects the new offshore LNG project to create new demand at the Agua Dulce hub in South Texas. Gas could flow down Enbridge's (ENB) Valley Crossing Pipeline to an interconnect with TC Energy's Sur De Texas – Tuxpan pipeline. Both pipelines have ample spare capacity to accommodate new demand. We expect the Altamira project to soak up some of the additional supply flowing on the Whistler Pipeline expansion (+0.5 Bcf/d) out of the Permian Basin. Market sources indicate the Whistler expansion started service at the start of September.
NFE guided to first LNG production by October, but recent news suggest that the first cargo may not depart until early November. East Daley is closely watching pipeline flows to Mexico as well as South Texas natural gas prices, which may trade at a premium to Houston Ship Channel as a result of increased demand. In the first week of October, we observed a jump in price at several South Texas meters, as well as an increase in flows of over 200 MMcf/d into Mexico. Typically, we start to see flows on this route decline as Mexican demand wanes heading into winter. However, Altamira LNG will provide a new source of baseload demand. The recent price jump could indicate that the facility has started taking feedgas as it prepares for operations.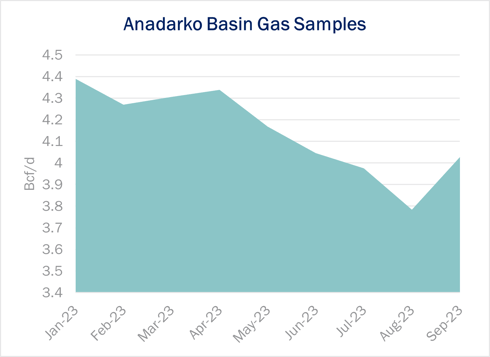 Flows - September pipeline samples in the Anadarko Basin have recovered to above 4 Bcf/d, a supply level we have not seen since June.
With Anadarko rigs and completion activity trending lower in response to $2/MMBtu gas prices, we suspect the recent increase in samples is more tied to seasonal changes in power demand. As hot weather eases, less gas is being delivered on intrastate systems in Oklahoma and the Texas Panhandle. Lower regional demand translates into more gas available to leave the basin via egress pipelines, rather than an increase in local production.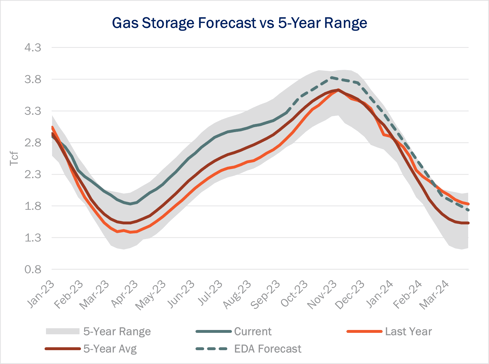 Storage - Traders and analysts expect EIA to report a 91 Bcf storage injection for the week ending October 6. An injection of this size would take Lower 48 storage inventory to 3,536 Bcf.
EIA reported a build of 86 Bcf in last week's report, much lower than market estimates for a 94 Bcf injection. The bullish storage report, coupled with forecasts for the first cold weather across eastern US markets by mid-October, sent natural gas prices over $3/MMBtu this week.
Lower 48 storage inventory currently totals 3,445 Bcf, 357 Bcf greater than last year and 172 Bcf greater than the 5-year average. With five weeks left in the injection season, injections would need to average 76 Bcf/week to match East Daley's end-of-season estimate of 3,824 Bcf in the September Macro Supply and Demand Forecast.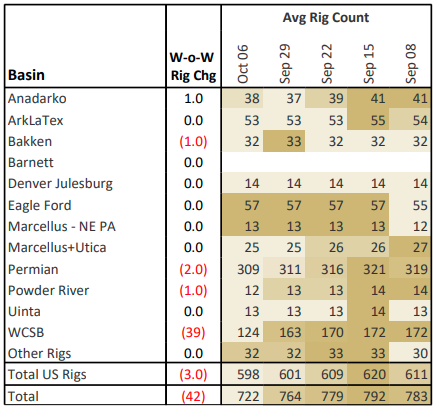 Rigs - US rigs decreased by 3 W-o-W to bring the total count to 598. The Permian fell 2 rigs while the Bakken and Powder are both down 1 rig. The Anadarko added 1 rig.
On the midstream side, Targa Resources (TRGP) is down 8 rigs on its Permian systems. MPLX (MPLX) is down 5 rigs across its Permian, Bakken and Anadarko systems. Energy Transfer (ET) is up 5 rigs total, with 6 rigs added W-o-W on ET's Delaware system, according to rig allocations.