Natural Gas Weekly: September 27, 2023
Infrastructure - A 0.5 Bcf/d expansion of Whistler Pipeline went live at the start of September, an industry source told East Daley Analytics, adding new gas pipeline takeaway from West Texas. The project is helping shippers navigate other pipe outages in the Permian Basin and supporting local gas prices.
Whistler runs 450 miles from the Waha hub to the Agua Dulce hub in South Texas. The expansion adds three compressors to the 42-inch pipeline, taking total capacity to 2.5 Bcf/d.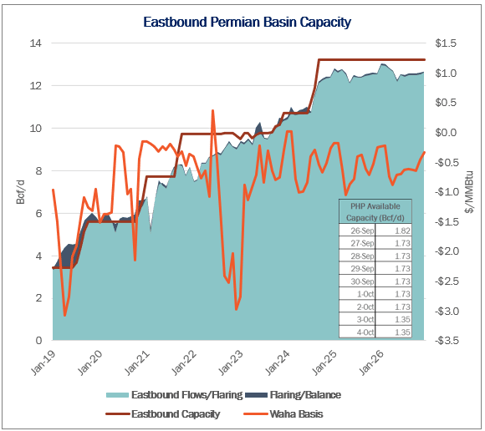 The project went live on September 1, the source told EDA, meaning it would have been helping Permian shippers move gas for nearly four weeks. Owned by I Squared Capital and MPLX (MPLX), Whistler has not confirmed the project's in-service. As an intrastate pipeline, Whistler does not face the same disclosure requirements as interstate systems.
Start-up of the Whistler expansion would help explain how Permian natural gas prices have held up reasonably well this month despite some high-profile pipeline outages. EDA noted the muted market response when the Permian Highway Pipeline (PHP) went offline unexpectedly for four days in mid-September, dropping egress from the Permian by 2.1 Bcf/d. Waha gas traded $0.66-0.82/MMBtu behind the Henry Hub benchmark during the event. By contrast, Waha prices fell into negative territory in May 2023 amid a smaller outage on PHP.
Pipeline maintenance events continue to create a choppy market in the basin. PHP operator Kinder Morgan (KMI) notified shippers on Tuesday (September 26) it will reduce mainline capacity from Sept. 27 - Oct. 4, limiting average capacity on PHP to 1.66 Bcf/d over this period. Waha has traded $0.74-0.99/MMBtu behind the Henry Hub this week. The start of the Whistler expansion could be helping cushion Permian prices from deeper discounts.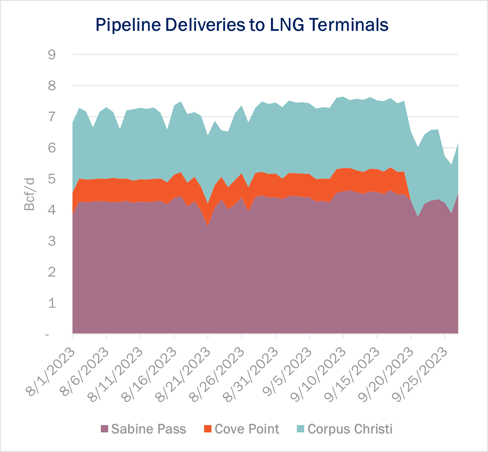 Flows - LNG feedgas volumes have dropped 2 Bcf/d in nine days, from a high of ~13.5 Bcf/d on September 17 to ~11.4 Bcf/d on Wednesday (September 26). The lower deliveries to export facilities could result in greater injections in this week's EIA storage report.
Pipelines have reported declines to several LNG export facilities. Cove Point LNG began annual maintenance on September 20, cutting ~700 MMcf/d of pipe deliveries. The maintenance event at the Maryland LNG terminal typically lasts a little less than a month.
The Cove Point outage is compounded by lower volumes taken by Cheniere Energy's (LNG) Corpus Christi and Sabine Pass facilities. Corpus Christi LNG pipeline flows fell from ~2.2 Bcf/d to ~1.5 Bcf/d on Monday (September 25). Volumes to the Corpus Christi plant have started trending back up but only recovered to 1.6 Bcf/d as of Wednesday (September 27). Sabine Pass experienced a single-day reduction from ~4.3 Bcf/d to ~3.9 Bcf/d.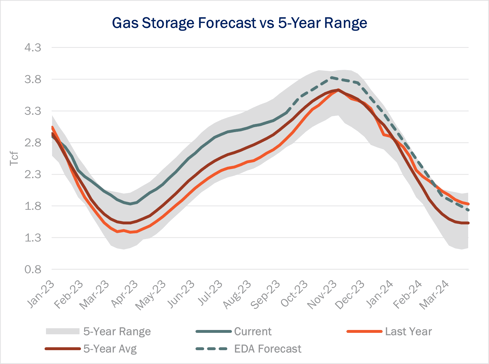 Storage - Traders expect EIA to report a storage injection of 90 Bcf for the week ending September 22. This would bring inventories to 3,359 Bcf, or 189 Bcf greater than the 5-year average and 397 Bcf greater than last year.
A 90 Bcf injection would be the largest since the week ending June 16, 2023 and the first to exceed the 5- year average injection in 11 weeks over this summer.
While production remains strong, strong demand for power generation and LNG exports have cut the surplus to the 5-year average in half since its peak of 365 Bcf in late April 2023. East Daley expects the surplus in storage to fall to a deficit by August 2024 (see our September Macro Supply and Demand Forecast for more information).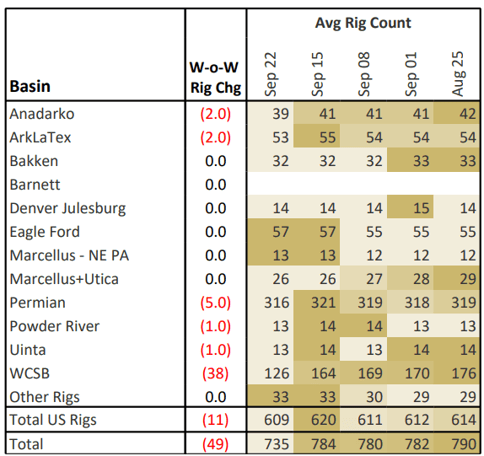 Rigs - US rigs decreased by 11 for the September 22 week to bring the total count to 609. The Permian Basin is down 5 rigs, the Anadarko and ArkLaTex are down 2 rigs each, and the Powder and Uinta basins are both down 1 rig.
Among midstream companies, EnLink Midstream (ENLC) is up 2 rigs on its Delaware Basin G&P system. Kinetik (KNTK) is down 2 rigs in the Delaware. Kinder Morgan (KMI) is down 2 rigs on its Uinta Basin system. Pembina (PBA) is also down 2 rigs.