Natural Gas Weekly: September 21, 2023
Infrastructure - Permian Highway Pipeline (PHP) went offline unexpectedly last Friday (September 15) due to an operational incident, the pipeline said in a critical notice to customers, dropping Permian Basin takeaway capacity by 2.1 Bcf/d for several days.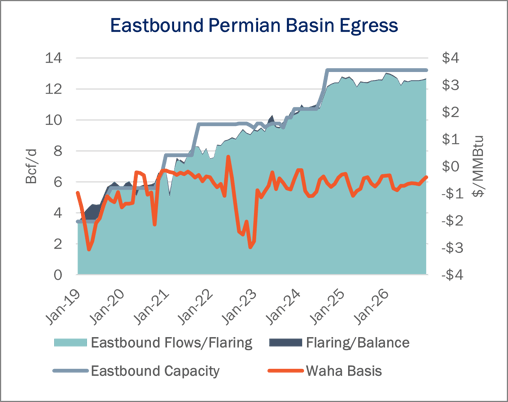 The outage caused some volatility in Waha gas prices over the weekend, falling by $2/MMBtu for intraday packages, according to traders. The loss of PHP continued to put pressure on the Waha spread early this week, trading $0.81-0.82 behind the Henry Hub benchmark on Monday and Tuesday vs a $0.66 discount last Friday. The outage dropped effective Permian takeaway from 16.9 Bcf/d to 14.8 Bcf/d, according to East Daley Analytics' Permian Supply and Demand Forecast.
Pipeline owner Kinder Morgan (KMI) returned PHP to service Tuesday morning (September 19), according to a notice to shippers, restoring some normalcy to Permian activity.
The market reaction to the PHP outage was more muted than recent pipeline disruptions. For example, the spread between Waha and the Henry Hub widened to $3.00/MMBtu during a four-day pipeline outage in July. The latest PHP outage occurred over a weekend and at a time of relatively low seasonal demand, which likely helped blunt the impact. We expect the Waha spread to tighten back. East Daley is also waiting on expansions of Whistler Pipeline (+0.5 Bcf/d) this month and PHP (+0.55 Bcf/d) in 4Q23, which should open some egress capacity in EDA's Permian Supply and Demand Forecast.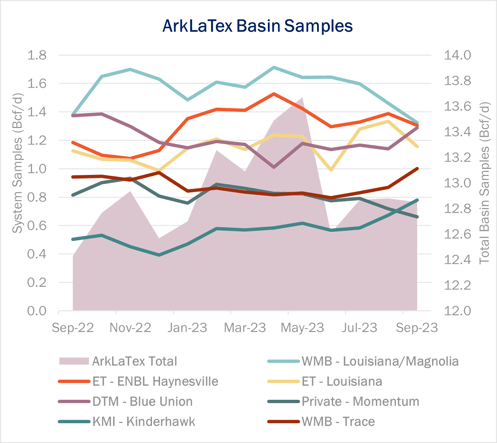 Flows - East Daley's ArkLaTex Basin flow samples are flat M-o-M in September despite notable declines on several gathering systems.
Pipeline scrapes for Williams' (WMB) Louisiana/Magnolia system have averaged 136 MMcf/d lower than August. Samples for Energy Transfer (ET) are down 257 MMcf/d in aggregate across the ET – Louisiana and ET – ENBL Haynesville systems. These declines are to be expected as leading drillers Chesapeake Energy (CHK) and Comstock Resources (CRK) have guided to slower production and flat rig activity from 3Q23 onwards.
However, East Daley has also observed gains on several Haynesville systems, offsetting these declines. KMI – Kinderhawk samples are averaging a record 779 MMcf/d in September, up ~100 MMcf/d M-o-M. The increased flows on Kinderhawk have been split between the Gulf South and ETC Tiger pipelines. Trace Midstream is up 133 MMcf/d M-o-M on its gathering system; deliveries from Trace have been split evenly between Gulf Run Transmission and Gulf South Pipeline. DT Midstream's (DTM) Blue Union has seen the largest increase in flows, up ~150 MMcf/d M-o-M. The increased Blue Union flows are filling capacity on DT Midstream's recently expanded LEAP pipeline (+300 MMcf/d).

Despite the steady supply suggested in September samples, our ArkLaTex rig count has continued to fall M-o-M, from 60 rigs in July to 55 so far in September, and we expect the sample to follow suit.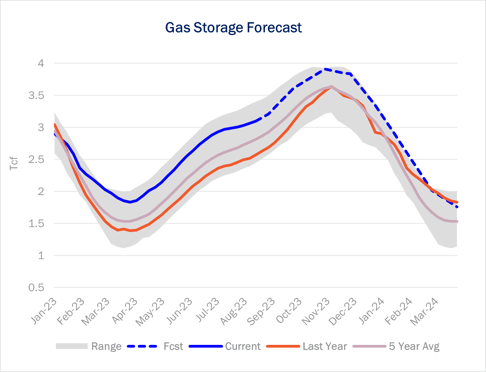 Storage - Traders expect EIA to report a 65 Bcf storage injection for the September 15 week, according to a survey by The Desk. EIA reported a 57 Bcf storage injection for the September 8 week, leaving working gas inventories at 3,205 Bcf, or 203 Bcf above the 5-year average.
A warm second half of the summer has helped steadily shrink the 5-year storage surplus from a peak of 370 Bcf at the end of June. Looking ahead, we expect larger storage injections to return as temperatures cool in the autumn shoulder months, keeping gas prices under pressure. In East Daley's August US Macro Supply and Demand Forecast, inventories build to 3,908 Bcf by the end of October, a level that could send cash prices lower as spare storage capacity becomes scarce. We forecast Henry Hub prices to average $3.15/MMBtu through March 2024.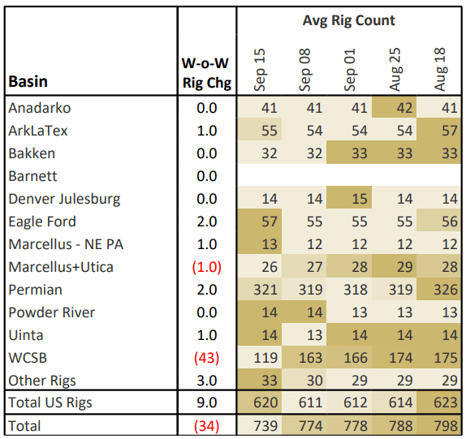 Rigs - US rigs increased by 9 W-o-W to bring the total count to 620. The Permian and Eagle Ford added 2 rigs each, while the Uinta, Marcellus – NE PA, and ArkLaTex added 1 rig each.
On the midstream side, Energy Transfer (ET) is up 7 total rigs with 4 rigs added on its Permian systems. Enterprise Products (EPD) is down 4 rigs with losses in the Permian, Eagle Ford and ArkLaTex. Kinder Morgan (KMI) is up 3 total rigs, with rig additions in the Eagle Ford and Uinta.