Natural Gas Weekly: September 7, 2023
Infrastructure - DT Midstream (DTM) has completed Phase 1 of the Louisiana Energy Access Pipeline (LEAP) expansion ahead of schedule, allowing more Haynesville gas to flow to market.
DTM announced early commissioning of the LEAP expansion on August 30. The project increases pipeline capacity from 1.0 Bcf/d to 1.3 Bcf/d and arrives several months ahead of a planned 4Q23 in-service date. The Phase 1 project was completed on budget, the company said.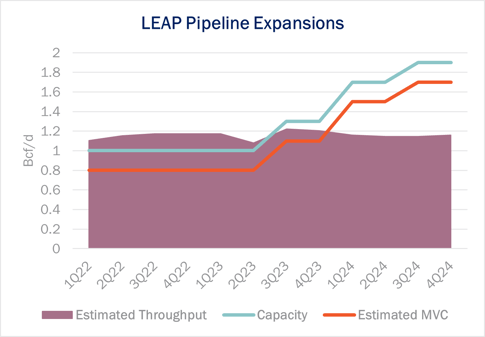 DTM is also pursuing Phase 2 and 3 expansions of LEAP that will further increase pipeline capacity to 1.9 Bcf/d. Those projects are targeted for start-up in 1Q24 and 3Q24, respectively. LEAP could be expanded up to 3.0 Bcf/d through looping and compression.
Southwestern Energy (SWN) is a major shipper on LEAP. In the producer's latest earnings, SWN guided to an expected 1.2 Bcf/d of transport capacity in 2023 and 1.5 Bcf/d in 2024 on LEAP.
The new LEAP expansion comes amid a period of low natural gas prices, causing supply growth to stall out in the East Texas and northern Louisiana basin. In East Daley's latest ArkLaTex Supply and Demand Forecast, we forecast regional gas production to decline from a recent peak of 19.2 Bcf/d in April '23 to 17.9 Bcf/d in October as producers slow well completions.
Flows - Hurricane Idalia reduced Southeast gas demand by nearly 20% off August's peak, according to regional pipeline flows, while Gulf Coast gas production was not materially affected by the storm.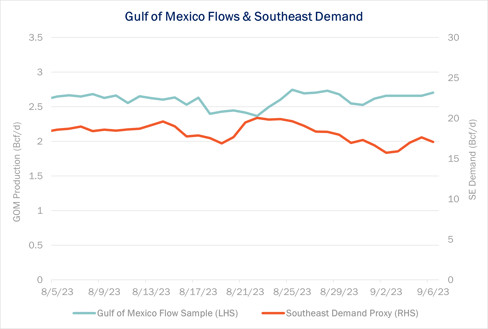 Southeast demand peaked near 20 Bcf/d several days before Idalia made landfall on August 29 on the Florida Gulf Coast. Demand fell by 4 Bcf/d through the weekend as the storm brought heavy rains and downed power lines from Florida to the Carolinas. Southeast gas demand remains 13% lower than the pre-hurricane peak in August.
Gulf of Mexico (GOM) operations were spared since Idalia's path veered east of most offshore platforms. GOM production held steady near 1.7 Bcf/d through the storm, according to daily pipe samples.
With significantly more Gulf Coast demand available from industrials and LNG export terminals, East Daley sees more demand-side risk from future hurricanes. Storage inventories are still well above the 5-year average, so an active Atlantic hurricane season is on balance bearish for markets and could create downward pressure on prices.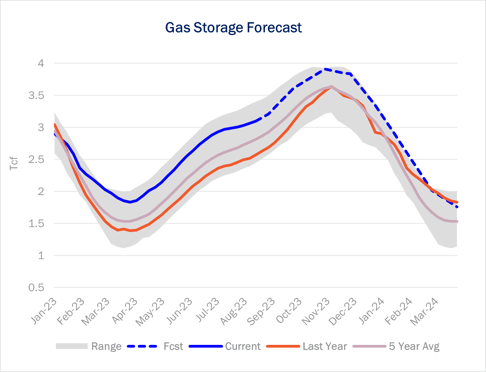 Storage - Traders expect EIA to report a 40 Bcf storage injection for the September 7 week, according to a survey by The Desk. EIA reported a 32 Bcf storage injection for the August 31 week, leaving working gas inventories at 3,115 Bcf, or 268 Bcf above the 5-year average.
Looking ahead, we expect high storage to keep pressure on prices in the autumn shoulder months. In East Daley's August US Macro Supply and Demand Forecast, inventories build to 3,908 Bcf by the end of October, a level that could send cash prices lower as spare storage capacity becomes scarce. We forecast Henry Hub prices to average $3.15/MMBtu through March 2024.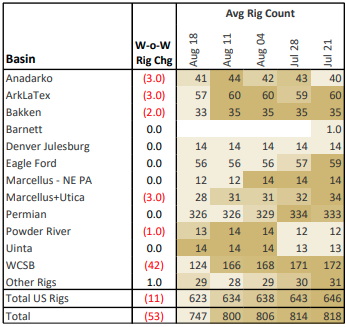 Rigs - East Daley is reviewing the latest week of rig data for integrity issues. We are posting a prior week's data. US rigs decreased by 11 W-o-W to bring the total count to 623 for the August 18 week. The Anadarko, ArkLaTex and Marcellus+Utica are each down 3 rigs, the Bakken is down 2 rigs, and the Powder River Basin is down 1 rig.
On the midstream side, Targa Resources (TRGP) is down 3 rigs on its Permian systems. MPLX (MPLX) is down 8 rigs on its Bakken, Anadarko and Marcellus+Utica systems. Enterprise Products (EPD) is up 4 rigs on its Permian and ArkLaTex systems.