The Daley Note: September 8, 2023
ONEOK (OKE) is pursuing an NGL pipeline expansion from the Bakken shale play that isn't really needed, according to basin analysis in East Daley Analytics' NGL Network Model. While we have doubts about the market rationale, the project makes sense as a play by OKE for market share.
On its 2Q23 earnings call, OKE said it plans to expand its Elk Creek Pipeline running from Montana in the Williston Basin through the Rocky Mountain region, along with an expansion of the West Texas NGL pipeline in the Permian Basin. The Elk Creek expansion likely involves new pump stations and will be a "very high-return, low-multiple" project, OKE said.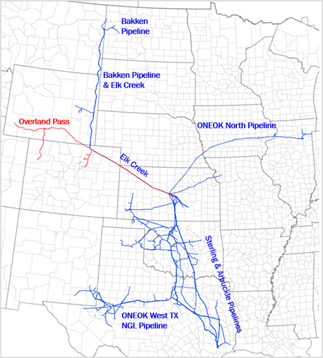 East Daley was baffled by the Elk Creek proposal since, based on supply and pipeline data in the NGL Network Model, shippers already have plenty of takeaway available from the Williston to meet future NGL production. Elk Creek and OKE's Bakken Pipeline are the main pipeline options out of the basin, and both have available capacity (see figure). However, OKE still stands to benefit if the company can consolidate NGLs onto its own assets.
According to the NGL Network Model, Elk Creek flows average ~230 Mb/d from its Bakken interconnect in Montana. The pipeline fills up the remainder of its 300 Mb/d of capacity with Bakken barrels that travel on the Bakken Pipeline and NGL production from the Powder River Basin.
Bakken Pipeline flows an average of 77 Mb/d out of the Williston and delivers ~43 Mb/d of those volumes to Overland Pass Pipeline. OKE jointly owns 50% of Overland Pass with Williams (WMB) and does not operate the asset. The remaining ~34 Mb/d of Bakken Pipeline volumes flow to Elk Creek's Wyoming interconnect for delivery to Conway and Bushton, KS (see map).
With an expansion of Elk Creek, barrels moving on Bakken Pipeline could instead shift to OKE's wholly owned pipeline. The 34 Mb/d of Williston NGLs that move on Bakken Pipeline are delivered into Elk Creek anyway further south. But if Elk Creek can source supply directly from the Montana interconnect, those barrels can move at a higher rate. The joint tariff on Bakken Pipeline and Elk Creek totals $5.77/bbl, while the rate on Elk Creek's full Bakken-Bushton route costs $6.55/bbl.
Using our company Financial Blueprint, East Daley estimates OKE can add ~$32MM in annual EBITDA (7x cost multiple) if the company can move all the Bakken NGLs it currently handles onto Elk Creek and limit use of the Bakken Pipeline/Overland Pass system. This gain is net of declines to OKE resulting from lower long-haul volumes on Bakken Pipeline and lower overall volumes on Overland Pass.
If Elk Creek is expanded, Bakken Pipeline would still be needed to gather NGLs from the Williston and Powder River basins and deliver into Elk Creek, but its long-haul flows (from North Dakota/Montana to Wyoming or Colorado) would effectively be zero unless Bakken production grows significantly. Overland Pass would still be used to transport NGLs from the Green River and Piceance basins, but the pipeline would no longer be critical to move Williston NGL barrels via Bakken Pipeline.
Post-expansion, the Williston Basin would have ~70 Mb/d of spare takeaway capacity on Elk Creek and another 140 Mb/d free on the Bakken Pipeline/Overland Pass systems, leaving significant room for upside if NGL production growth from the Williston or Powder River is stronger than we expect. These estimates exclude any potential uplift OKE may receive at its Kansas fractionators, since the company no longer has to share those barrels with WMB.
Williams, the operator and co-owner of Overland Pass, would take the biggest hit since it will not be able to offset the volume decline on the pipeline. East Daley estimates a ~$19MM impact to WMB. The company also may see reduced fractionation volumes at its Conway fractionator that it co-owns with Phillips 66 (PSX) and OKE.
When OKE initially announced Elk Creek (which directly impacts Overland Pass volumes and earnings), WMB hit back with the Bluestem pipeline. That project connected Overland Pass and WMB's Conway fractionator to Targa Resource's (TRGP) Grand Prix pipeline, sidestepping OKE's Arbuckle and Sterling NGL pipelines. Williams may not have many options though after the latest announcement, as ONEOK continues to dominate NGLs outside of the Permian. – Ajay Bakshani, CFA Tickers: OKE, PSX, TRGP, WMB.
Sign Up for the Crude Oil Edge
East Daley's

Crude Oil Edge

provides bi-monthly updates on the US Crude Oil Market including supply and demand fundamentals, basin-level views, and analysis of market constraints and infrastructure proposals. We explore sub-basin dynamics and provide market insights on crude oil flows, production growth, and import and export characteristics.

Sign up now for the Crude Oil Edge

.
Energy Data Studio
East Daley Analytics has launched Energy Data Studio, a platform for our industry-leading midstream data and commodity production forecasts. All clients have access to the new client portal. If you have not yet logged in, please fill out the form to request a registration email be resent.
Energy Data Studio leverages our G&P data set for insights into midstream assets across every major oil and gas basin in North America. Users can navigate detailed visual dashboards by region, pipeline, or individual asset to understand crude oil, natural gas and NGL supply at the most granular level.
Energy Data Studio is available through data downloads from the visual interface, in Excel files, or as a direct feed delivered into subscribers' workflow via secure file transfer. To learn more about Energy Data Studio, please contact insight@eastdaley.com.
Review the Year Ahead in Dirty Little Secrets
The 2023 Dirty Little Secrets is Now Available! Is Midstream on the cusp of another infrastructure wave? Find out in our new annual report.
Dirty Little Secrets reviews the outlook for Midstream and commodity markets in 2023 and the years ahead. East Daley discusses the outlook for crude oil, natural gas and NGLs and the impacts to midstream assets in our 2023 Dirty Little Secrets annual market report. Click here for a copy of the 2023 Dirty Little Secrets report.
The Daley Note
Subscribe to The Daley Note (TDN) for midstream insights delivered daily to your inbox. The Daley Note covers news, commodity prices, security prices and EDA research likely to affect markets in the short term.