The Daley Note: September 12, 2023
Western Midstream (WES) has reached an agreement to acquire Meritage Midstream's Powder River Basin assets for $885MM in cash. The deal for the Meritage assets significantly expands Western's footprint in the northern Rockies basin.
WES announced the deal on August 5. Meritage's Powder River assets include two natural gas processing plants with 380 MMcf/d of capacity, nearly 1,500 miles of low- and high-pressure gathering lines, and the Thunder Creek NGL Pipeline with 38 Mb/d of capacity. The purchase price represents a 5x-6x EBITDA multiple, according to Western.
The latest inlet data in East Daley's Energy Data Studio shows Meritage's 50 Buttes and Steamboat plants processed 244 MMcf/d in July '23, or 64% utilization. Plant inlet volumes on the Meritage system have grown 23% to date in 2023, averaging 219 MMcf/d vs 178 MMcf/d in 2022. EOG Resources (EOG) and Devon Energy (DVN) account for two-thirds of the volume on the Meritage system (see figure).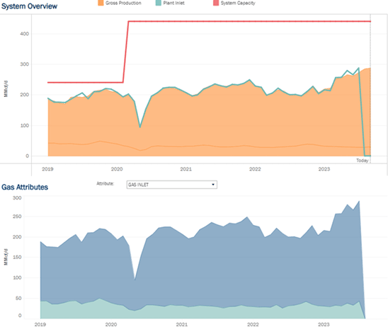 The companies expect to close the deal in 4Q23. Given uncertainty around the timing of the close, WES will not be adjusting its 2023 EBITDA guidance at this time.
The move by WES is a vote of confidence in the Powder River and will help diversify the company's core operations in the Permian and Denver-Julesburg basins. WES already owns the smaller Hilight G&P system in the Powder River, comprised of 1,200 miles of gathering lines and 60 MMcf/d of processing capacity. The Hilight plant saw throughput of 43 MMcf/d in July '23, or 71% utilization, according to Energy Data Studio.
WES will have a combined 440 MMcf/d of gas processing in the Powder River Basin once the dust settles on the deal, with more spare capacity available to compete for business (see figures below). The Meritage assets come with upside as well; the Steamboat plant in Converse County, WY could be further expanded by 400 MMcf/d.
Increased natural gas volumes will provide a substantial lift to Western's' Powder River G&P segment. In our company Financial Blueprint, East Daley models 2024 Adj. EBITDA for the Powder River segment at ~$14MM. Assuming volumes on the Meritage system hold at 2023 levels, we model segment EBITDA would increase to $161MM in the WES Financial Blueprint.
The Thunder Creek pipeline collects NGLs from Meritage's 50 Buttes and Steamboat I processing plants and delivers volume into ONEOK's (OKE) Niobrara lateral and Elk Creek pipeline. Thunder Creek is regulated by the Federal Energy Regulatory Commission (FERC) and reported EBITDA of $9.5MM in 2022, according to regulatory filings. The NGL pipeline is on track to outpace those earnings this year, posting 1H23 EBITDA of $6.3MM, according to filings at FERC .
Together, East Daley estimates the Thunder Creek G&P and NGL assets would add ~$157MM in Adj. EBITDA in 2024, representing a 5.6x EBITDA multiple on the $885MM acquisition price. The Meritage assets include a CO2 treating plant that was not included in this analysis. – James Taylor Tickers: DVN, EOG, OKE, WES.
Sign Up for the Crude Oil Edge
East Daley's
Crude Oil Edge
provides bi-monthly updates on the US Crude Oil Market including supply and demand fundamentals, basin-level views, and analysis of market constraints and infrastructure proposals. We explore sub-basin dynamics and provide market insights on crude oil flows, production growth, and import and export characteristics.
Sign up now for the Crude Oil Edge
.
Energy Data Studio
East Daley Analytics has launched Energy Data Studio, a platform for our industry-leading midstream data and commodity production forecasts. All clients have access to the new client portal. If you have not yet logged in, please fill out the form to request a registration email be resent.
Energy Data Studio leverages our G&P data set for insights into midstream assets across every major oil and gas basin in North America. Users can navigate detailed visual dashboards by region, pipeline, or individual asset to understand crude oil, natural gas and NGL supply at the most granular level.
Energy Data Studio is available through data downloads from the visual interface, in Excel files, or as a direct feed delivered into subscribers' workflow via secure file transfer. To learn more about Energy Data Studio, please contact insight@eastdaley.com.
Review the Year Ahead in Dirty Little Secrets
The 2023 Dirty Little Secrets is Now Available! Is Midstream on the cusp of another infrastructure wave? Find out in our new annual report.
Dirty Little Secrets reviews the outlook for Midstream and commodity markets in 2023 and the years ahead. East Daley discusses the outlook for crude oil, natural gas and NGLs and the impacts to midstream assets in our 2023 Dirty Little Secrets annual market report. Click here for a copy of the 2023 Dirty Little Secrets report.
The Daley Note
Subscribe to The Daley Note (TDN) for midstream insights delivered daily to your inbox. The Daley Note covers news, commodity prices, security prices and EDA research likely to affect markets in the short term.