The Daley Note: September 13, 2023
With natural gas prices stuck in a $2/MMBtu range, leading producers in the Haynesville shale are hitting the brakes on growth. East Daley Analytics models declines ahead as a multi-year growth cycle comes to an end in the ArkLaTex Basin.
ArkLaTex gas production has grown steadily since the last market bottom in 2020, up over 6 Bcf/d in three years. But EDA expects that trend to reverse as low gas prices take a toll. According to our Macro Supply and Demand Forecast, gross production in the Gulf Coast basin peaked in May '23 at 19.1 Bcf/d. We model production continues to fall through April 2024 to help rebalance the natural gas market (see figure).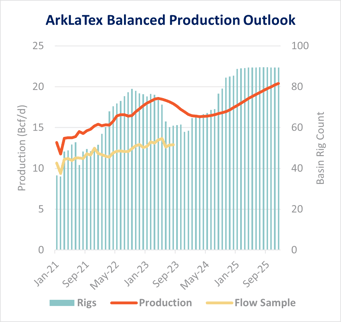 Rig counts in Louisiana and East Texas have fallen sharply in recent months, supporting our view for a near-term decline. ArkLaTex rig counts totaled 54 at the start of September, according to basin data in Energy Data Studio, down 25 rigs from a year ago.
EDA's outlook is more pessimistic than public producer guidance in the Haynesville. Most of these companies are forecasting flat production through YE23.
Chesapeake Energy (CHK) plans to run 5 rigs the rest of the year, according to the producer's updated 2Q23 guidance. If the market signals a need for more supply, CHK is in position to add one more rig in the Haynesville but feels no pressure to jump the gun, executives said.
East Daley's allocation model in Energy Data Studio shows CHK has mostly drilled on Williams' (WMB) Louisiana/Magnolia gathering system. However, we've seen more activity on Energy Transfer's (ET) Enable Haynesville system over the past few months. A declining flow sample on WMB – Louisiana/Magnolia and a rising flow sample on ET – ENBL Haynesville support this trend.
Comstock Resources (CRK) guided to 7 rigs, 4 in the core Haynesville and 3 on its new Western Haynesville play in East Texas, if the forward strip holds. CRK's rigs on core Haynesville acreage have fed several systems through the first few months of 2023, but have recently concentrated on the ET – Louisiana system, again supported by a rising flow sample on the system.
Southwestern Energy (SWN) expects to hold rigs flat at 7 through the end of 2023 and produce at maintenance levels until commodity prices improve. SWN is the major driller on DT Midstream's (DTM) Blue Union gathering system, where we have observed a declining flow sample from July to August.
In contrast to the recent declines on Blue Union, SWN guided to an average 1.2 Bcf/d of flows on DTM's Louisiana Energy Access Pipeline (LEAP), which DTM recently expanded by 300 MMcf/d to a total 1.3 Bcf/d capacity. LEAP delivers into the Gillis, LA hub, where shippers can reach several LNG terminals further downstream. EDA expects the Blue Union sample to start ticking upwards as SWN production fills the expanded pipe.
Holding basin rigs flat at 59 through December 2023, East Daley's Production Scenario Tools show ArkLaTex production declining 7% Y-o-Y in 2024, from 17.9 Bcf/d in 2023 to 16.7 Bcf/d. Based on our current rig forecast, we expect the basin to return to growth later in 2024 once gas prices firm. – Oren Pilant Tickers: CHK, CRK, DTM, ET, SWN, WMB.
Sign Up for the Crude Oil Edge
East Daley's
Crude Oil Edge
provides bi-monthly updates on the US Crude Oil Market including supply and demand fundamentals, basin-level views, and analysis of market constraints and infrastructure proposals. We explore sub-basin dynamics and provide market insights on crude oil flows, production growth, and import and export characteristics.
Sign up now for the Crude Oil Edge
.
Energy Data Studio
East Daley Analytics has launched Energy Data Studio, a platform for our industry-leading midstream data and commodity production forecasts. All clients have access to the new client portal. If you have not yet logged in, please fill out the form to request a registration email be resent.
Energy Data Studio leverages our G&P data set for insights into midstream assets across every major oil and gas basin in North America. Users can navigate detailed visual dashboards by region, pipeline, or individual asset to understand crude oil, natural gas and NGL supply at the most granular level.
Energy Data Studio is available through data downloads from the visual interface, in Excel files, or as a direct feed delivered into subscribers' workflow via secure file transfer. To learn more about Energy Data Studio, please contact insight@eastdaley.com.
Review the Year Ahead in Dirty Little Secrets
The 2023 Dirty Little Secrets is Now Available! Is Midstream on the cusp of another infrastructure wave? Find out in our new annual report.
Dirty Little Secrets reviews the outlook for Midstream and commodity markets in 2023 and the years ahead. East Daley discusses the outlook for crude oil, natural gas and NGLs and the impacts to midstream assets in our 2023 Dirty Little Secrets annual market report. Click here for a copy of the 2023 Dirty Little Secrets report.
The Daley Note
Subscribe to The Daley Note (TDN) for midstream insights delivered daily to your inbox. The Daley Note covers news, commodity prices, security prices and EDA research likely to affect markets in the short term.