The Daley Note: September 14, 2023
Facing a high debt load, TC Energy (TRP) has been making moves recently to sell assets and raise cash. The new corporate direction has investors on edge.
In July, TC Energy announced the sale of a 40% interest in two of its premium natural gas pipeline systems, Columbia Gas and Columbia Gulf, to GIP for C$5.2B. TRP also plans to spin off its crude oil and liquids pipeline assets into a separate company, creating a new investment vehicle to raise funds.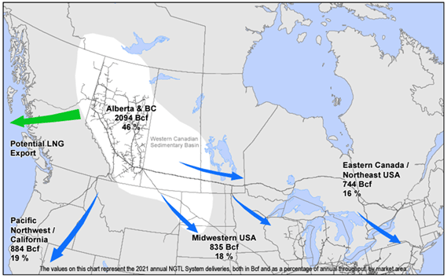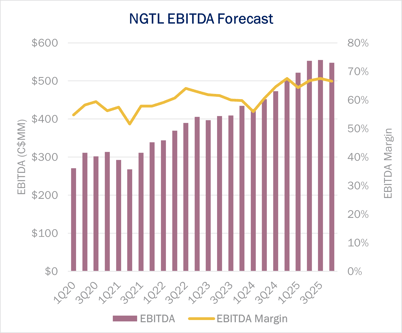 East Daley Analytics reviewed the Columbia pipelines transaction, including the frosty reception from TRP equity and debt investors. TRP's share price remains about 6% lower since announcing that deal. Equity holders were unhappy with the purchase price for TRP's crown jewel, and debt holders do not like that the company remains highly levered at ~5x, even after the minority interest sale. Based on the TC Energy Financial Blueprint, EDA estimates about $3B of additional asset sales or minority interests in assets would move TRP closer to its 4.75x leverage target in 2024.
Enter August, when TRP filed with the Canadian Energy Regulatory (CER) for approval to transfer ownership of the Nova Gas Transmission Ltd. (NGTL) system to the general partner to "facilitate potential future minority ownership of the system, including possible participation from Indigenous groups."
NGTL, or "Nova" as the system is commonly called, is a massive gas gathering and transmission system that takes supply from Western Canada to consumers across Canada and the US (refer to the map from TRP). The sale of a Nova stake would be a significant step in appeasing debt-rating firms like Fitch, which downgraded TRP from Baa2 to Baa1 on the same day the Columbia Gas assets sale was announced.
NGTL has been a significant source of cash flow growth for TRP with a rate structure supportive of a 10.1% ROE, as approved by the CER. According to the TRP Financial Blueprint, net book value for the asset has increased by more than $10B over the past six years, while EBITDA has grown almost $900MM over the same period (see figure).
Assuming $2.6B of future capital spend for projects, East Daley forecasts EBITDA for the NGTL system will grow an additional $86MM by 2025, resulting in $2.2B in annual cash flow. A 10x EBITDA multiple would put the valuation north of C$22B for the giant Nova asset. TRP therefore would need to sell a 10-15% stake in Nova to raise an additional $3B and move leverage closer to the company's 4.75x target. – Rob Wilson and Zach Krause Tickers: TRP.
Sign Up for the Crude Oil Edge
East Daley's
Crude Oil Edge
provides bi-monthly updates on the US Crude Oil Market including supply and demand fundamentals, basin-level views, and analysis of market constraints and infrastructure proposals. We explore sub-basin dynamics and provide market insights on crude oil flows, production growth, and import and export characteristics.
Sign up now for the Crude Oil Edge
.
Energy Data Studio
East Daley Analytics has launched Energy Data Studio, a platform for our industry-leading midstream data and commodity production forecasts. All clients have access to the new client portal. If you have not yet logged in, please fill out the form to request a registration email be resent.
Energy Data Studio leverages our G&P data set for insights into midstream assets across every major oil and gas basin in North America. Users can navigate detailed visual dashboards by region, pipeline, or individual asset to understand crude oil, natural gas and NGL supply at the most granular level.
Energy Data Studio is available through data downloads from the visual interface, in Excel files, or as a direct feed delivered into subscribers' workflow via secure file transfer. To learn more about Energy Data Studio, please contact insight@eastdaley.com.
The Daley Note
Subscribe to The Daley Note (TDN) for midstream insights delivered daily to your inbox. The Daley Note covers news, commodity prices, security prices and EDA research likely to affect markets in the short term.