Natural Gas Weekly: September 14, 2023
Infrastructure - East Daley Analytics is watching for signs that a long-awaited expansion of Whistler Pipeline has started operations out of the Permian Basin.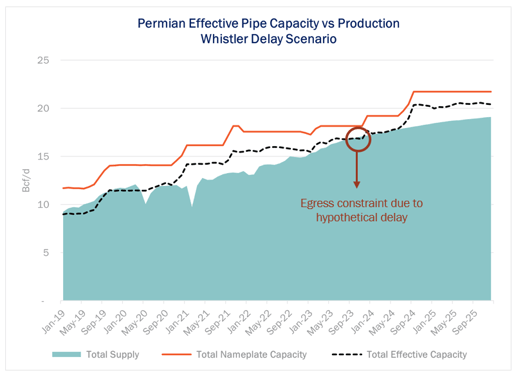 Whistler runs 450 miles from the Waha hub to Agua Dulce in South Texas. The pipeline is installing three new compressor stations to boost mainline capacity by 500 MMcf/d, bringing the total capacity to 2.5 Bcf/d. The expansion is scheduled to start service this month.
EDA expects shippers to quickly fill the Whistler expansion. In the Permian Supply and Demand Forecast, we project the extra basin egress capacity will be filled by October. In addition to Whistler, Kinder Morgan (KMI) is adding compression to the Permian Highway Pipeline. We forecast these two projects will lift Permian natural gas production in 4Q23 despite low commodity prices.
So far, natural gas markets aren't signaling any change. Waha gas prices this week have traded about $0.45/MMBtu behind the Henry Hub, in line with recent activity.
If the Whistler expansion were delayed for some reason, it could lead to near-term constraints. Based on expected production levels in EDA's Permian Supply and Demand Forecast, basin takeaway would be very tight in October and November 2023 without the expansion. These shoulder months typically see lower seasonal demand, leaving markets more vulnerable to downside from midstream disruptions. For example, Permian prices went negative last fall during unexpected pipeline maintenance events.
Whistler Pipeline is owned by MPLX (MPLX) and I Squared Capital.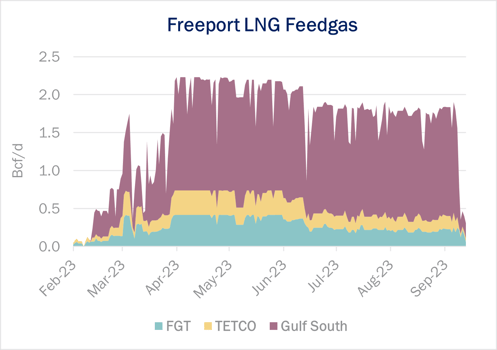 Flows - Freeport LNG feedgas flows have fallen by nearly 1.4 Bcf/d, averaging just ~400 MMcf/d this week. These are the lowest volumes observed for Freeport since February 2023, when the Texas facility began to ramp after an eight-month outage caused by a fire.
The decline in deliveries to Freeport started on Saturday (September 9), according to pipeline samples. Most of the dip has come off Gulf South Pipeline, falling by ~1.2 Bcf/d. However, the Florida Gas Transmission (FGT) and Texas Eastern Transmission systems feeding Freeport have seen significant dips as well. None of these pipelines have reported maintenance events.
Freeport LNG has not commented on the drop in feed gas. The declines in the three feeder pipes suggest at least two liquefaction trains are down. We will continue monitoring, but an extended outage could lead to softer near-term gas prices.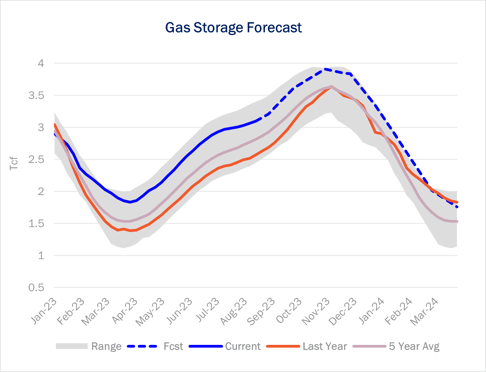 Storage - Traders expect EIA to report a 52 Bcf storage injection for the September 14 week, according to a survey by The Desk. EIA reported a 33 Bcf storage injection for the September 7 week, leaving working gas inventories at 3,148 Bcf, or 222 Bcf above the 5-year average.
Looking ahead, we expect high storage to keep gas prices under pressure in the autumn shoulder months. In East Daley's August US Macro Supply and Demand Forecast, inventories build to 3,908 Bcf by the end of October, a level that could send cash prices lower as spare storage capacity becomes scarce. We forecast Henry Hub prices to average $3.15/MMBtu through March 2024.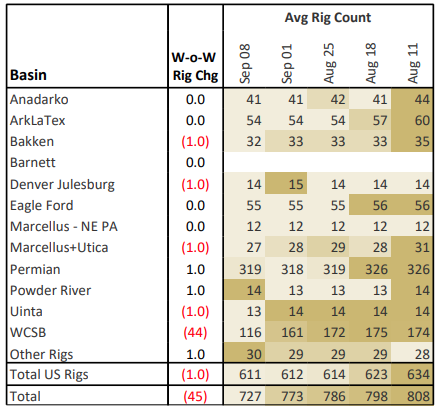 Rigs - US rigs decreased by 1 W-o-W to bring the total count to 611 for the September 8 week. The Bakken, DJ, Marcellus+Utica, and Uinta basins each lost 1 rig. The Permian and Powder River basins added 1 rig.
On the midstream side, Energy Transfer (ET) is up 6 total rigs with a 4-rig addition to its Delaware G&P system.
Targa Resources (TRGP) is up 4 rigs with new activity on the Permian and Eagle Ford systems. Enterprise Products (EPD) is down 6 rigs with losses in the Eagle Ford and ArkLaTex. MPLX (MPLX) is down 3 total rigs with a loss of 1 rig on its Bakken system.