The Daley Note: September 27, 2023
With commercial and strategic US crude oil inventories hovering near historic lows, WTI prices have ripped higher in recent months to over $90/bbl. Facility operators have reported stocks draws eight of the last 10 weeks to the Energy Information Administration (EIA), reflecting a tighter US supply and demand balance.
According to data tracked by East Daley Analytics, today's Weekly Petroleum Status Report from EIA for the week ending September 22 should be no different. EDA currently forecasts a commercial inventory draw of ~6 MMbbl (see table).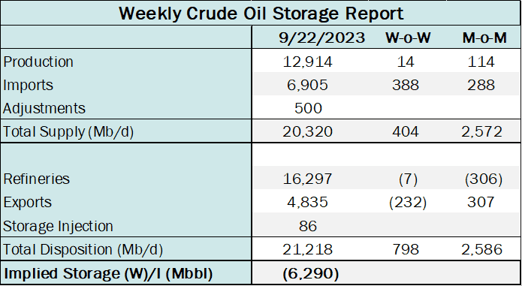 WTI prices have been on a run, adding $10/bbl in the last 30 days and $20/bbl since the end of June. The WTI front-month contract traded late Tuesday (September 26) for $90.39/bbl. Supporting the move higher, OPEC+ members have extended production cuts several times since June 2023, tightening global supply.
Based on EIA's latest weekly report, there are only 25 days of supply (excluding the Strategic Petroleum Reserve), the lowest coverage level since December 2022.
The US pipeline sample, a proxy for change in production, was roughly unchanged in liquids-focused basins (+0.11% W-o-W).
According to US bill of lading data, we expect US crude imports rose by 400 Mb/d to 6.9 MMb/d. On the demand side of the equation, EDA expects refinery utilization to be flat W-o-W, coming in at ~16.3 MMb/d. Refinery outage and turnaround data showed little change, while low stocks of diesel should keep the operational refineries running flat out.
Vessel traffic monitored by EDA along the Gulf Coast had a modest pickup W-o-W. There were 27 vessels loaded for the September 22 week vs 24 vessels the prior week. EDA expects US exports to be reported at 4.8 MMb/d.
For more information on US crude production, pipeline flows and storage forecasts, be sure to sign up for East Daley's weekly Crude Oil Edge newsletter. – AJ O'Donnell.
Sign Up for the Crude Oil Edge
East Daley's
Crude Oil Edge
provides bi-monthly updates on the US Crude Oil Market including supply and demand fundamentals, basin-level views, and analysis of market constraints and infrastructure proposals. We explore sub-basin dynamics and provide market insights on crude oil flows, production growth, and import and export characteristics.
Sign up now for the Crude Oil Edge
.
Energy Data Studio
East Daley Analytics has launched Energy Data Studio, a platform for our industry-leading midstream data and commodity production forecasts. All clients have access to the new client portal. If you have not yet logged in, please fill out the form to request a registration email be resent.
Energy Data Studio leverages our G&P data set for insights into midstream assets across every major oil and gas basin in North America. Users can navigate detailed visual dashboards by region, pipeline, or individual asset to understand crude oil, natural gas and NGL supply at the most granular level.
Energy Data Studio is available through data downloads from the visual interface, in Excel files, or as a direct feed delivered into subscribers' workflow via secure file transfer. To learn more about Energy Data Studio, please contact insight@eastdaley.com.
The Daley Note
Subscribe to The Daley Note (TDN) for midstream insights delivered daily to your inbox. The Daley Note covers news, commodity prices, security prices and EDA research likely to affect markets in the short term.