The Daley Note: September 26, 2023
LPG exports are up 5% YTD in 2023 vs 2022, and midstream companies anticipate more demand from new propane dehydrogenation (PDH) facilities scheduled to start service in China.
Energy Transfer (ET) and Enterprise Products (EPD) both reported 4-6 PDH facilities have already come online in China in 2023, and another 11-12 of the petrochemical units are expected to enter service this year. EPD noted these plants would have capacity to absorb ~250 Mb/d of propane, though the company expects utilization to only be 65-70% (160-175 Mb/d).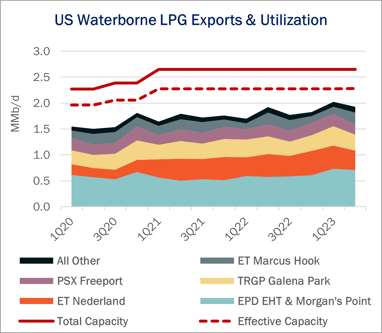 At first glance, NGL export infrastructure seems more than adequate to handle growing demand. 2Q23 export volumes averaged ~1.9 MMb/d, well under total nameplate capacity of 2.7 MMb/d (73% utilization) from marine terminals, mostly based on the Texas Gulf Coast. However, the effective working capacity of these facilities may be significantly lower after factoring in ship traffic and vessel availability.
Targa Resources (TRGP) notes that its Galena Park, TX terminal has a capacity of 15 MMbbl/month, but its effective working capacity is 18% lower at 12.5 MMbbl/month due to "the mix of propane and butane demand, vessel size and availability of supply, and a variety of other factors."
Applying the same discount to other facilities in East Daley's NGL Network Model, we estimate effective export capacity may be more like 2.3 MMb/d, which would increase effective utilization to 85%. There might be just enough capacity remaining to absorb the upcoming demand ramp from the Chinese PDH projects, but additional exports would be constrained (see figure).
ET and EPD have already announced expansions at their respective LPG export facilities. ET is spending $1.25B to add 250 Mb/d of capacity at its Nederland, TX terminal, while EPD has announced a 120 Mb/d expansion at its Enterprise Hydrocarbons terminal and a "flex" 360 Mb/d propane export terminal at its new Beaumont site. The companies expect to complete the expansions in 2025-26.
Propane/propylene inventories continue to set new 5-year highs, but when looking at storage in terms of days of supply, exports have helped bring inventories back towards the 5-year average. If exports capacity is constrained and domestic demand remains weak (especially with forecasts so far expecting another warm winter this year), 2024 may be another rough year for the purity product. – Ajay Bakshani, CFA Tickers: MMP, OKE.
Sign Up for the Crude Oil Edge
East Daley's
Crude Oil Edge
provides bi-monthly updates on the US Crude Oil Market including supply and demand fundamentals, basin-level views, and analysis of market constraints and infrastructure proposals. We explore sub-basin dynamics and provide market insights on crude oil flows, production growth, and import and export characteristics.
Sign up now for the Crude Oil Edge
.
Energy Data Studio
East Daley Analytics has launched Energy Data Studio, a platform for our industry-leading midstream data and commodity production forecasts. All clients have access to the new client portal. If you have not yet logged in, please fill out the form to request a registration email be resent.
Energy Data Studio leverages our G&P data set for insights into midstream assets across every major oil and gas basin in North America. Users can navigate detailed visual dashboards by region, pipeline, or individual asset to understand crude oil, natural gas and NGL supply at the most granular level.
Energy Data Studio is available through data downloads from the visual interface, in Excel files, or as a direct feed delivered into subscribers' workflow via secure file transfer. To learn more about Energy Data Studio, please contact insight@eastdaley.com.
The Daley Note
Subscribe to The Daley Note (TDN) for midstream insights delivered daily to your inbox. The Daley Note covers news, commodity prices, security prices and EDA research likely to affect markets in the short term.