The Daley Note: November 16, 2023
Chevron (CVX) is acquiring Hess (HES) for $53B in stock, the latest mega-merger in the upstream space. The acquisition puts a spotlight on the producer's position in Hess Midstream (HESM) in the Bakken. Will Chevron be a seller after the deal closes?
Chevron announced the HES acquisition on October 23, two weeks after ExxonMobil's (XOM) $60B purchase of Pioneer Natural Resources (PXD). While the PXD deal is a clear bet by XOM on the Permian Basin, HES presents a more diverse portfolio. The producer's assets include deepwater leases offshore Guyana and the Gulf of Mexico, plus a significant position in the Bakken shale in North Dakota totaling 465,000 acres.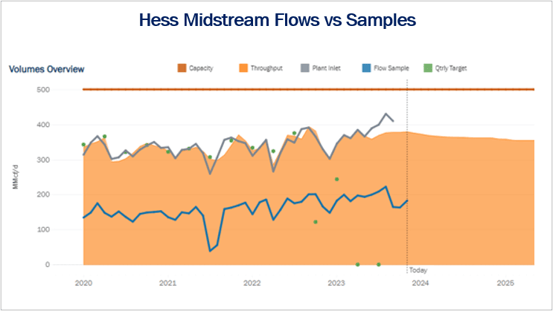 Following the announcement, Chevron said it would target $10-15B of divestments from the HES portfolio, but CVX has not indicated which assets might be on the chopping block. That puts in question the 37.8% stake in Hess Midstream still owned by parent HES.
HESM's assets include ~2,200 miles of crude oil, natural gas and water gathering pipelines, two natural gas processing facilities (Tioga and Little Missouri IV), plus storage and rail terminals to move crude oil for HES and other Bakken producers.
East Daley's G&P Allocation model in Energy Data Studio is able to capture and calculate production on Hess Midstream's G&P system, including activity at the Tioga and Little Missouri gas plants . The 400 MMcf/d Tioga plant is one of the largest gas processing facilities in North Dakota, with interconnects to the Alliance, Norther Border and WBI pipeline systems. The 200 MMcf/d Little Missouri IV plant is a 50/50 joint venture with Targa Resources (TRGP), with 100 MMcf/d of capacity allocated to HESM.
The latest available plant data in Energy Data Studio shows gas volumes have been growing (see figure). The Hess G&P system processed 410 MMcf/d in September 2023, but flows monitored by East Daley indicate inlets for October trended to 450 MMcf/d, putting utilization at ~90%. Pipeline samples cover ~70% of system activity, with the latest available pipeline sample flowing 182 MMcf/d.
East Daley believes there is potential for the Hess system to grow, as it is located in the Bakken core (Tier 1 acreage) and HES has acreage dedicated to the G&P system. We currently project 3 rigs on the system with average production of 370 MMcf/d for 2024. Top producers on the system include HES (16%), Chord Energy (CHRD; 14%), Continental Resources (CLR; 11%) and Ovintiv (OVV; 10%), among others (see figure). – Maria Paz Urdaneta Tickers: CVX, HES, HESM, PXD, TRGP, XOM.
East Daley, Hart Bring NEW Gas & Midstream Weekly
East Daley is teaming up with Hart Energy on the NEW
Gas & Midstream Weekly newsletter
. This
new report
combines the strengths of Hart Energy's journalistic reporting and analysis on natural gas, LNG, midstream energy and deal-making with EDA's deep research and intelligence of hydrocarbons, storage and transportation.

Published every Thursday morning, this new
powerhouse newsletter
is an interactive and enlightening read highlighting breaking news, exclusive interviews, videos, charts, maps and more. The newsletter utilizes East Daley's Energy Data Studio tools for natural gas predictive analytics with Hart Energy's Rextag mapping tools to present a holistic view of pricing triggers, infrastructure growth, pipeline and processing bottlenecks, regulatory and legal hurdles, and the inevitable solutions.
Energy Data Studio
East Daley Analytics has launched Energy Data Studio, a platform for our industry-leading midstream data and commodity production forecasts. All clients have access to the new client portal. If you have not yet logged in, please fill out the form to request a registration email be resent.
Energy Data Studio leverages our G&P data set for insights into midstream assets across every major oil and gas basin in North America. Users can navigate detailed visual dashboards by region, pipeline, or individual asset to understand crude oil, natural gas and NGL supply at the most granular level.
Energy Data Studio is available through data downloads from the visual interface, in Excel files, or as a direct feed delivered into subscribers' workflow via secure file transfer. To learn more about Energy Data Studio, please contact insight@eastdaley.com.
The Daley Note
Subscribe to The Daley Note (TDN) for midstream insights delivered daily to your inbox. The Daley Note covers news, commodity prices, security prices and EDA research likely to affect markets in the short term.