The Daley Note: January 24, 2023
Williams' (WMB) recent purchase of MountainWest Pipelines comes at fortunate time for the midstream company. West Coast natural gas prices are soaring, potentially adding value for some of the Rocky Mountain-based assets.
WMB announced the $1.5 billion acquisition of MountainWest from Southwest Gas Holdings (SWX) on December 15. The deal was priced at an 8x multiple based on estimated 2023 EV/EBITDA, WMB said. We covered the transaction a month ago in The Daley Note, noting a mix of pipeline assets with predictable cash flows and others with more risk-reward potential.
East Daley since has integrated the new MountainWest assets into our WMB Financial Blueprint model. MountainWest Pipeline (the former Questar Pipeline) is the largest piece of the acquisition. We forecast 2023 EBITDA of $140 million for the MountainWest system, including the storage assets.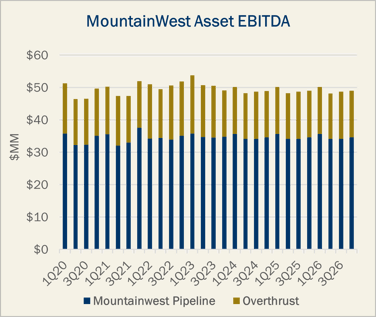 We estimate Overthrust Pipeline, the second-largest piece, will bring in $64 million in 2023 EBITDA. This brings 2023 EBITDA for all the assets to $204 million, representing a 7.35x multiple, or a better outcome than the 8x multiple announced by WMB.
In our view, the upside comes from marketing activity on the two pipelines in response to pricing at the Opal, WY and Malin, OR gas hubs. West Coast gas prices traded over $40/MMBtu earlier this winter, dragging regional Rockies prices higher as well. West Coast prices continue to trade near $20 despite Henry Hub gas falling under the $4 level.
As we noted in our TDN coverage, the MountainWest purchase represents a bet by Williams on future upside from the Rockies. The premium West Coast gas prices seen this winter reflect the need for additional supply to the region.
The Overthrust system is in the middle of a rate case that could result in a 20% cut to maximum tariff rates, or about an $8 million annual reduction in revenue. But looking further out, it would not surprise us to see WMB expand Overthrust to capture future elevated prices at Opal and Malin, especially if the Rockies basins flip to a growth mode to support higher demand, whether on the West Coast or for future LNG projects. – Zack Van Everen Tickers: SWX, WMB.
Arbo + East Daley Webinar - January 31 at 1:30 PM EST
Join Arbo and East Daley for an in-depth discussion on gas pipeline rate cases and the impact of rate risk on transporters, shippers and investors.
We provide an overview of rate cases: their purpose, how and when rate cases are likely to be initiated, as well as the process, timing and potential outcomes. We then review recent case trends across the industry, using activity within the portfolio of Kinder Morgan (KMI) to illustrate rate risk and the impact at the entity level from an investor perspective. Register here.
Stay Ahead of the Market with Natural Gas Weekly
East Daley Analytics' Natural Gas Weekly provides a weekly update to our monthly Macro Supply and Demand Forecast. The update covers rigs, flows, production, prices and capacity constraints that materially change our view on supply and demand. This update highlights what investors and traders need to monitor in natural gas to ensure they are on the right side of the market. Contact us for more information on Natural Gas Weekly.
The Daley Note
Subscribe to The Daley Note (TDN) for midstream insights delivered daily to your inbox. The Daley Note covers news, commodity prices, security prices and EDA research likely to affect markets in the short term.