East Daley Analytics has announced the launch of Energy Data Studio, a platform for industry-leading midstream data including crude oil and natural gas production forecasts for North America. Users can navigate detailed visual dashboards by region, pipeline, or individual asset to understand Natural Gas, and Natural Gas Liquids supply at the most granular level.
Energy Data Studio (EDS) leverages East Daley's gathering and processing (G&P) data set for insights into midstream assets across every major oil and gas basin in North America. EDS removes the guesswork associated with infrastructure research allowing users to access historical and updated rig and volume data tied to specific operators and midstream assets on the Energy Data Studio platform with unmatched data functionality and visuals for easy analytics.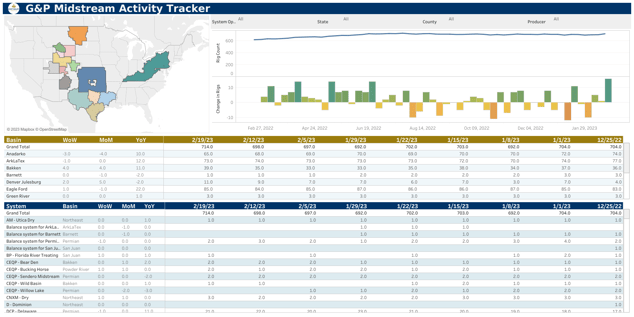 "We specialize in developing accurate oil and gas supply forecasts using the latest production data, and this new platform drives transparency for our clients," said Justin Carlson, co-founder, and chief commercial officer at East Daley Analytics. "We take a macro view on North American gas fundamentals to identify regional constraints, resulting in a forecast balanced by natural gas supply, demand, and working gas storage volumes."
The Energy Data Studio platform's interactive dashboard allows users to easily navigate weekly, monthly, and quarterly updates to individual producers, midstream assets, and midstream company financials, providing flexibility for working with data. It is available through data downloads from the visual interface, in Excel files, or as direct data delivered into subscribers' workflow via secure file transfer.
To learn more about East Daley's Energy Data Studio please contact insight@eastdaley.com.
Subscribe to East Daley Analytics' The Daley Note (TDN) and get daily insights and proprietary market commentary on North American oil and gas fundamentals. Sign up here.
About East Daley Analytics, Inc.
East Daley Analytics specializes in dissecting the energy value chain to drive transparency. The company has built the largest U.S. energy asset database to cash flow to help identify which assets are most important and isolate their operational value. It can help with the heavy lifting by providing access to capital and commodity market experts through both subscription and consulting services. For more information visit, https://www.eastdaley.com.