The Daley Note: March 2, 2023
Hitting the brakes on growth won't be easy in the Haynesville shale. While producers plan to drop rigs this year in response to lower natural gas prices, supply gains are likely to prove sticky.
East Daley recently predicted sub-$2 natural gas prices as a result of oversupply in 2023. We expect the ArkLaTex Basin to play a key role in restoring balance, due in part to the highly productive gas wells drilled in the Haynesville and Bossier shales. However, productivity can be a double-edged sword as operators look to slow growth.
Just look to the example of Comstock Resources (CRK) to understand the challenge ahead. CRK is one of several public producers that intend to dial back drilling activity in East Texas and northern Louisiana. In the E&P's 4Q22 results, CRK said it plans to run 7 rigs in the Haynesville in 2023, down from 9 rigs currently.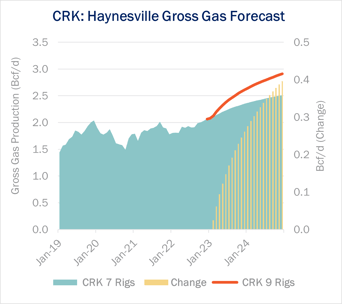 While guiding to lower rigs, Comstock also reported impressive results from its Western Haynesville exploratory play in East Texas. The E&P drilled two wells with initial production of 42 MMcf/d and 37 MMcf/d, CRK disclosed. The new wells were so productive that Legacy Reserve, the third-party gas processor, took offline its Bethel plant to upgrade capacity and handle future growth, CRK said.
Comstock also revealed it would drop the 2 rigs from its legacy operations while continuing to run 2 rigs in the productive Western Haynesville extension. Other operators are also likely to high-grade drilling programs as they lay down rigs, keeping production elevated.
East Daley can create custom producer profiles as part of Advisory Services so clients can evaluate the impacts of rig changes by operator or midstream system. The figure shows a forecast of Comstock's production in the Haynesville.
By moving to a 7-rig program, we estimate CRK's Haynesville natural gas production would be ~260 MMcf/d lower by YE23 than if the E&P were to continue running 9 rigs in the play. The loss of the 2 rigs grows to a ~400 MMcf/d production delta by YE24.
Nevertheless, our forecast also shows CRK will continue to grow its gas production in the future while running just 7 rigs. By contrast, our Macro Supply & Demand natural gas forecast anticipates Haynesville supply as a whole will need to move into decline later this year in order to keep the US gas market in balance.
Comstock is just one producer, and its growth could come at the expense of other operators in the ArkLaTex. But the disconnect between individual companies and the collective action required to restore balance is a red flag in our Macro model, and why we see the latest cuts to rig guidance as merely a first step.
We explored the dynamics of the ArkLaTex and other basins in meeting future needs of the natural gas market in our latest update for clients, "Dirty Little Secrets: After Hours – The Natural Gas Undoing Project." A recording of our latest webinar is available here. For additional information on our custom E&P models or other Advisory Services projects, please reach out to Ryan Smith. – Andrew Ware, Ryan Smith & Oren Pilant Tickers: CRK.
Dirty Little Secrets: After Hours – The Natural Gas Undoing Project
East Daley hosted a webinar on Thursday, Feb. 23 to look deeper into the natural gas story. In "Dirty Little Secrets: After Hours – The Natural Gas Undoing Project," East Daley explored the short- and long-term supply and demand factors driving natural gas prices. Are market risks being accurately priced in the forward curve? When will more LNG demand arrive? East Daley explores the dynamics driving the natural gas market. Click here to see a recording of "The Natural Gas Undoing" webinar.
Stay Ahead of the Market with Natural Gas Weekly
East Daley Analytics' Natural Gas Weekly provides a weekly update to our monthly Macro Supply and Demand Forecast. The update covers rigs, flows, production, prices and capacity constraints that materially change our view on supply and demand. This update highlights what investors and traders need to monitor in natural gas to ensure they are on the right side of the market. Contact us for more information on Natural Gas Weekly.
The Daley Note
Subscribe to The Daley Note (TDN) for midstream insights delivered daily to your inbox. The Daley Note covers news, commodity prices, security prices and EDA research likely to affect markets in the short term.