The Daley Note: March 10, 2023
Enbridge (ENB) held its annual investor day on March 1, announcing a slew of new liquids projects poised to benefit from growing US Gulf Coast exports. One project East Daley Analytics will be watching closely is a proposed 200 Mb/d expansion and extension of the Gray Oak Pipeline to Houston.
Data from our Crude Hub Model shows utilization on Permian-to-Corpus pipelines hit 90% in December 2022, leaving only ~250 Mb/d of unused pipe capacity before shippers max out current infrastructure. Many of these pipes have seen utilization rates steadily increase over the last year as Corpus Christi becomes the preferred Gulf Coast export market for US crude oil supply.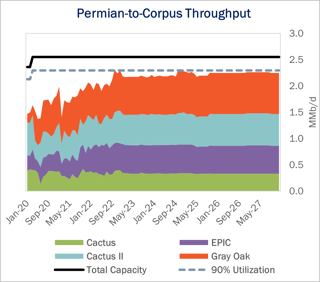 If expanded, Gray Oak would play a key role in attracting incremental Permian supply into Corpus Christ, as well as offering connectivity to potential new offshore Houston export facilities, such as the SPOT project ENB is jointly developing with Enterprise Products (EPD).
Enbridge's focus on the Permian and Gulf Coast continues to be a theme. Over the last year and a half, the company has completed a handful of transactions to increase its Permian and Gulf Coast crude exposure:
Enbridge Ingleside Energy Center (EIEC, formerly MODA Midstream) – $3 billion (4Q21)
+35.7% Gray Oak Pipeline – Reduced economic interest in DCP (3Q22)
+10% Cactus II -- $265 million (4Q22)
Currently, these assets are some of the most utilized in the basin, and EIEC is the largest Gulf Coast oil export facility, moving more than 800 Mb/d at YE22, based on Crude Hub Model data. – AJ O'Donnell Tickers: ENB, EPD.
Energy Data Studio Now Available
East Daley has launched Energy Data Studio, a platform for our industry-leading midstream data and commodity production forecasts. Users can navigate detailed visual dashboards by region, pipeline, or individual asset to understand crude oil, natural gas and NGL supply at the most granular level.
Energy Data Studio leverages our G&P data set for insights into midstream assets across every major oil and gas basin in North America. The interactive dashboard allows users to easily navigate weekly, monthly and quarterly updates to individual producers, midstream assets, and midstream company financials. Energy Data Studio is available through data downloads from the visual interface, in Excel files, or as a direct feed delivered into subscribers' workflow via secure file transfer.
To learn more about East Daley's Energy Data Studio please contact insight@eastdaley.com.
Gain a New NGL Perspective Through the NGL Network Supply Model
East Daley Analytics' NGL Network Model and Purity Product Dataset tie our NGL supply forecasts to downstream markets, providing asset-specific insights such as pipeline and fractionation volumes and rates. We use our patented method to monitor midstream flows from processing plants to fractionation centers, identifying infrastructure bottlenecks before the market recognizes them. Using a bottoms-up approach to supply, we go deeper than the PADD or sub-PADD level to truly understand what is happening on the ground in NGLs. Contact us for more information on the NGL Network Model and Purity Product Dataset.
The Daley Note
Subscribe to The Daley Note (TDN) for midstream insights delivered daily to your inbox. The Daley Note covers news, commodity prices, security prices and EDA research likely to affect markets in the short term.