The Daley Note: March 9, 2023
East Daley currently forecasts 1.5 Bcf/d of dry gas production growth (+16%) from the Delaware sub-basin of the Permian in 2023. Some of this growth will come from surprising places, such as Delek Logistics Partners' (DKL) 3Bear G&P system in Lea County, NM.
While Energy Information Administration (EIA) data shows gas production slowed in New Mexico from October to November 2022, we believe this pause to be more noise than signal. Indeed, gross natural gas production for New Mexico popped by 167 MMcf/d in December 2022 despite Winter Storm Elliott rolling through most of the Lower 48, including New Mexico and West Texas.
Several pockets of the Delaware are showing meaningful growth, including the 3Bear system (now called Delaware Gathering System, or DGS). In June 2022, DKL acquired privately backed 3Bear Delaware Holding for $628 million.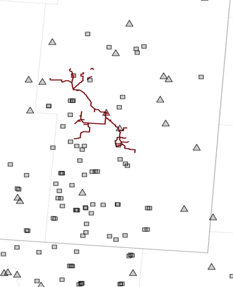 As shown in the Energy Data Studio forecast for 3Bear's Libby plant, natural gas volumes have increased steadily from 51 MMcf/d in June 2022 to 67 MMcf/d in 4Q22. Gas residue samples are up 25% so far in 1Q23 vs 4Q22, indicating continued throughput growth on the asset.
Operators near the 3Bear gathering system include Mewbourne Oil, Earthstone (ESTE), Permian Resources (PR) and ConocoPhillips (COP). Producers have been running 1-2 rigs in 2023 on the newly acquired 3Bear system. COP and PR are the active drillers we currently allocate to the system.
Based on a guided 2023 EBITDA multiple of 6.25x (on a transaction price of $628 million), we believe implied Y-o-Y growth in 2023 on the DKL system is well above our 16% growth for the Delaware Basin overall. Based on this growth, we anticipate DKL will hit gas processing capacity by YE23. – Yamah Nabiyar Tickers: COP, DKL, ESTE, PR.
Energy Data Studio Now Available
East Daley has launched Energy Data Studio, a platform for our industry-leading midstream data and commodity production forecasts. Users can navigate detailed visual dashboards by region, pipeline, or individual asset to understand crude oil, natural gas and NGL supply at the most granular level.
Energy Data Studio leverages our G&P data set for insights into midstream assets across every major oil and gas basin in North America. The interactive dashboard allows users to easily navigate weekly, monthly and quarterly updates to individual producers, midstream assets, and midstream company financials. Energy Data Studio is available through data downloads from the visual interface, in Excel files, or as a direct feed delivered into subscribers' workflow via secure file transfer.
To learn more about East Daley's Energy Data Studio please contact insight@eastdaley.com.
Gain a New NGL Perspective Through the NGL Network Supply Model
East Daley Analytics' NGL Network Model and Purity Product Dataset tie our NGL supply forecasts to downstream markets, providing asset-specific insights such as pipeline and fractionation volumes and rates. We use our patented method to monitor midstream flows from processing plants to fractionation centers, identifying infrastructure bottlenecks before the market recognizes them. Using a bottoms-up approach to supply, we go deeper than the PADD or sub-PADD level to truly understand what is happening on the ground in NGLs. Contact us for more information on the NGL Network Model and Purity Product Dataset.
The Daley Note
Subscribe to The Daley Note (TDN) for midstream insights delivered daily to your inbox. The Daley Note covers news, commodity prices, security prices and EDA research likely to affect markets in the short term.