The Daley Note: March 6, 2023
EnLink Midstream (ENLC) has added G&P assets in central Oklahoma to manage supply growth in the Anadarko Basin. ENLC did not disclose the counterparty on in its 4Q22 earnings call, but East Daley has identified the seller as Tall Oak Midstream.
In September 2022, East Daley flagged a looming infrastructure constraint on ENLC's Central Oklahoma (COK) system, as result of increased rig activity in the STACK that we allocate to the COK system. We highlighted the need for additional gas processing capacity after ENLC had previously relocated its Thunderbird and Battle Ridge facilities to the Midland Basin.
In its 4Q22 earnings call, EnLink said it acquired an additional 280 MMcf/d of processing capacity overlying its footprint in the Anadarko. ENLC later identified the assets in its 10-K as the Redcliff (220 MMcf/d) and Carmen (60 MMcf/d) gas processing plants in Woodward County, OK, plus associated gathering pipeline. According to our midstream database, the Redcliff and Carmen plants are owned by private Tall Oak Midstream.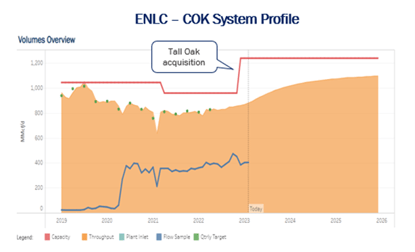 ENLC did not disclose terms of the purchase, but East Daley estimates a $115 million price tag based on other 10-K disclosures. ENLC projects EBITDA of $19 million in 2023 on the acquired assets, or a 6x multiple based on our price estimate.
The acquisition allows EnLink to handle production growth on the COK system, as shown in our ENLC - COK system profile in Energy Data Studio. The profile includes historical natural gas volumes processed by the COK system based on self-reporting to regulators, historical receipts for the ENLC – COK system in pipeline samples, and East Daley's own forecast of system gas volumes based on nearby rig activity. As shown, interstate samples widely used by analysts and market watchers are inadequate and sometimes misleading indicators for tracking the EnLink system.
In our Daley Note post in September, we projected ENLC - COK would reach its gas processing limit of 960 MMcf/d by July 2023. The Tall Oak purchase raises processing capacity for ENLC - COK to 1.24 Bcf/d. Currently, East Daley forecasts an average of 10 rigs on the COK system through 2024. We forecast the system will exit 2024 at a production rate of 1.07 Bcf/d, or an 11% CAGR from current levels. With the added processing capacity, East Daley does not foresee ENLC hitting capacity ceiling for the foreseeable future, creating plenty of headroom for STACK producers to grow supply and for EnLink to grow asset earnings. – James Taylor Tickers: ENLC.
Energy Data Studio Now Available
East Daley has launched Energy Data Studio, a platform for our industry-leading midstream data and commodity production forecasts. Users can navigate detailed visual dashboards by region, pipeline, or individual asset to understand crude oil, natural gas and NGL supply at the most granular level.
Energy Data Studio leverages our G&P data set for insights into midstream assets across every major oil and gas basin in North America. The interactive dashboard allows users to easily navigate weekly, monthly and quarterly updates to individual producers, midstream assets, and midstream company financials. Energy Data Studio is available through data downloads from the visual interface, in Excel files, or as a direct feed delivered into subscribers' workflow via secure file transfer.
To learn more about East Daley's Energy Data Studio please contact insight@eastdaley.com.
Stay Ahead of the Market with Natural Gas Weekly
East Daley Analytics' Natural Gas Weekly provides a weekly update to our monthly Macro Supply and Demand Forecast. The update covers rigs, flows, production, prices and capacity constraints that materially change our view on supply and demand. This update highlights what investors and traders need to monitor in natural gas to ensure they are on the right side of the market. Contact us for more information on Natural Gas Weekly.
The Daley Note
Subscribe to The Daley Note (TDN) for midstream insights delivered daily to your inbox. The Daley Note covers news, commodity prices, security prices and EDA research likely to affect markets in the short term.