The Daley Note: May 2, 2023
Recovered ethane volumes are down sharply in the Williston Basin, and forward prices indicate ethane recovery could stay muted through the year. East Daley Analytics sees risk in particular for ONEOK (OKE) from Bakken market dynamics, reflected in our below-consensus Financial Blueprint outlook for the company.
Ethane recovery in the Williston is 20% below 2022 levels through the first two months of 2023, according to the latest Energy Information Administration (EIA) data. The EIA reports NGL plant production by purity product, and we can use the Minnesota-Wisconsin-North Dakota-South Dakota sub-PADD data as a proxy for Bakken NGL production. January and February data show ethane production was only 97 Mb/d from the region, 20% below the average of 121 Mb/d in 2022.
Oil and gas production took a hit in the Bakken from Winter Storm Elliot in December 2022. Although pipeline samples indicate production quickly recovered to November levels, ethane recovery in January and February was still down by 28% and 18%, respectively. The decline corresponds to a collapse in Mont Belvieu ethane prices; February 2023 prices were down 38% Y-o-Y, and the average strip price (~$0.22/gal) at Mont Belvieu is currently 53% below the 2022 average of ~$0.47/gal (see figure).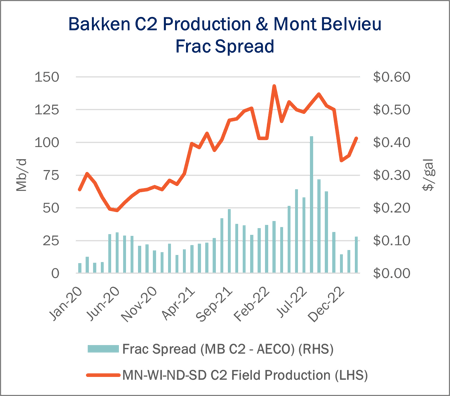 The Williston ethane market is being squeezed by two forces. First, Rockies natural gas prices have been relatively strong, drawn higher by a cold regional winter and a premium West Coast market. As a result, ethane often has been more valuable sold as part of the natural gas stream. Second, Permian production has been steadily growing, creating more regional supply competition.
Given ethane comprises ~50% of the wellhead NGL barrel, lower recovery can be a significant drag on total NGL volumes. Total NGL volumes in the Bakken were only 397 Mb/d in February, down 12% vs a peak of 450 Mb/d in September 2022. Ethane accounted for most of that decline.
Lower ethane recovery will mainly impact ONEOK, the dominant NGL midstream company in the basin. Data from 4Q22 indicates volumes dropped 10% Q-o-Q on OKE's Elk Creek and Bakken NGL pipelines, which translated to a $10MM decline in EBITDA (a 1% impact drag on quarterly EBITDA).
ONEOK plans to report 1Q23 earnings after the market close on Tuesday (May 2). In the latest OKE Financial Blueprint, East Daley is 3% below Street consensus for FY2023. While OKE still has plenty of growth across its asset base, the lack of ethane recovery in the region may continue to be a drag on EBITDA. — Ajay Bakshani, CFA Tickers: OKE.
1Q23 Earnings Previews Now Available in Energy Data Studio
East Daley Analytics has published 1Q23 Earnings Previews and Financial Blueprint Models for midstream companies in our coverage. Our industry-leading Blueprints provide historical and forecasted volumes and financial information for 1,300+ midstream infrastructure assets by individual company.
1Q23 Earnings Previews and updated Financial Blueprints models are now available for the following companies: AM, CEQP, DTM, ENB, ENLC, EPD, ET, ETRN, GEL, KMI, KNTK, MMP, MPLX, OKE, NS, PAA, PBA, SMLP, TRGP and WES.
Subscribers can access these reports on the Energy Data Studio platform. For more information about East Daley's Financial Blueprints, please reach out.
Request Access to Energy Data Studio
East Daley Analytics has launched Energy Data Studio, a platform for our industry-leading midstream data and commodity production forecasts. All clients have access to the new client portal. If you have not yet logged in, please fill out the form to request a registration email be resent.
Energy Data Studio leverages our G&P data set for insights into midstream assets across every major oil and gas basin in North America. Users can navigate detailed visual dashboards by region, pipeline, or individual asset to understand crude oil, natural gas and NGL supply at the most granular level.
Energy Data Studio is available through data downloads from the visual interface, in Excel files, or as a direct feed delivered into subscribers' workflow via secure file transfer. To learn more about Energy Data Studio, please contact insight@eastdaley.com.
Review the Year Ahead in Dirty Little Secrets
The 2023 Dirty Little Secrets is Now Available! Is Midstream on the cusp of another infrastructure wave? Find out in our new annual report.
Dirty Little Secrets reviews the outlook for Midstream and commodity markets in 2023 and the years ahead. East Daley discusses the outlook for crude oil, natural gas and NGLs and the impacts to midstream assets in our 2023 Dirty Little Secrets annual market report. Click here for a copy of the 2023 Dirty Little Secrets report.
The Daley Note
Subscribe to The Daley Note (TDN) for midstream insights delivered daily to your inbox. The Daley Note covers news, commodity prices, security prices and EDA research likely to affect markets in the short term.