Natural Gas Weekly: October 25, 2023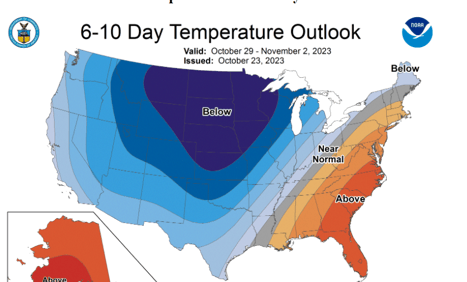 Flows - Week-ahead weather forecasts predict a significant cold air mass will enter the Midwest by the end of October and potentially put a scare into the natural gas market.
East Daley discusses the revised outlook in our latest Macro Supply and Demand Forecast. Forecasts from the National Weather Service show below-normal temperatures moving into the Midcontinent over the October 29 – November 02 period and spreading to the West Coast and as far south as Texas. The updated forecast would end an extended period of shoulder-month weather and begin the 2023-24 heating season in earnest.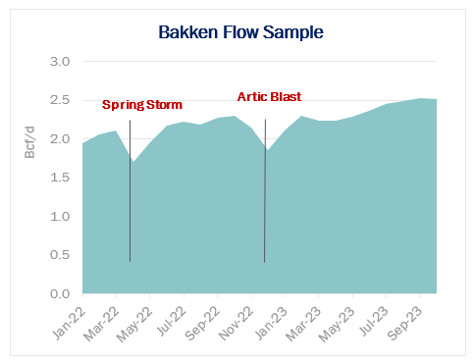 In addition to higher demand, the cold air blast could limit natural gas flows from the Williston Basin in western North Dakota and eastern Montana. The pipeline flow sample in the Bakken currently is 2.5 Bcf/d, which is flat vs September 2023 but 35% above December 2022. Output at the end of 2022 was impaired by a significant storm that brought heavy snow, high winds and frigid cold.
The outlook for the coming storm is not as dire, but gas samples in the Williston Basin could drop by as much as 22% (0.3–0.5 Bcf/d) based on past weather events. Pipeline samples in the Bakken have a high correlation to production with ~100% sample coverage, and East Daley considers these a reliable indicator of freeze-off effects. EDA will be watching pipe samples in the Bakken and Rockies basins for the potential start of wellhead freeze-offs.
Infrastructure - Pipeline maintenance events in the Permian Basin sent Waha prices crashing into negative territory this week. Waha traded at -$0.13/MMBtu on Tuesday (October 24).
Scheduled maintenance on Permian Highway Pipeline (PHP) is reducing capacity by 400 MMcf/d through October 30. There is also maintenance on El Paso Natural Gas (EPNG) for the next three days that has taken ~1.5 Bcf/d offline until Thursday (October 26). The EPNG maintenance is restricting flows to the SoCal border, causing prices to trade at an $0.11 premium to Henry Hub.
More maintenance is ahead on Permian pipes. Gulf Coast Express (GCX) has scheduled maintenance for the middle of November. Capacity on GCX will be reduced to 1.2 Bcf/d November 14-15, 1.35 Bcf/d November 16-17, and to 1.6 Bcf/d November 18-20. The restrictions mean more price volatility is likely on the horizon for Permian natural gas.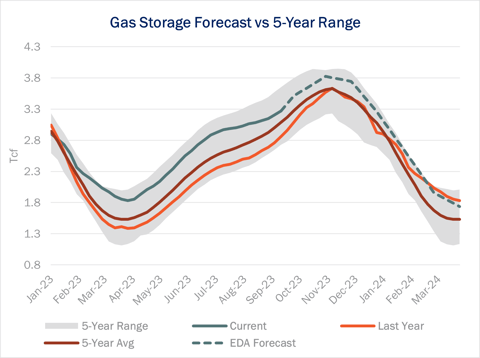 Storage - Traders expect EIA to report an 83 Bcf storage injection for the October 20 week.
Lower 48 storage inventory currently totals 3,626 Bcf, 300 Bcf greater than last year and 175 Bcf greater than the 5-year average. The surplus to the 5-year average has been relatively steady over the past five weeks as injections have come more in line with 5-year averages, despite some surprises to the low and high side in weekly EIA estimates
In the new October Macro Supply and Demand Forecast, East Daley projects end-of-season storage levels reach 3,795 Bcf, 226 Bcf higher vs inventories at the end of October 2022.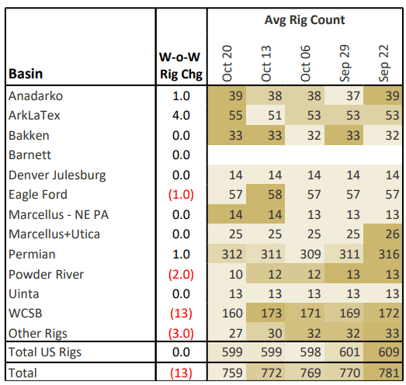 Rigs - The US rig count held flat W-o-W at 599 for the October 20 week. The ArkLaTex is up 4 rigs, while the Permian and Anadarko basins are up 1 rig each. The Powder River is down 2 rigs.
On the midstream side, Energy Transfer (ET) is up 5 rigs on its Permian and ArkLaTex G&P systems. ONEOK (OKE) is up 3 rigs on its Bakken system. Western Midstream (WES) is down 1 rig on its Permian system.