The Daley Note: October 26, 2023
As investors gear up for ONEOK's (OKE) earnings next week, East Daley Analytics expects strong results from the company's Bakken assets. The forecast for the system in the Williston Basin is a big driver of our above-consensus call in the OKE Financial Blueprint.
Fresh off its $19B merger with Magellan Midstream, ONEOK's update is one of the most anticipated this quarter. EDA expects OKE to report earnings of $1,038MM for 3Q23, about $35MM (4%) above the Street. The pipeline sample data from OKE's Bakken G&P system shows 10% growth, leading to our relatively bullish outlook.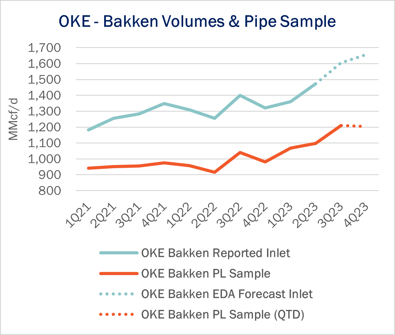 East Daley tags pipeline meter points to individual G&P systems, allowing us to track the residue gas coming out of each plant as flows move onto interstate pipes. The ability to track flows by individual assets informs our forecasting in the Financial Blueprints.
Given almost all the gas in the Williston exits via interstate pipelines, we have very high visibility into daily volumes from G&P systems in the basin that we can leverage to predict volumes. EDA couples this with North Dakota plant inlet data for July and August showing a healthy 5% increase so far compared to last quarter. The different growth rates between the pipeline sample and the plant inlet data for the OKE system could reflect a lower shrink rate due to higher ethane rejection.
However, the biggest jump came in the September pipeline sample data, which grew 3% M-o-M for ONEOK and is not yet captured in the plant data (see chart). We expect the Q-o-Q jump will translate to an additional ~$10MM in earnings and 6% Q-o-Q EBITDA growth for the segment in the OKE Financial Blueprint.
The higher volumes would normally result in higher NGL production that would boost earnings at OKE's Bakken and Elk Creek pipelines, but that growth may be offset by lower ethane production. Ethane production reported by the Energy Information Administration (EIA) declined from 131 Mb/d in 2Q23 to ~106 Mb/d in July, and plant data indicates recovery is unchanged M-o-M in August, suggesting lower ethane volumes for 3Q23.
The ramp-up in volumes should come as little surprise given OKE placed in service its 200 MMcf/d Demicks Lake III plant in late 1Q23, and rig counts have stayed healthy around ~17 rigs for the quarter (about 50% of the total rigs in the basin). Combined with the inclusion of Magellan, OKE has quite an exciting quarter ahead. — Ajay Bakshani, CFA Tickers: OKE.
Sign Up for the Crude Oil Edge
East Daley's
Crude Oil Edge
provides weekly updates on the US crude oil market including supply and demand fundamentals, basin-level views, and analysis of market constraints and infrastructure proposals. We explore sub-basin dynamics and provide market insights on crude oil flows, production growth, and import and export characteristics.
Sign up now for the Crude Oil Edge
.
Energy Data Studio
East Daley Analytics has launched Energy Data Studio, a platform for our industry-leading midstream data and commodity production forecasts. All clients have access to the new client portal. If you have not yet logged in, please fill out the form to request a registration email be resent.
Energy Data Studio leverages our G&P data set for insights into midstream assets across every major oil and gas basin in North America. Users can navigate detailed visual dashboards by region, pipeline, or individual asset to understand crude oil, natural gas and NGL supply at the most granular level.
Energy Data Studio is available through data downloads from the visual interface, in Excel files, or as a direct feed delivered into subscribers' workflow via secure file transfer. To learn more about Energy Data Studio, please contact insight@eastdaley.com.
The Daley Note
Subscribe to The Daley Note (TDN) for midstream insights delivered daily to your inbox. The Daley Note covers news, commodity prices, security prices and EDA research likely to affect markets in the short term.