The Daley Note: October 25, 2023
The Midcontinent Express Pipeline (MEP) has had a great run of late for owners Kinder Morgan (KMI) and Energy Transfer (ET), thanks to rapid supply growth and some mistimed outages. But East Daley expects outperformance to end for MEP as several contracts near expiration, according to contract data in Energy Data Studio.
KMI and ET outperformed EDA's expectations in the company Financial Blueprints back in 1Q23, in part due to their joint ownership in MEP. Fast-forward to 3Q23, and KMI continues to report increased earnings from MEP relative to performance a year ago.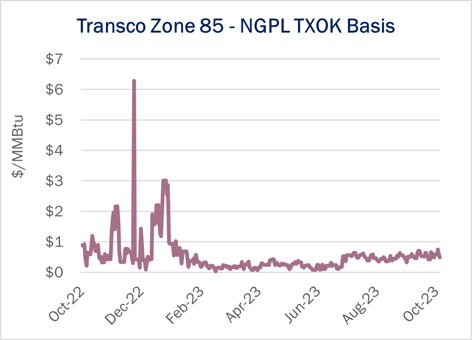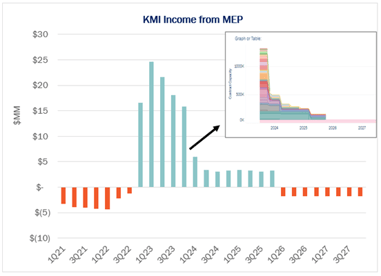 How did a pipeline that has historically been a drag on segment earnings turn into a driver of growth? The answer: marketing opportunities. As regional spreads blew out between the Midcontinent and Gulf Coast regions, marketers such as Citadel, Total, and Freepoint took out short-term contracts on MEP to trade the spread between the Transco Zone 85 and NGPL-TXOK price points.
EDA previously reviewed how Midcontinent Express became a star pipe performer. Haynesville gas production has been growing rapidly since 2022 in East Texas and Louisiana. This supply growth, combined with an eight-month outage at the Freeport LNG facility, caused gas supply to back up in South and East Texas, reflected in depressed prices at the Carthage hub. The gas glut caused NGPL-TXOK prices to trade far below the Transco Zone 85 downstream point on MEP starting in 4Q22, creating a profitable spread (see chart).
Although the term of the marketing contracts on MEP extend for a year, the spread between Transco Zone 85 and NGPL-TXOK collapsed back below $1.00/MMBtu as Freeport LNG restarted and Haynesville growth has cooled. With this tailwind gone, East Daley does not expect these short-term contracts to renew.
After several impactful quarters of outperformance, East Daley believes MEP's run of profit came to an end in 3Q23. Using our Shipper Contract screen in Energy Data Studio, we know many of the contracts taken out by marketers back in November 2022 expire in October '23, or the end of this month (see chart).
East Daley nearly hit 3Q23 earnings on the nose in our KMI Blueprint last week. Kinder Morgan reported Adj. EBDA of $1,835MM, 0.2% above our forecast. EDA sits 4% below consensus in our 4Q23 outlook for KMI, in part due to the earnings inflection for MEP. – Zach Krause Tickers: ET, KMI.
Sign Up for the Crude Oil Edge
East Daley's
Crude Oil Edge
provides weekly updates on the US crude oil market including supply and demand fundamentals, basin-level views, and analysis of market constraints and infrastructure proposals. We explore sub-basin dynamics and provide market insights on crude oil flows, production growth, and import and export characteristics.
Sign up now for the Crude Oil Edge
.
Energy Data Studio
East Daley Analytics has launched Energy Data Studio, a platform for our industry-leading midstream data and commodity production forecasts. All clients have access to the new client portal. If you have not yet logged in, please fill out the form to request a registration email be resent.
Energy Data Studio leverages our G&P data set for insights into midstream assets across every major oil and gas basin in North America. Users can navigate detailed visual dashboards by region, pipeline, or individual asset to understand crude oil, natural gas and NGL supply at the most granular level.
Energy Data Studio is available through data downloads from the visual interface, in Excel files, or as a direct feed delivered into subscribers' workflow via secure file transfer. To learn more about Energy Data Studio, please contact insight@eastdaley.com.
The Daley Note
Subscribe to The Daley Note (TDN) for midstream insights delivered daily to your inbox. The Daley Note covers news, commodity prices, security prices and EDA research likely to affect markets in the short term.