The Daley Note: October 31, 2023
Ahead of DT Midstream's (DTM) 3Q23 earnings this week, East Daley Analytics sees growth in the company's Haynesville assets as the driver of our above-consensus call. In the DTM Financial Blueprint, we expect DTM to report adj. EBITDA of $241MM, ~$12MM (5%) above consensus.
At the end of August, DTM announced it had completed Phase 1 (+0.3 Bcf/d) of the multi-phase LEAP gathering lateral ahead of schedule. The company expects to complete Phase 2 of LEAP in 1Q24 and Phase 3 in 3Q24. Once fully built, LEAP will be able to move up to 1.9 Bcf/d of Haynesville gas from northwestern Louisiana into the Gillis hub in southern Louisiana, where LEAP interconnects with several interstate pipelines and has easy access to existing and proposed LNG facilities.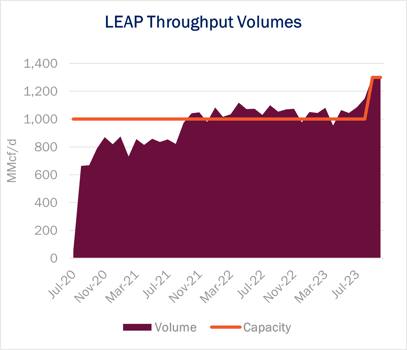 EDA's flow samples for LEAP indicate the newly expanded pipe is running full at just over 1.3 Bcf/d. In the DTM Blueprint, we forecast asset Adj. EBITDA of $18.1MM in 3Q23, nearly $5MM higher Q-o-Q. LEAP throughput is up ~150 MMcf/d on average from 2Q23 in the interstate flow samples we track (see chart).
We also forecasts growth for DTM's Blue Union gathering system in the Haynesville. System volumes have been in decline for the last three quarters, falling from 1.7 Bcf/d in 4Q22 to 1.53 Bcf/d in 2Q23. However, with the flow sample on the rise, EDA forecasts a corresponding jump in Blue Union gathering volumes. We expect residue gas on the system to average 1.72 Bcf/d for the quarter, translating to a $6.5MM Adj. EBITDA gain Q-o-Q in our asset-level model.
Blue Union still has plenty of room to grow. Currently the system is operating at 78% utilization of a total 2.2 Bcf/d of capacity, but DTM intends to expand the system to over 2.6 Bcf/d by 1Q24. However, on a prior earnings call, management stated that the expansions would be rolled out incrementally and timed with the needs of the anchor shipper.
Based on rig activity, EDA believes the anchor shipper for the expansion is Southwestern Energy (SWN). SWN has guided to a flat production program, which is to be expected given prevailing $2/MMBtu gas prices, so the new capacity on Blue Union likely won't be needed until 2025 at the earliest. – Oren Pilant Tickers: DTM, SWN.
Sign Up for the Crude Oil Edge
East Daley's
Crude Oil Edge
provides weekly updates on the US crude oil market including supply and demand fundamentals, basin-level views, and analysis of market constraints and infrastructure proposals. We explore sub-basin dynamics and provide market insights on crude oil flows, production growth, and import and export characteristics.
Sign up now for the Crude Oil Edge
.
Energy Data Studio
East Daley Analytics has launched Energy Data Studio, a platform for our industry-leading midstream data and commodity production forecasts. All clients have access to the new client portal. If you have not yet logged in, please fill out the form to request a registration email be resent.
Energy Data Studio leverages our G&P data set for insights into midstream assets across every major oil and gas basin in North America. Users can navigate detailed visual dashboards by region, pipeline, or individual asset to understand crude oil, natural gas and NGL supply at the most granular level.
Energy Data Studio is available through data downloads from the visual interface, in Excel files, or as a direct feed delivered into subscribers' workflow via secure file transfer. To learn more about Energy Data Studio, please contact insight@eastdaley.com.
The Daley Note
Subscribe to The Daley Note (TDN) for midstream insights delivered daily to your inbox. The Daley Note covers news, commodity prices, security prices and EDA research likely to affect markets in the short term.